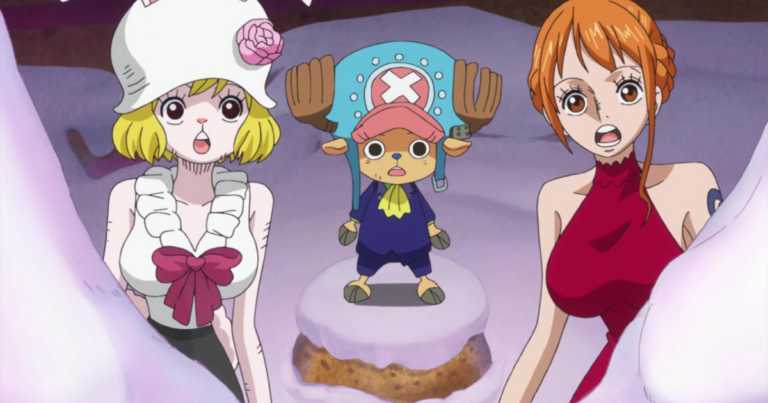 Marla Añonuevo

Curated From www.comingsoon.net Check Them Out For More Content.

The adventures of the Straw Hat Pirates continue in Crunchyroll's next home video release. This time, their journey brings them to Whole Cake Island. The One Piece Season 13 Voyage 1 Blu-ray and DVD set is coming in July 2023.
"The Sanji retrieval team sails to Totto Land, where even the buildings are edible! After a feast of criminal proportions, they're pardoned by Sanji's bride-to-be, who helps them plan his rescue. Held captive by his powerful family, Sanji faces painful memories from his childhood before fighting his father. Meanwhile, Luffy gets lost in a carnivorous forest full of illusions!" the official synopsis from Crunchyroll reads.
The One Piece Season 13 Voyage 1 Blu-ray and DVD's release date is July 4, 2023. It includes the uncut and unedited versions of Episodes 783 to 794 of the series, which is a part of the Whole Cake Island arc. The episodes will be available to watch in English and Japanese audio with English subtitles. There will be two Blu-ray discs and two DVDs. Its special feature includes a textless opening song. For more information, check out the Crunchyroll store's website.
About One Piece
Eiichiro Oda is the creator of the iconic shonen manga series, One Piece. Shueisha's Weekly Shonen Jump began serializing the manga in July 1997. As of writing, the manga currently has reached 1080 chapters. Meanwhile, there are currently 105 manga volumes available in Japanese and 101 in English. Toei Animation produces the anime adaptation, which premiered in October 1999. The 20th season of the anime premiered in July 2019 and is still ongoing.
As seen in One Piece Season 13 Voyage 1, the Whole Cake Island arc, also known as the Totto Land arc, covers a total of 95 episodes. The Straw Hat Pirates are separated into groups. Luffy, Chopper, Brook, and Nami, along with Pedro, Carrot, and Pekoms, go to Big Mom's territory, Whole Cake Island. Their group has to rescue Sanji from an arranged marriage with Charlotte Pudding, one of Big Mom's children.