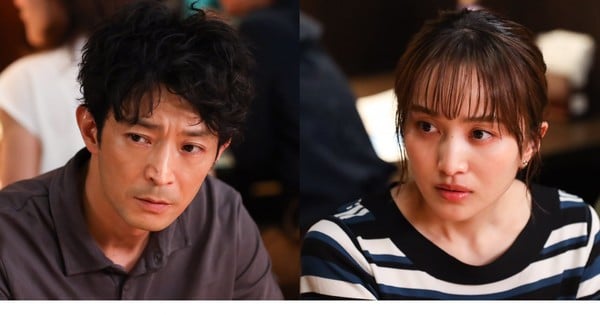 Curated From www.animenewsnetwork.com Check Them Out For More Content.

Both appear in 7th episode on August 25
---
The staff of the live-action series of Riichirou Inagaki and Ryoichi Ikegami's Trillion Game manga revealed on Friday that the series has cast Kanako Momota of idol group Momoiro Clover Z as announcer Akari Shirotora (pictured below on right) and Kenjiro Tsuda as news producer Kunugi (left). The two will appear in the seventh episode on August 25, which begins the Media Teikoku (Empire) arc.
The show premiered on the TBS channel and its affiliates on July 14.
Ren Meguro (center left in visual above) from idol group Snow Man plays protagonist Haru Tennōji, while Hayato Sano (center right in visual above) will play Manabu "Gaku" Taira. Previously announced cast includes Kouji Kikkawa as Kazuki Kedōin and Mio Amada as Kirihime Kokuryū in the series.
The manga centers on the carefree Haru and the serious Gaku, two men who plot to earn a trillion dollars in order to afford anything they might ever want in the world. Haru is an eloquent, persuasive, and confident speaker, which allows him to be in anyone's good graces. Gaku is an awkward but highly skilled programmer. The two were schoolmates in middle school, and reunite when Gaku's application to a bank company is rejected.
Inagaki and Ikegami launched the manga in Big Comic Superior in December 2020. Shogakukan published the manga's seventh compiled book volume on July 12.
Writer Inagaki wrote the Eyeshield 21 manga with illustrator Yūsuke Murata from 2002-2009. The manga inspired a television anime adaptation from 2005-2008 and an anime film in 2003. Viz Media published the manga in English. Inagaki and artist Boichi launched the Dr. Stone manga in March 2017, and ended the series in March 2022. The manga inspired a television anime in July 2019 and a second season in January 2021. The third season premiered on April 6. Viz Media is publishing the manga digitally and in print, and MANGA Plus also published the manga digitally.
Ikegami (Crying Freeman) and Buronson launched their BEGIN manga in Big Comic Superior in October 2016, and ended the series in January 2020. Shogakukan published nine volumes for the series.
Sources: Trillion Game live-action series' Twitter account, Comic Natalie
---