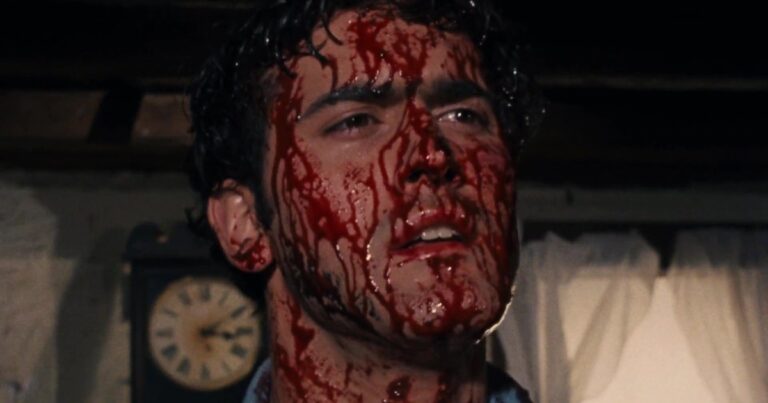 Todd Jacobs

Curated From www.comingsoon.net Check Them Out For More Content.

What makes the original Evil Dead trilogy so enduring and influential is that it has something for everyone. A claustrophobic gore-fest set in a cabin? Got it. A slapstick comedy horror fantasy set in a medieval England that somehow looks like a California desert? Covered. The trio of films also gave us horror's most iconic Final Boy, Ashley "Ash" Williams (played by the incomparable Bruce Campbell, who director Sam Raimi seemingly loves to torture).
The franchise laid dormant until 2013, when Fede Álvarez made his directorial debut with the unrelenting Evil Dead. Now with Evil Dead Rise set to unleash its spin on the Deadites, here's our (totally subjective) ranking of the franchise. Groovy.
5.) Evil Dead Rise (2023)
"Mommy's with the maggots now."
Irish director Lee Cronin's entry has the longest runtime in the franchise, and boy, can you tell. I saw Evil Dead Rise at a special screening in Atlanta hosted by Warner Bros., and the packed theater's reaction when the credits rolled was, how nicely can I say this — mixed. And those who cheered seemed like they were under some obligation to do so.
I'll give the movie this – it didn't feel the need to drag out the figurative corpses of every major and minor character in the original trilogy to create a dreaded legacy sequel. Can someone explain why the nurse is in Halloween Kills again? Anyway, Evil Dead Rise follows a tattoo-artist single mom trying to make ends meet for her three precarious kids (who you're supposed to care about simply because they are kids) when her street-wise, guitar tech sister stops by for a visit. Then all hell kinda breaks loose. The movie takes so long to get going that when it does it's over. The "gore" is basically just immaculate CGI and all the central characters just stand around as mommy goes with the maggots while spending most of the film's runtime walking around the hallway.
The only absolute delight is the mom, Ellie (portrayed maniacally by Alyssa Sutherland). If there is one thing we know about Deadites is that they are having the time of their undead lives, and Sutherland – who based her performance on Jim Carrey in The Mask – fully embraces the role with evil glee. Other than that, the movie is just okay. Not bad, just okay.
4.) Evil Dead (2013)
"She just cut her f—ing arm off. Does that sound fine?"
This group of 20-somethings isn't going to a cabin in the woods to "party down" like Scotty did; they're going to help their friend (played by the vastly underrated Jane Levy) kick heroin. Then one of them finds the Necronomicon and opens it, despite several warnings on the book itself that tell him to definitely not open it. A paper-thin plot, not the best execution, and generic stock characters (with the exception of Levy).
But looking for a plot or people to care about in this movie is like looking for character development in Godzilla vs. Kong. That's not why we're here. The true star of this film is the completely ludicrous and over-the-top gore (and it's reported 70,000 gallons of fake blood). This film is brutal, bloody, and nauseating, and it knows exactly what it is. The effects in Evil Dead are exponentially better than Evil Dead Rise by every conceivable metric. It is also, without a doubt, the best-looking film in the franchise.
3.) Evil Dead 2 (1987)
"Then let's head on down into that cellar and carve ourselves a witch."
I realize this movie's spot on this list might be considered heresy to some, but trying to choose your favorite of the original trilogy is like trying to choose your favorite meal. What can be said about Evil Dead 2 that hasn't been said a thousand times before? A perfect mix of comedy and horror and the official birth of Ash we know him today.
It is a bona fide classic whose influence can be felt in everything that came after it. "You see Evil Dead 2, and you see that shooting style, and it's like, 'well, what's the point of shooting any movie not like that?" Quentin Tarantino said on Eli Roth's History of Horror podcast. "Everything looks old-fashioned by comparison."
2.) Army of Darkness (1992)
"Oh that's just what we call pillow talk, baby, that's all."
Without a doubt, the most rewatchable film of the entire franchise. Sam Raimi threw everything at the wall with this one and everything stuck. Army of Darkness is like The Empire Strikes Back of the franchise in the sense that every quotable line any regular old normie knows from the franchise is from this movie.
And Ash? He goes full Ash. Without the insane talents of Bruce Campbell this movie wouldn't work. The fish out of water, wisecracking', chainsaw-wielding, with a jaw of pure granite on a quest to get back to his own time. An absolute pure joy of a film that gets better every time you watch it.
1.) The Evil Dead (1981)
"Yeah… truly amazing."
A hill I will die on: if the original The Evil Dead had updated practical effects, it would be the scariest horror movie of all time. Feel free to argue in the comments. But this grabs the number one spot, because it was the film that started it all. Audacious, groundbreaking, gross, bonkers, and downright frightening. A horror classic that will continue to inspire and influence generations until the sun burns out.
The Evil Dead Franchise Legacy
So what did we learn here? Pound for pound, the Evil Dead franchise is the only "no skips" of the horror world filled with the likes of Jason Vorhees, Freddy Kreuger, Michael Myers, and Chucky. You too, Art the Clown. Each film could be your favorite, and guess what? You'd be right.