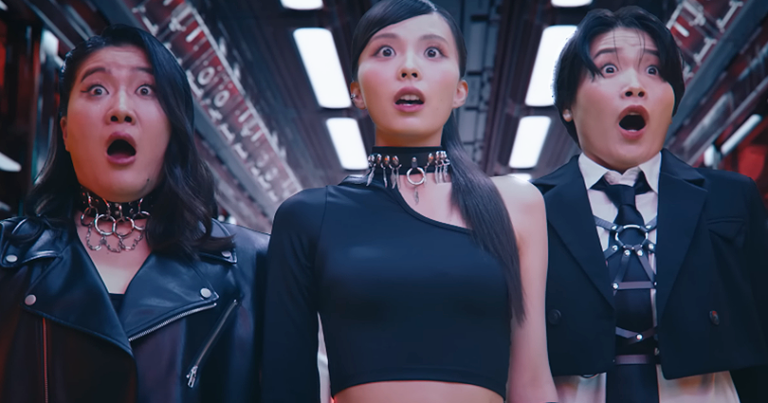 Curated From randomjpop.blogspot.com Check Them Out For More Content.

Former girl group member and almost a Kep1er member Yurina Kawaguchi, and the comedy duo Ganbareruya of Yoshimotozaka46 have teamed up for the song "Cheeky Cheeky". And they might have did a little sumn y'all.
Whilst this is intended to be a joke song, it is so damn good, that some won't even catch that it's a joke song. Because the sound, the lyrics and the video are par the course for J-pop generally. And there are FAR sillier songs and music videos which have been released than this, and even some of those are bops. Joke songs can be good. Just look at The Lonely Island. "I'm on a Boat" had no reason being as good as it was. I used to run that shit up and knew the lyrics from top to bottom. And then there's Kyary Pamyu Pamyu, who has made an entire career out of musical foolishness.
One of best things about "Cheeky Cheeky" is the inclusion of Yoshiko. It is so refreshing to see a different body shape in a J-pop music video, which isn't solely being played for a laugh. Yoshiko wasn't styled differently to the other girls, simply because she's larger. And her weight and frame wasn't made the butt of a joke. She was showing midriff, leg, all the body – and it was great. It's a shame that she probably only got this shot, because she comes from a comedic background. This is part of a (pun absolutely not intended) larger problem when you see how most of the more prominent comics in Japan who happen to be women look and dress. It's almost as though being a woman with a larger body determines that if you go into showbusiness, you will have to go into it as some form of a comic or comedic personality. Just look at Naomi Watanabe. It's a mess.
Yurina Kawaguchi and Ganbareruya – Cheeky Cheeky | Universal Music Japan
A random thing about this video that I found cool was that the whole entire thing was green-screened. Only when you watch the video in HD can you really tell. But even scenes and sets that I initially just assumed were sets, I realised were all green screened. The dark alley way. The throne room. The subway car. All green screen.
I'm impressed. But J-pop videos have always been on a different level when it comes to green screen music videos. A whole bunch of them look bad. But J-pop was adopting the use of blue / green screen with abundance far earlier than American music videos, and even had that shit looking better than some films. "Cheeky Cheeky" had backdrop replacement shots which looked better and more convincing than some of the most basic shots of Wakanda Forever. That film really does not hold up too well visually when you watch it at home on Disney+ chile. Ooof. But that's every Marvel Studios film these days.