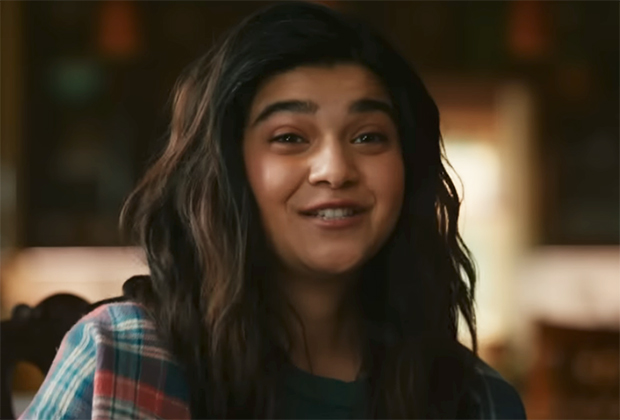 Matt Webb Mitovich

Curated From tvline.com Check Them Out For More Content.

The first trailer for The Marvels — which among other things is very much a sequel to Disney+'s Ms. Marvel — made its debut on Tuesday morning (during ABC's Good Morning America).
Originally earmarked for a July 2022 release, The Marvels was postponed four times and is now due to hit theaters Nov. 10.
Directed by Candyman's Nia DaCosta from a screenplay by Megan McDonnell, the superhero team-up film stars Brie Larson (returning to the role of Captain Marvel/Carol Danvers), Teyonah Parris (who was first introduced as an adult Monica Rambeau in TV's WandaVision) and Iman Vellani (who last summer headlined TV's Ms. Marvel, as newbie superhero Kamala Khan).
Both Larson and Vellani were last seen in the Ms. Marvel finale's post-credits scene, where Carol Danvers and Kamala unwittingly swapped places with one another. Parris' Monica, meanwhile, was last seen in one of the WandaVision finale's bonus scenes, where a SWORD agent revealed herself to be a shapeshifting Skrull sent by "a friend of your mother's," meaning Nick Fury. "He heard you'd been grounded," the Skrull told Monica, "and would like to meet you" — up in space.
On the casting front, Samuel L. Jackson will reprise his MCU role as Nick Fury; Kamala's family will again played by Ms. Marvel's Saagar Shaikh, Zenobia Shroff, and Mohan Kapur; and brand-new additions include Korean actor Park Seo-joon (Itaewon Class) and British actress Zawe Ashton (Velvet Buzzsaw), reportedly as a prince and as the film's villain.
The Marvels is a part of the Marvel Cinematic Universe's Phase 5, which kicked off with Ant-Man and the Wasp: Quantumania and next will serve up Guardians of the Galaxy Vol. 3 (in theaters May 5) and Disney+'s Secret Invasion (streaming June 21).
Want scoop on any of any Marvel TV show? Email InsideLine@tvline.com and your question may be answered via Matt's Inside Line.