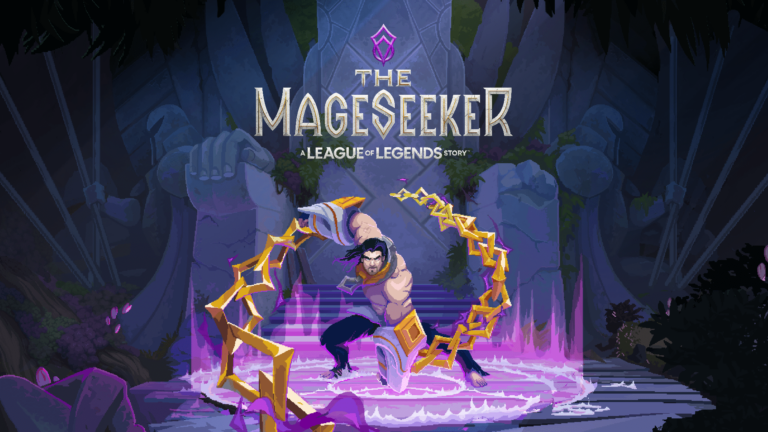 Gina Tavarozzo, Global Community Strategist, Riot Games

Curated From news.xbox.com Check Them Out For More Content.

Summary
Uncover the story of Sylas, the Unshackled in a brand new tale set in the League of Legends universe
Learn how the partnership between developer Digital Sun and Riot Forge Games brought this adventure to life
Jump into The Mageseeker: A League of Legends Story today, on Xbox Series X|S and Xbox One
Experience the magic of The Mageseeker: A League of Legends Story today, out now on Xbox One and Xbox Series X|S.
The Mageseeker: A League of Legends Story is a 2D pixel action RPG developed by Digital Sun, an indie studio best known for their monster-stomping RPG, Moonlighter. Riot Forge and Digital Sun joined forces to bring the revolutionary story of Sylas, the Unshackled, to life.
Sylas was just a boy when his ability to sense magic was discovered by the Demacian Mageseekers. The Mageseekers, looking to unearth and control dangerous hidden sorcery in the kingdom, quickly recruited young Sylas into their ranks. During his time with the Mageseekers, Sylas realized that magical abilities were far more prevalent than previously thought. Beginning to doubt the righteousness of his actions, he committed an act of rebellion to save the life of a fellow mage, only for it to end in disaster.
As a result, Sylas was sentenced to life in prison. Shackled in the darkest depths of the Mageseeker compound, Sylas's desire for vengeance began to take root. Join Sylas on his journey for retribution as he breaks free from his shackles to bring Demacia to its reckoning.
In this 2D action RPG, combine both melee and magic to take down hordes of enemies as you grow your rebellion. Use your fists to bash down foes, or steal and throw their own magic back at them. Join forces with fellow mages to strengthen your forces and grow your base. The revolution has begun.
Riot Forge partners with talented developers from across the globe to craft awesome experiences in the League of Legends Universe. Digital Sun's extraordinary ability to bring stories to life in a beautiful 2D pixel style made them an obvious choice for bringing to life the League of Legends universe and the champions within.
Check out the interview below with Javi Giménez, CEO and Co-Founder of developer Digital Sun, and Rowan Parker, Creative Director at Riot Forge to learn more about how this partnership came together.
What was it like being asked to take on a League of Legends game as an indie studio?
Giménez: It was very exciting. We are huge League fans at the studio so it felt like a great opportunity to add a little bit of ourselves to the world of Runeterra. And get to build a game with characters we love. Now that it's almost finished, we can confirm that it's been a blast to build the game!
What were some of the greatest challenges in recreating the world of League of Legends?
Giménez: We wanted to make sure that we got right the very popular League champs that appear in the game in terms of visuals, narrative and mechanics. That last one, mechanics, was very fun to do – translating what Jarvan or Garen, or even Sylas himself can do on the MOBA to an ARPG was very fun to do, but challenging to get right. We hope players will like it!
Why did you choose to partner with Digital Sun?
Parker: Honestly, we loved Digital Sun's previous game Moonlighter! Their charming pixel art style drew us in, and we stayed for the action gameplay. While playing, it was exciting to think through ways they might experiment with the League of Legends characters, so we reached out to see if they'd be open to the possibility. Obviously it worked out, because here we are!
What did you enjoy about the collaboration with Digital Sun?
Parker: The team over at Digital Sun are real League of Legends fans. The core team had been playing for years long before we'd even met each other. They know these champions, have their own personal history with them from thousands of games, and bring that with them to The Mageseeker. I think it really shows that a group of fans have made this game, with the easter eggs they've hidden in there, their passion for the champions and the world of Runeterra. It made the collaboration with Forge really effortless.
What excites you most about seeing League of Legends champions in Riot Forge games?
Parker: Riot Forge games give us an opportunity to get up close and personal with our champions in a way that isn't possible in our bigger live service games. We can create these character vignettes that explore the motivations and nuance of our champions as we're storytelling. Players can also immerse themselves in the world of Runeterra, touching and interacting with our factions like only a video game can allow. We really enjoy these chances to showcase the true power level of our champions, while telling compelling stories at the same time.
Unshackle the magic in The Mageseeker: A League of Legends Story, available today on Xbox Series X|S and Xbox One.
The Mageseeker: A League of Legends Story™
Pre-Order the Standard Edition to receive a Lost Silverwing for your Hideout.

Developed by Digital Sun, creators of Moonlighter, The Mageseeker: A League of Legends Story™ is an action RPG that takes place in the League of Legends universe. In the kingdom of Demacia, the Mageseekers hold the power to oppress magic-using citizens in the name of public order–by inducting and indoctrinating them, locking them away, or driving them into hiding.

Play as Sylas, a spell-stealing mage who has just broken free of his unjust captivity at the Mageseekers' hands. Wielding the chains that once bound you, you must liberate your homeland from tyranny, one Mageseeker at a time.

It's time to unshackle the magic.

Command the Magic
Magic is everywhere, including on the battlefield. From searing flames to deadly ice, master a variety of spells and customize your unique play style. Brandish your chains and use your enemies' magic against them, or bash them with your fists–the choice is yours.

Raise a Rebellion
Demacia is ripe for a revolution, but can you rise to the challenge of leading it? It's up to you to find mages across the land and recruit them to your cause. Harness the power of your growing army to upgrade your base and unlock unique abilities.

Forge Your Legacy
You see the Mageseekers for the criminals they are, but not everyone is ready for the truth. Battle formidable foes and align with unforgettable allies, both new and old. Only you can uncover the buried secrets of Demacia's past, and use them to change the course of its future.