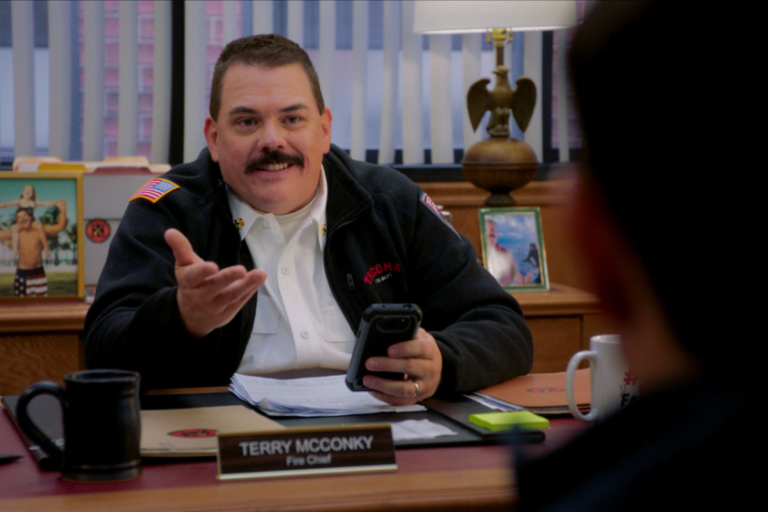 Telly Vulture

Curated From tvseriesfinale.com Check Them Out For More Content.

Vulture Watch
The station's getting renovated, not unlike a few Warner Bros. Discovery cable channels.  Has the Tacoma FD TV show been cancelled or renewed for a fifth season on truTV? The television vulture is watching all the latest cancellation and renewal news, so this page is the place to track the status of Tacoma FD, season five. Bookmark it, or subscribe for the latest updates. Remember, the television vulture is watching your shows. Are you?  
 
What's This TV Show About?
A workplace comedy airing on the truTV cable channel, the Tacoma FD TV show stars co-creators Kevin Heffernan and Steve Lemme, with Marcus Henderson, Gabriel Hogan, Hassie Harrison, and Chris Avila. The sitcom unfolds in a firehouse in one of the rainiest cities in the USA — Tacoma, Washington. Chief Terry McConky (Heffernan) and Captain Eddie Penisi (Lemme) lead the eclectic crew that includes Granny (Henderson), Ike (Hogan), Lucy (Harrison), and new recruit Mickleberry (Avila). These firefighters keep themselves entertained with creative competitions, friendly first responder rivalries, and no shortage of bizarre emergency calls. Guests include Tony Danza, David Arquette, Joey Pantoliano, Paul Soter, Jim Rash, Jon Rudnitsky, Maria Russell, and Jamie Kaler.
 
Season Four Ratings
The fourth season of Tacoma FD averages a 0.05 rating in the 18-49 demographic and 151,000 viewers in the live+same day ratings (including DVR playback through 3:00 AM). Compared to season three, that's down by 45% in the demo and down by 31% in viewership. While these numbers don't include further delayed or streaming viewing, they are a very good indicator of how a show is performing, especially when compared to others on the same channel. There can be other economic factors involved in a show's fate, but typically the higher-rated series are renewed and the lower-rated ones are cancelled. Find out how Tacoma FD stacks up against other truTV TV shows.
 
O   F   F   I   C   I   A   L          S   T   A   T   U   S
As of August 19, 2023, Tacoma FD has not been cancelled or renewed for a fifth season. Stay tuned for further updates.
Telly's Take
Will truTV cancel or renew Tacoma FD for season five? This is the only original scripted series that airs on truTV, and there's been a shuffling of the few scripted shows left on sister channels TBS and TNT. My inclination is that Tacoma FD will continue (especially since reruns are being aired on TBS), but I wouldn't be surprised if this were the end, either. I'll update this page with breaking developments. Subscribe for free alerts on Tacoma FD cancellation or renewal news.
 
Tacoma FD Cancellation & Renewal Related Links
What do you think? Do you hope the Tacoma FD TV show will be renewed for a fifth season? How would you feel if truTV cancelled this TV series instead?
Check out our
status sheets
to track new TV series pickups, renewals, and cancellations. You can find lists of cancelled shows
here
.