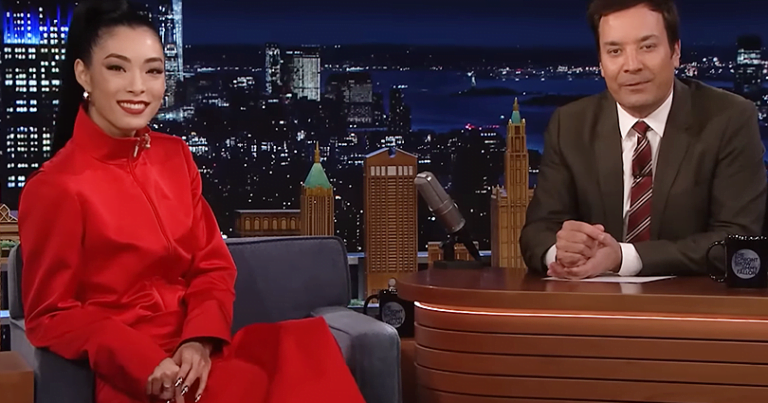 Curated From randomjpop.blogspot.com Check Them Out For More Content.
After what has felt like AGES since the news broke that Rina Sawayama was cast in John Wick: Chapter 4, the film is finally on the cusp of release (March 24th, 2023) and Rina has been on the promo train for the film. And the British Japanese pop singer, songwriter and now actor Rina Sawayama made an in-person appearance on The Tonight Show Starring Jimmy Fallon to talk about the film, how she got the gig and how she threw her back out on the first day of training.
I like Rina Sawayama. I also like Keanu Reeves. I like me a good action sequence. But I have no intent on watching this film. I've never watched a John Wick film in my life. I'll probably just watch the Rina scenes, because she looks badass in the film. And from what I've heard about this film, Rina doesn't have a big role and only features during the start anyway. People are dragging this John Wick film, but that's not my business. Rina got paid, so I'm happy for her.
I think Rina looks great in the film. Although I am curious as to whether some feel there is something token about her character in the film. It's not my place to really get all the way into that, nor to be offended by it. It's just a feeling I had when her character was first revealed. And then oddly enough, it surfaced that John Wick: Chapter 4 co-star Donnie Yen had expressed concerns over his character's original name and look, which he felt were too stereotypical, so they were both changed.
It is absolutely insane that Rina has never done a late night talk show appearance before. But then I remember that Rina's debut album released in the thick of the madness that was 2020, and that it has been 3 years of the world trying to return to some form of normality after the pandemic turned everything upside down. The entertainment industry is still trying to find its footing with this new normal, which is talent being very content with doing interviews in remote locations via Zoom, and some not even doing that. Even I'm finding it weird to see social distancing no longer being a thing, and chairs being close again. That's one thing I think talk shows should have tried to adapt to. I liked seeing guests in bigger, more comfortable chairs, with space. I'd hate to be on a talk show and have to sit so close to somebody that I don't know. But I completely get that a big part of late night talk shows is the intimacy and close proximity, and that the distance would feel strange during a conversation. But I'd still be like 'Can you bring out the big chair and move it 6 feet from the desk' though.
I really hope Rina hasn't given up on Hold the Girl. Despite it being far more commercially successful than Sawayama, it has been dragged a little through the mud critically. I've not stuck with it as much as I had Sawayama, but there are still good songs on the album which could still be singles. "Forgiveness" and "Holy (Till You Let Me Go)" would both make great singles if released at the right times and with great videos. Rina could easily stretch the album for the rest of 2023. Especially if she drops a deluxe version of it, which would also give her another chance to get it to number 1 on the UK albums chart, after the original release got oh-so-so close at number 3.
---