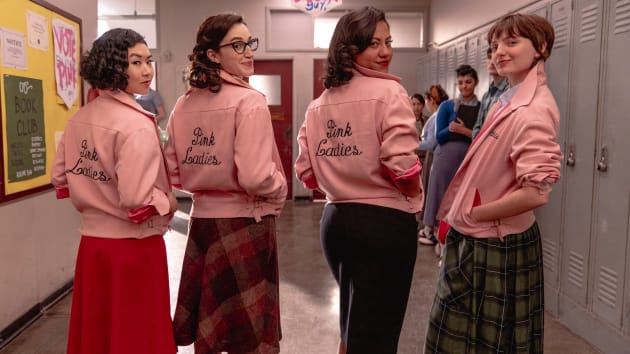 Mary Littlejohn

Curated From www.tvfanatic.com Check Them Out For More Content.


Prequels are all the rage these days.

We love returning to beloved universes that feel familiar but have new stories to tell.

Prime Video's A League Of Their Own was a terrific example of taking the framework of the source material and transforming it into something that feels relevant to modern audiences and uplifts voices that were not always given a platform in the eras being depicted.

Similarly, Grease: Rise Of The Pink Ladies focuses on the outcasts, the nerds, the ambitious, and the women who don't feel like conforming to the status quo — or, because of who they are, haven't been allowed.

Why shouldn't they band together and create something new and special to celebrate each other?

Musically, we get the familiar opening number, "Grease Is The Word," and it manages to set up all the central characters. The lyrics take on new meaning, and it's like we're hearing it for the first time.

Jamal Sims has an inventive, out-of-the-box style to his choreography that feels fresh and new but still fully 1950s.

The cast tackles the dancing and music with such vitality that it's impossible not to get swept up in their energy. All the young actors are relatively new to the small screen, but most of them have plenty of theatrical experience, though, and it shows.

Everyone has strong voices and charisma to spare. Marisa Davila, as Jane, is likable, brainy, and confident, and she has a poppy soprano that perfectly fits the music style.

She's the leader of this pack and holds her own, especially in a powerfully isolated solo number in Episode 2, exemplifying the inner rage of how bitterly unfair it was to be a teenage girl in the 1950s.

Similarly, Olivia (Cheyenne Isabel Wells) has a tricky, complex arc to navigate — constantly harassed by students and teachers alike — while embracing her sexiness as something to celebrate, despite how it "affects others."

One of Olivia's major throughlines is highly unsettling, and it's in no way resolved by the end of Episode 5, so we'll have to reserve judgment on how it plays out, but here's hoping it has a satisfying and not-icky conclusion.

Ari Notartomaso's Cynthia brings to mind that other great musical-theatre "tomboy" — Anybodys from West Side Story. Cynthia wants to join the T-Birds, but she's too much of a girl to join the group, though they enjoy having her around.

Notartomaso's vocals and swagger are comparable to the greasers, particularly present in the song "New Cool," which pays homage to "Greased Lightnin'" and still somehow manages to be its own thing entirely.

Again, it's hard not to think of West Side Story with the Puerto Rican greaser Richie (Johnathan Nieves) and his sister Olivia like a musical comedy parallel-universe Bernardo and Anita (yes, I know Bernado's sister is Maria, but Olivia has Big Anita Energy).

Shanel Bailey shows up in Episode 3 as Hazel, making her mark with a stunning opening number (again, with imaginative, evocative choreography from Jamal Sims and direction from Diego Velasco).

Broadway veteran Bailey has a gorgeous voice but is still underused halfway through the season.

Hazel's arc is less developed at this point, but since our introduction was so intimate, we already know who she is and can infuse our own meaning into her body language and wide-eyed stares.

Tricia Fukuhara is refreshingly weird and oozes savviness as aspiring fashion designer Nancy. All the costumes in the show are fantastic (Samantha Hawkins and Angelina Kekich), but Nancy's outfits are on another level.

Having more Asian-American representation in a show set in this era is great, with Nancy's Japanese heritage being an integral part of her and her family's backstory.

Several of the supporting players stand out as well.

Niamh Wilson takes on the over-serious, ego-centric thespian Lydia and does something wonderfully unexpected with the role.

Josette Halpert's Dot is an energizer bunny of a girl, desperate for anyone and everyone to be her friend. She could be annoying, but her clear sympathies allow her to be more on the endearing side.

The massive ensemble of singers and dancers is solid as any you'd find on a Broadway stage, supporting the leads with tireless pep and pizzazz.

A few characters pop in from the original, but we won't spoil it, except for, of course, Assistant Principal McGee, played exactly how you'd imagine her, y Jackie Hoffman (Eve Arden played the role in the film).

Hoffman even gets to lead a musical number of her own in Episode 5, and while she doesn't have the most mellifluous vocals, the song is one of the most joyous sequences in the series thus far.

Grease and West Side Story aren't the only musicals this show evokes. The opening of Episode 2 feels like a twisted take on Bye Bye Birdie — another musical about teens rebelling against societal norms.

The stagey-ness of it is fantastic fun, even if the mothers all look far too young to be the mothers of teens — though I guess that's just how it was back then. If everyone's getting married and pregnant right out of high school, of course, a 17-year-old's mom could be in her early 30s.

Times have changed!

There is a whole slew of musical numbers that deserve endless raves. When they work, they're the biggest strength of the series.

Other than the ones already mentioned, some highlights include the Episode 1 finale (evoking a famous scene from the original film), a pillow fight fantasy slumber party in Episode 2, Olivia's "distracting" number in Episode 4, and a duet in Episode 5 that had me in tears.

Not every song stands on its own, and the ones that sound more modern don't work as well as the ones that pay homage to the musical styles of the '50s.

Sometimes the vocals feel overproduced, but that is the world we live in. It's television, not live theatre — it's going to be polished and pretty because it can be.

One number at the top of Episode 5 didn't sit well with me, considering the kind of drills kids in American schools are regularly doing these days. It just felt like it was making light of something too heavy.

Grease: Rise Of The Pink Ladies is all about empowerment, wish fulfillment, friendship, and the obstacles faced by young people who didon'tollow the rules.

It's fun to see these outsider girls doing what they want and leading the charge against societal norms.

It's not just plain old-fashioned misogyny, though — there's internalized misogyny as well, which is something worth addressing because it's pervasive even today.

Some girls, like Susan (played with a righteous veneer by Madison Thompson), deflect by targeting other girls and accusing them of the things she's terrified will become public knowledge about her.

How quick are we to throw women who love sex under the bus but celebrate men for it? Jane challenges that stereotype — nerdy girls can be sexy players, too.

Why should a girl have to give up one of her dreams to achieve another? Why should a girl give up her ambitions because a boy wants the same thing she does? If she earns it, she should have it and not be guilted into giving it up.

Despite being set in 1954, this is Grease from the lens of the 2020s, just as the original was the 1950s from the lens of the 1970s.

Thus race isn't nearly as much of an issue as it would have been back then. It's not that issues of race aren't touched on; they're just not the central defining characteristic of these people, which is refreshing in and of itself.

Racism is merely skirted around for the most part, except for a few wild sequences in Episode 3 and some offhand remarks here and there.

The connection to Grease itself is relatively tenuous. It doesn't really need to be Rydell High, but the "Grease" name will pique people's interest, which is likely the point.

By using Grease as a point of reference, this series can serve as a counterpart to the original, a sly commentary asking the world, "Aren't you forgetting someone?"

In a fun touch, all the episode titles are quotes from the original film. (Also, the origin of the Pink Ladies name itself is wonderfully subversive).

This is a story showcasing underrepresented heroines we can all root for.

By making it into a ten-episode season, characters that could feel cookie-cutter and one-dimensional are given more layers, and everyone gets a chance to shine and show what they can do.

At the midway point, there are still characters we don't know as well, but they seem to be on track toward getting more screen time and development. We only know the male characters superficially, apart from Buddy and Richie (except, of course, who is crushing on who).

It's a big cast. We have another five hours to hear more of them sing and explore their arcs. I am cautiously optimistic for the next half of the season and intrigued to know where these plotlines will go.

This is Grease for a new generation. And why shouldn't they have it? By creating new characters to exist at Rydell, creator/showrunner Annabel Oakes has let the original stand on its own but shows how our perception of the era has shifted.

Grease: Rise Of The Pink Ladies is fun and celebratory and makes its points without taking itself too seriously.

It leans just enough into the campiness of the original and taps into the energy that made it so popular in the first place.

The fun and energy are balanced with real, relatable issues. Mainly, it sucks to be a teenager — the hormones, the social politics, the parental pressure, the institutional misogyny — but it doesn't have to. All you have to do is find your people.

Will you be watching? Let us know in the comments!

Grease: Rise Of The Pink Ladies premieres on Paramount+ on Thursday, April 6, with two episodes and a new episode every Thursday.
Mary Littlejohn Mary Littlejohn is a staff writer and critic for TV Fanatic. She loves television, cinema, and theatre (especially musicals!), particularly when it champions inclusivity, diversity, and social justice. Follow her on Twitter.