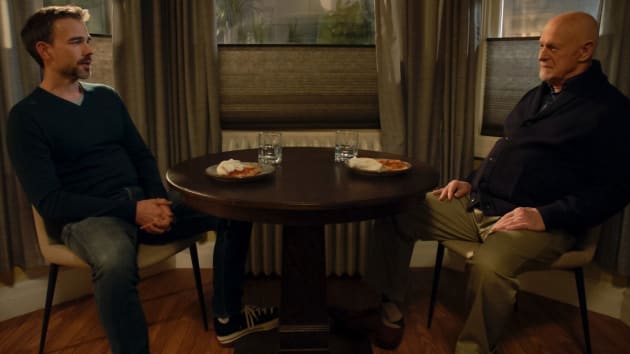 Dale McGarrigle

Curated From www.tvfanatic.com Check Them Out For More Content.


Here's hoping this was merely a pause before the sprint to the finish.

Otherwise, what exactly was the purpose of NCIS: Los Angeles Season 14 Episode 17? It failed to advance any ongoing storyline.

With only a handful of episodes left until the series' conclusion, you would have expected more developments to happen.

There were a couple of glances at ongoing storylines, neither memorable.

First, Callen (and supposedly Anna) felt compelled to set up Sam with a plus-one for their wedding.

It's difficult to say why they thought this was a good idea. Sam wouldn't have put up with this under any other circumstances. So it's a mystery why Callen decided to attempt this now.

If nothing else, this should serve as the official death knell to Sam's relationship with Catherine, unless that's happened in passing already.

Sam found the correct way to short-circuit this effort, requiring an expensive meal to meet the plus-one candidates.

Even less memorable was the latest entry on the Kensi-and-Deeks-as-parents journey.

The current debate was over which extracurricular activity would be safe for Rosa to undertake.

The girl escaped from a war-torn country. So any school activity she may opt to participate in now would seem tame in comparison.

But, in both cases, there was a banter quota to meet, I suppose, no matter if it fits into the somber atmosphere of the episode.

The lesser of the two storylines in this episode (which is saying something) was Kilbride's much-ballyhooed visit to his estranged, addict son, Alex. It was hardly the hoped-for payoff.

Let's recap those handfuls of scenes: Awkward reunion, re-airing of past grievances, Alex kicking out Kilbride, Kilbride returning to finally fight for his son, and the two of them starting to talk again.

Their meeting went precisely as could be expected. Alex was elusive and defensive. Kilbride proved even worse with emotions in his personal life than at the office.

Everyone watching wished that mother/ex-wife Elizabeth was there to referee since she set all this in motion.

The point was that they were taking the first step in mending their relationship. And with a few episodes remaining, that is going to be that.

Finally, the team tackled a cold case, even after Kensi said with disdain that they don't do cold cases. Why not? Are they too good for that?

They were asked to work with the NCIS Cold Case Homicide Unit. And, since they had nothing else to do but banter about their personal lives, they did so.

Typically, when a new NCIS team is introduced, it's a sign of a potential backdoor pilot for a spin-off. Think about how NCIS: New Orleans and even NCIS: Los Angeles itself came along.

Now, with NCIS: Los Angeles concluding after 14 seasons, there is an opening in the franchise.

However, the new squad members generally get introduced during the backdoor pilot so that viewers can determine if they like the characters.

It seems unlikely that this cold-case unit was getting the backdoor-pilot treatment, as only one character was introduced.

Granted, Daisy Van Sant was a memorable character. She was sure of herself and her abilities and wouldn't take crap from anybody, especially a pair of cold-case virgins in Sam and Callen.

But she didn't appear to have a team. Hence, the OSP being called in to handle the legwork for her.

So we basically got a standard episode with an enjoyable guest character, not the start of a legacy series. Unless that's where Sam or Callen end up down the road. Then this episode makes more sense.

However, it lacked the feel of the well-written Cold Case, which ran for seven seasons on CBS. Maybe it was the lack of an era-specific soundtrack.

The good news was that the team was working again without any interference from a leadership figure with Kilbride out of town. As they too often have been since Hetty went MIA.

Also, it was the big four out in the field in their usual pairings, with Fatima and Rountree stuck in Ops, attempting to make sense of Daisy's antique recordkeeping system. It was a hoot to see Fatima use Kilbride's pickup so that she had a tape deck to play the interview cassettes.

The episode did an admirable job of bringing the victim, Britney, back to life. New parents Kensi and Deeks got more invested as Britney's mother, Carmen, recalled all her daughter's good qualities. Her ex-roommate Jen supplied a motive for the murder.

It also became evident that someone in the Baker family was responsible for Britney's death. At first, the overly protective wife appeared a likely candidate, but instead, it was the cordial father, Jack, who was protecting his son's Navy career.

It was a missed opportunity that the military's misogynistic handling of sexual-harassment cases was barely examined.

Instead, it viewed Britney's case as a symptom of a bygone era, not the ongoing problem that remains today. It could have been a statement, not just a barely mentioned part of a plot.

To revisit Kensi and Deeks' journey as parents, watch NCIS: Los Angeles online.

How did you like Daisy Van Sant?

Would you watch a series about the NCIS Cold Case Homicide Unit?

What did you think of the payoff of the Kilbride-Alex storyline?

Comment below.
Dale McGarrigle is a staff writer for TV Fanatic. Follow him on Twitter.