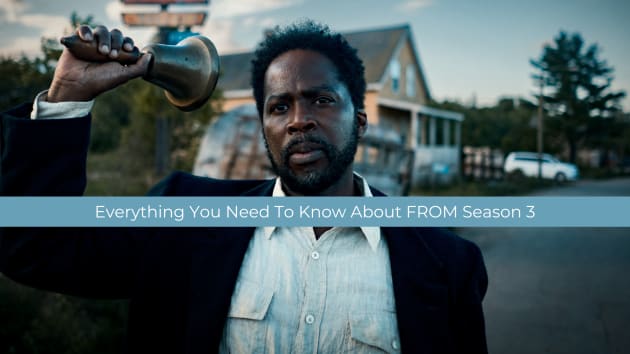 Whitney Evans

Curated From www.tvfanatic.com Check Them Out For More Content.


Even though the series just closed the door on its powerful season earlier this summer, FROM is still garnering a lot of conversation.

FROM Season 2 was a massive hit for MGM+, with the fandom expanding exponentially during its second effort. The FROMily showed up week in and week out to chat about the series and helped the horror show grow into a mainstream success.

But with the season having come and gone, now we're left with the questions. When will the series return? Who will be returning? And just what happens after THAT finale?

Lucky for us, we know that FROM has been renewed for season 3, as MGM+ gave the thumbs up to a new season shortly after the finale.

"The first two seasons of FROM captivated critics and terrified and engaged fans, who have formed a thriving online community that is trying to put the pieces together week by week as the secrets of the nightmarish town—and possibly beyond—are slowly revealed," said Michael Wright, head of MGM+.

"We can't wait for fans to see the surprises ahead in Season Three, which promises more scares and mysteries, but also more answers."

Jack Bender, executive producer and director, added, "We're so grateful for the support of our fans and FROMily this season. We have a lot more story to tell… and shocking, weird roads to take you on, with plenty of answers along the way."

Answers are coming, FROMily! But while we wait for those answers, let's answer some of the most pressing questions currently swirling around television's hottest horror treat!

FROM Season 3: Release Date

While it would be nice to have a definitive date for you guys, it's just too hard to predict at this point.

The official press release from MGM+ stated, "The series is set to return in 2024." And that's good news, though whether that means early or late 2024 remains to be seen.

FROM Season 1 premiered in the late winter of 2022, while FROM Season 2 premiered in the spring of 2023, so one hopes that perhaps the series will premiere, sometime in the winter or spring, though with the ongoing WGA and SAG-AFTRA strikes for fair contracts, it's unclear when writing and filming on the new season will commence.

But at least the series is guaranteed to live another day.

FROM Season 3: Who Will Be Returning?

FROM's greatest strength lies within its cast, which is large, diverse, and incredibly talented.

Led by one of the greatest actors of his generation, Harold Perrineau, the cast is the real star of the show at times, elevating complicated and engaging material to new heights.

The series has seen its fair share of shocking deaths thus far (RIP Father Khatri! RIP Tom!), but heading into Season 3, all the core characters should still be in place.

Those include:

Harold Perrineau as Boyd Stevens

Catalina Sandino Moreno as Tabitha Matthews

David Alpay as Jade Herrera

Elizabeth Saunders as Donna Raines

Scott McCord as Victor

Simon Webster as Ethan Matthews

Hannah Cheramy as Julie Matthews

Avery Konrad as Sara Myers

Chloe Van Landschoot as Kristi Miller

Ricky He as Kenny Liu

Corteon Moore as Ellis Stevens

Pegah Ghafoori as Fatima Hassan

Elizabeth Moy as Tian-Chen Liu

While the series has employed some flashbacks, overall, the timeline has only encompassed a short amount of time, and assuming that continues, all the principal characters should still be in play.

What Will FROM Season 3 Be About?

FROM loves a good cliffhanger, and the biggest of all came during FROM Season 2 Episode 10, which saw Tabitha awaken in a hospital bed, seemingly back in the "real world."

With very little known about the specific plot points for the next season, it's safe to assume that we'll get some clarity about Tabitha's situation and the aftermath of the locust infestation back in town.

Much of FROM Season 2 centered around Boyd's encounter with Martin during FROM Season 2 Episode 2, and then the subsequent plague that was seemingly unleashed on the town and caused a myriad of problems involving music boxes, dreams, and rather loud insects.

Things wrapped up with the town less worried about it being their last day, but they're still stuck there and should still be hunting for that elusive ticket home.

How Many Episodes Will FROM Season 3 Have?

So far, both episodes of the hit series have had 10 episodes each, and we see no reason for that trend to change with season 3.

10 is the perfect amount of episodes for a show like FROM, giving it plenty of time to craft a cohesive storyline to keep audiences engaged.

In today's television landscape, shorter episode counts are all the rage, but 10 is an excellent number for this kind of series and should continue into the next season.

Is There A Trailer For FROM Season 3?

Unfortunately, without much known about the new season's start date, we are left without a trailer.

Though, the FROM official account on X (formerly known as Twitter) did provide a teaser video correlating with the renewal news.

A dream? A simulation? A conspiracy? An experiment? More will be revealed in Season 3 of #FROM on @MGMplus. pic.twitter.com/CLS4YPe9rF


— FROM on MGM+ (@FROMonMGM) June 29, 2023

Where Can You Watch FROM Season 3?

When FROM Season 3 does return, you can catch the series on MGM+.

If you want to binge the first two seasons while waiting for new episodes, you can check them out on the same network.

We covered both seasons of the series at TV Fanatic, so check out the reviews here, and check in for all the latest FROM updates.
Whitney Evans is a staff writer for TV Fanatic. Follow her on Twitter.