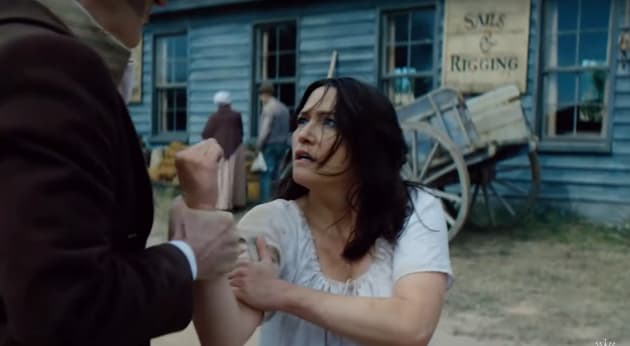 Paul Dailly

Curated From www.tvfanatic.com Check Them Out For More Content.


With many shows delayed, it's nice to know when we'll travel back in time with the Landry women.

That's right, folks.

Details are finally trickling out about The Way Home Season 2, and it's good news.

When Will The Way Home Season 2 Premiere?

Hallmark has confirmed The Way Home Season 2 will premiere on Sunday, January 21, at 9 p.m. ET/PT.

The exciting announcement means we don't have much time to wait for fresh episodes of one of the most promising shows of the year.

The cabler has also confirmed Andie MacDowell (Maid, Debbie Macomber's Cedar Cove), Chyler Leigh (Supergirl, Grey's Anatomy), Evan Williams (Blonde, Versailles), Sadie Laflamme-Snow (The Apprentice) will be back. 

Also returning are Alex Hook (I Am Frankie), Al Mukadam (Pretty Hard Cases, The Detail), Jefferson Brown (Masters of Romance, Slasher), David Webster (Luckiest Girl Alive, In the Dark), and Siddarth Sharma (Homeschooled, In the Dark) are also returning.

On The Way Home Season 1, the multigenerational family drama introduced viewers to Kat Landry (Leigh), her 15-year-old daughter Alice (Laflamme-Snow), and Kat's mother Del (MacDowell), three generations of women who are strong, willful and independent.

After being estranged for nearly two decades following the unsolved disappearance of Kat's eight-year-old brother Jacob (Remy Smith) and untimely death of family patriarch Colton Landry (Brown) that prompted Kat to move away from her Canadian farm town of Port Haven, Kat moves back with Alice when she finds herself at a crossroads in life.

Shortly after arriving, Alice unwittingly discovers the ability to travel between the past and present via a pond on the family's land. Soon, mother and daughter become determined to unearth the truth about these past tragedies and attempt to change the course of events.

The Way Home Season 2: Everything We Know

Elliot (Williams), Kat's childhood friend who always held a torch for her, is there in the present to help guide both of them in their journey, as well as in the past for Alice as his teen self (Webster).

It was a stellar freshman season that kept us on the edge of our seats and left us with more questions than answers.

The Way Home Season 2: Plot Revealed

The Way Home Season 2 "starts where the shocking season one finale left off and put viewers on the edge of their seats – with Kat exclaiming to Del that she knows what happened to Jacob," the logline teases.

"As Kat continues her quest to find Jacob and bring him home, mother and daughter uncover unexpected revelations about their origins that bring answers to some questions while new ones are raised."

The official trailer is filled with shocking twists and turns as we witness Kat's drive to uncover the truth about Jacob's whereabouts, even if it costs her some of the relationships she values the most.

But why shouldn't she search for these answers?

She's been plagued with the ramifications of Jacob's disappearance for too long, and in her eyes, she believes she must solve this to move forward.

The sad part is that the answers will not come easily, with Kat heading back to the 1800s and finding herself under lock and key.

Will she be able to escape, or will she be trapped there until someone saves her?

It's not an easy position, but it doesn't seem very easy for people like Elliot, who also believes she's going too far in her pursuit of answers.

Elliot seems focused on a life away from time travel, but somehow, he's still drawn to the Landry family and may have more answers to the questions they seek answers to.

Alice is also in a bit of a rut because she's been shown this part of history and been a part of it but is now being told to stay away from the lake.

Returning to the past is good… until you change something that could have severe ramifications for the future.

A part of her is also trying to come to terms with how her family got into this state in the first place.

The good news, though, is that there may be a resolution in the cards for Kat and Del.

The mother and daughter have been so far apart for years that there's so much they need to work through if they hope to live under the same roof again.

The Way Home Season 2 Trailer

The first footage of The Way Home Season 2 looks fantastic because it seems like we'll get all the answers and some more mystery thrown in for good measure.

Check out the promo below.

The Way Home was a big risk for Hallmark.

It was worlds away from the cabler's other offerings, and as we've witnessed with the cancellation of Ride, not all risks pay off.

"The first season of 'The Way Home,' exceeded all our expectations on every level," enthused Lisa Hamilton Daly, Executive Vice President, Programming, Hallmark Media.

"The hard work of our talented writers, cast and entire crew gave viewers a compelling family drama they instantly became invested in and created a passionate fan base that grew with each and every episode."

"We all fell in love with the Landry women and their complex, emotional story and are thrilled that it resonated so strongly with viewers," began Laurie Ferneau, Senior Vice President of Development at Hallmark Media.

"We can't wait for fans to continue this journey, which is filled with more heartfelt drama, emotion and mystery – season two does not disappoint."

What are your thoughts on the trailer and premiere date?

Are you ready for more?

Hit the comments.
Paul Dailly is the Associate Editor for TV Fanatic. Follow him on X.