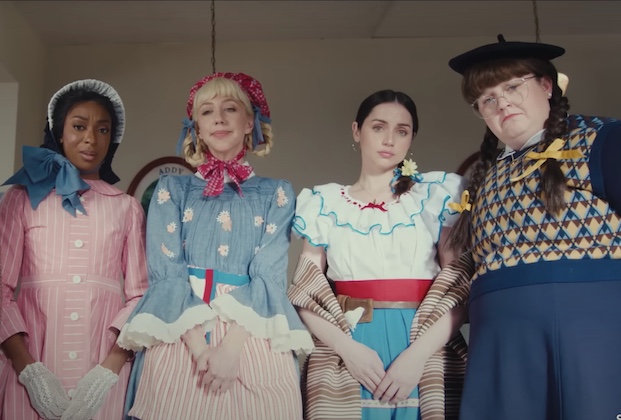 Robert Clarke-Chan

Curated From tvline.com Check Them Out For More Content.

Why should Barbie get to have all the fun? There are plenty of dolls who deserve a modern reboot on the big screen. But as Saturday Night Live demonstrates, the American Girl series is probably not one of them.
Kirsten (played by Heidi Gardner), Kit (Sarah Sherman), Molly (Molly Kearney), Samantha (Chloe Fineman), Josefina (guest host Ana de Armas), and Addy (Ego Nwodim) are all part of the line of historical character dolls that have delighted and traumatized children for decades now. Each has a series of books devoted to them that invites readers to visit a different era of our country's past. It's a fun way to learn about the pioneers or home life during World War II – though "fun" might not be the best way to describe Addy's story of being a runaway slave.
Of course, all the girls have their own tragedies – friends and families dying of whatever people died of during their era. Their chipper, "That's OK!" after every mention of the horrors of their everyday lives gets creepier and funnier each time they say it.
There are good times, though – once all the butter churning and floor scrubbing on hands and knees is done – right? Like fashion shows with options that make you wonder if there's a stronger word than "frumpy" for all the beige bonnets and petticoats. Or tea parties that end in more tragic deaths.
Excitement's just around the corner for the girls as they head off to the modern world – so long as your idea of excitement is being on the losing end of cholera. Which, if the American Girl books are at all accurate, it probably was back then. That's OK!
Fun fact: The names of various production assistants, designers, writers, and more in the faux credits at the end of the commercial.
Watch the sketch above, then grade this weekend's episode.