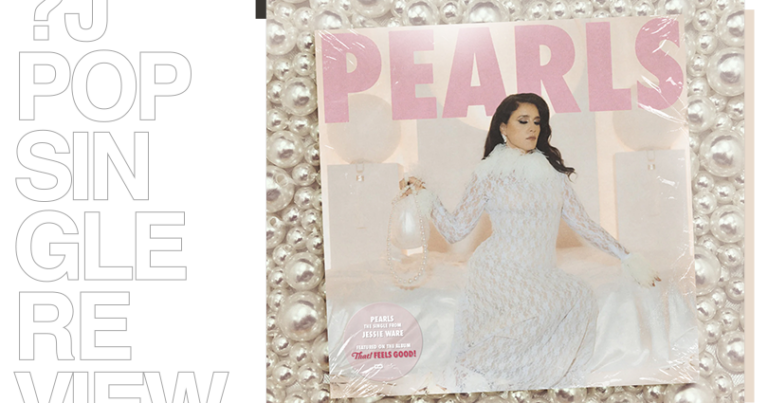 Curated From randomjpop.blogspot.com Check Them Out For More Content.

When I first heard the title of Jessie's new single, I figured it would be a song about opulence. But nope. It's Jessica being a freak nasty bitch. And it's glorious.
Ever since the release of What's Your Pleasure?, Jessie has allowed herself to settle into fun, sex and debauchery – which actually makes more sense for her character. Jessie has always been far more fun than her music would have you believe. So it's been great that her post What's Your Pleasure? single releases have been high energy and a lot of fun. And whilst "Kiss of Life" was cute, and "Free Yourself" was queer as hell, "Pearls" as a song feels far more like a step forward for Jessie in this phase of her career. And a much better emissary for what we can (hopefully) expect from her fifth studio album.
"Free Yourself" was by no means a bad song. The hook was great. And it absolutely lands in the club. But just from a promotional standpoint, the focus seemed to be more on Stuart Price's involvement than anything. I get it it. The RGB (255, 255, 255) gays who love them a main pop bitch adore Stuart Price after his work on Madonna's Confessions on a Dance Floor and Kylie Minogue's Aphrodite. So blasting his name out in every piece of promo and PR has its merits for sure. Stuart's name was also a PR talking point for Rina Sawayama's Hold the Girl and Duolingo's Future Nostalgia, two albums he was involved with. Stuart hasn't been attached as a primary producer to many high profile projects in a while. So, I get it. But "Free Yourself" didn't present this amazing reimagining of Jessie in any way, and the song wasn't so good that it felt like a clean slate and a new starting point; the same way that "Hung Up" did was for Madonna, and "All the Lovers" did for Kylie after the lukewarm reception to X. "Pearls" on the other hand, is more on the money.
Where-as "Free Yourself" just felt like a song Jessie put out, because she wanted to put it out, and she was still in her disco chanteuse bag and high off the love of the gays; "Pearls" truly feels like an arrival, and as though we are in a new gear, new album mode and a new phase of Jessie's career. "Free Yourself" ultimately felt like a What's Your Pleasure? leftover. Where-as "Pearls" truly feels like Jessie has moved into a new space creatively. Still very much in the old school, dance, disco space; but a new space nevertheless. Jessie may have been unsure about her foray into this space whilst she was recording What's Your Pleasure?, but she is sure of it now. And you can hear it in "Pearls". Jessie's assuredness comes through in how she sings this song, because a bitch is really SINGING it.
The biggest jump with this song is most definitely in Jessie's vocals. One thing about "Free Yourself" that I did like, was that Jessie was singing bolder than she ever had done before. But she REALLY pushes herself out there on "Pearls". I have never heard Jessie sing like this on a record before. "Midnights" was the closest we had gotten. Live, Jessica usually does go for it when she can. But her songs have never been written or arranged in a way where she even has the room to really go for it vocally – which I think was intentional and provided a safety blanket for Jessie. So to finally hear her really pushing her voice and no longer hiding behind reverbs, and EQs which muffle her, after years of listening to her music and hoping she'd reach this point – it really made me smile. This newfound confidence in her voice and how she uses it also pushes her fully into disco diva territory now. And if Jessie is giving big vocals across her new album That! Felt Good!, then it would be a clear thing which defines it and truly separates it from What's Your Pleasure?, if the two are going to share similar sounds.
The only nagging point I have with "Pearls, is that as catchy as the chorus is, the song as a whole doesn't stick for me the same way that some of Jessie's other singles have. And I think it's because of how fleeting the song feels, which is a similar issue I had with "Free Yourself". It just comes and goes. And the lack of a strong bridge to really anchor the song, which is also an issue I had with "Free Yourself", where the bridge felt like dead space in the song, that nobody knew what to do with. "Pearls" needed an additional verse or a beautifully drawn out bridge, where the entire song slows down, and you can picture Jessie in the spotlight just having a self indulgent Donna Summer moment. This is where I think James Ford as a producer shines, and what made his productions on What's Your Pleasure? the strongest. He is not afraid of a song being 5 minutes long to make space for moments where you can get a little lost in the song just feel yourself. This is what made "Spotlight" and "What's Your Pleasure?" sound like magic. Stuart Price comparatively is very bish-bash-bosh, and the song is done.
"Pearls" is a fun song, which I feel is going to get pushed to the side a little, as I feel many of Jessie's singles do. But I think live performances of the song is what is going to help it gain traction, whether it's now or in the future. Because Jessie's BBC performance of this song was amazing, and made me like the song so much more. It also further tapped into the songs biggest strengths, which is Jessie's vocal performance, how fun and exuberant the song, and really pulling out richness of the music.
But the biggest takeaway from "Pearls" is that Jessie is growing as a vocalist, and as a pop star who truly believes she is deserving of being a pop star. And it's hard to be mad at that. And for all of my nagging points, "Pearls" is still a solid song that many of the pop girls would kill for.
Verdict: 'Til the pearls come awf
---