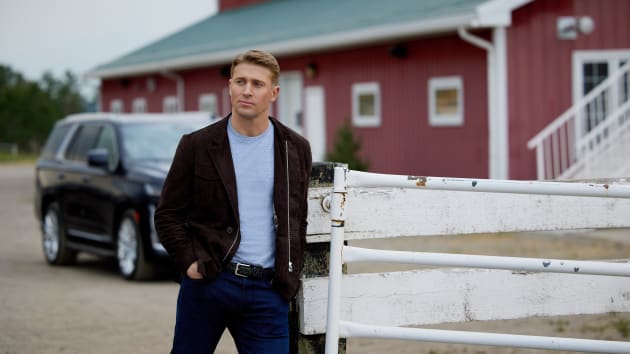 Laura Nowak

Curated From www.tvfanatic.com Check Them Out For More Content.


Tyler Jacob Moore made his Hallmark debut on Rise playing Gus Book, an investor interested in helping McMurray ranch.

Most of the McMurrays don't trust him, especially Cash. How pure are Gus's motives?

TV Fanatic chatted with Tyler about Gus's reasons for investing in the ranch, the romance with Missy, and Gus's family history. Check it out.

Hi Tyler. You recently made your Hallmark debut on Ride. What is your favorite part of the series so far?

My favorite part that has aired so far would have to be the dynamic between myself and the family members who aren't huge fans of Gus. I get a kick out of seeing the looks of the excellent actors I worked with that I didn't see on the day.

Watching the show like a fan has been fun, and seeing how great they were at being suspicious of my character. I enjoy that.

As far as the whole experience, my favorite part would be the cast and how lovely they are as people and actors. Every day was a joy, seeing them do their craft and watching that.

I don't like watching myself, but I do like watching my castmates, and it's enjoyable to watch them perform and do their craft. It's probably my favorite part.

Yes. It's been a lot of fun. So, what motivated Gus to want to invest in the McMurray Ranch?

Oh, that's a loaded question. I don't want to give too much away about future episodes, but I can safely say Gus genuinely loves the community and the ranching life and wants to be a part of that. He falls in love with the ranch and the people and is wildly smitten with Missy.

All of that combines to make it very appealing for him, and he would like to get away from his current life and family that's much more involved with money, ambition, and power. One of the things that Gus and I have in common is that success is contentment, not wealth or power. I like that about him as a character.

Will we learn more about why he's so different from his family?

Unequivocally yes. As we go through this season, we will learn more about his family and what makes him tick.

You get to see his dynamic with his family, and it sheds light on why the family is apprehensive about him and where he comes from, and why he has a hard time with where he grew up. We'll learn why he doesn't want the life he grew up in and was always surrounded by.

I can't wait to learn more about that.

I'm excited for everybody to learn more about it too. He's a complex, interesting character, and I enjoy getting into him. You can't be wearing rich guy clothes every day on set, so that was a nice bonus too.

So why do you think Gus relates so well to his niece Sophie? You guys are so cute together when you work together.

The little girl who plays Sophie is a doll, and her parents are so sweet, and we get along on set. I think, character-wise, she represents the innocence and a new beginning that Gus wants.

He views the ranching life and this community as his way of starting over and starting new and separating himself from all the trappings of city life, business, and his father.

So, what can you tease about the family outing that Gus, Missy, and Sophie have on Ride Season 1 Episode 4?

Gus and Missy learn more about each other and share some time alone. Gus interacts more with the McMurrays, and Misty sees a more nurturing side of Gus, a parental side regarding his niece.

You get to go on that journey with him. I'm excited for people to see it because I don't know where this story goes, and I think you start to see that it's not as cookie-cutter of a story as you would predict.

Why do you think Sophie likes Missy so much?

It's all the reasons that Gus likes Missy and is completely smitten. She is independent and strong, and his niece sees all the things that Gus sees in Missy and the things that Missy doesn't see in herself.

She is a fantastic trick writer and an excellent professional rodeo person in her own right. That's what drew Gus to her. She is around this world where Austin was the star. And now Cash is the future hopeful star.

Missy's accepted and loved in the McMurray family, but she isn't even aware of how independent and successful she could be in her own right. Sophie sees this, and Gus sees this in Missy, sees her as a good role model for his niece and is delighted to spend time with her and his niece.

That's what Sophie is so charmed by. She's a delight.

Well, I can't wait for everybody to see that. And what else do we have coming up for Gus that we can look forward to?

You get to see more conflict, specifically with Beau's character, Cash. You get to see Cash and Gus navigate this because Gus is around, and there's some tension and friction there for obvious reasons.

You get to see more of Missy and Gus's relationship and what that might turn into. I think it's a compelling love triangle.

I'm a fan because I haven't seen the show edited and scored, so I don't know what will happen. I am tuning in like everybody else to watch and invest in these characters and want to know their path and choices.

You get to see a lot of that in the upcoming season. It twists and turns in unexpected ways that people probably aren't expecting, which is exciting and fun.

It is. It is an exciting show with complex relationships. I enjoy it every week.

Well, that's great to hear. I love that these strong, independent women who have relationships are at the center of it, but they don't define them.

What I initially loved about the original script and the project, in general, was these strong, influential, independent businesswomen.

They lead their own lives and are successful and choose to have romantic partnerships. Still, they're not defined by them, and they're not taking a backseat to that relationship.

Ride airs at 9/8c on Sundays on the Hallmark Channel. You can watch Ride online anytime via TV Fanatic.
Laura Nowak is a staff writer for TV Fanatic. Follow her on Twitter.