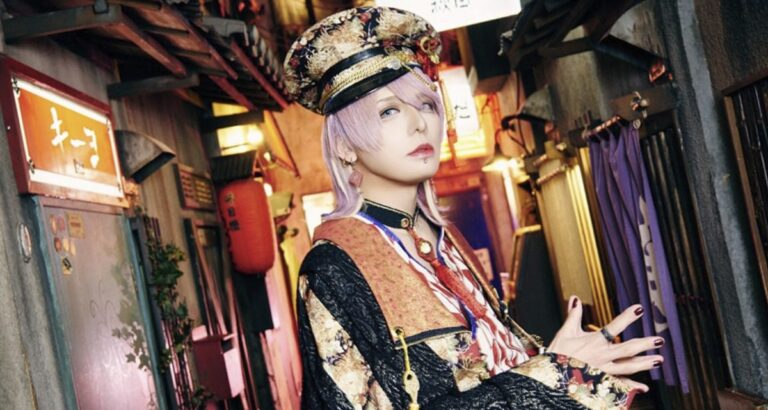 Curated From jrocknews.com Check Them Out For More Content.

Kouki, vocalist of the visual kei rock band, D=OUT returns to the US east coast as a guest at Otakon 2023 in Washington DC. Kouki appears not only as a musical guest but also as a model in the fashion show for the Japanese brand DimMoire. Join Kouki throughout the weekend for concerts featuring the music of D=OUT, panels, meet and greets, and more!
Kouki performs in the visual kei band D=OUT, which celebrates its sixteenth anniversary this year. As a band, D=OUT has toured not only in Japan but also in Europe and Asia. In February 2023, D=OUT released singles Ten and Dorobou Neko.
Kouki also performs traditional Japanese style music called enka, under the name Hanamizakura Kouki. As an artist, he places heavy importance on traditional Japanese culture. He is a skilled player of the Tsugaru shamisen, and also performs traditional Japanese dances using paper fans. To learn more about Kouki and his artistic philosophy, check out our interview with him at Nekocon 2022. You can also check out our Nekocon live report, here.
Two Japanese fashion brands will be in Otakon's fashion show: anonenone, which embraces Japanese and Asian kawaii culture, and DimMoire, which seeks to incorporate gothic elements into everyday life.
Otakon takes place July 28–30 in Washington DC, USA. Online registration is open now through July 27.
Check out Kouki's video greeting below!
Ten

天


1SLDK
Ten music video and making of
Dorobou Neko

泥棒猫


Haikei, ano hi no boku


拝啓、あの日の僕


Imitation Mirage


イミテーション・ミラージュ
Dorobou Neko

泥棒猫


Imitation Mirage


イミテーション・ミラージュ
Dorobou Neko music video and making of