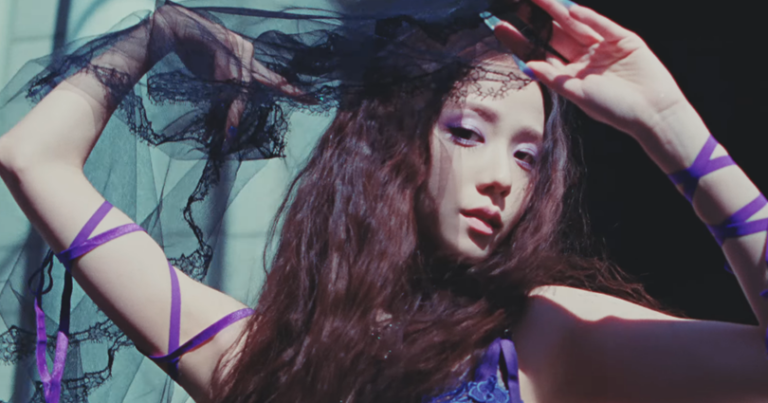 Curated From randomjpop.blogspot.com Check Them Out For More Content.

So, Blackpink's Jisoo has finally released her solo song. And this was the solo debut of the group I was most intrigued by. Especially after watching Blackpink's Netflix documentary Light Up the Sky; where it seemed like Jisoo was the only member of Blackpink who didn't seem to have any real goal or aspiration, and she was extremely honest about that. And these are always the people to watch out for. Because not only is there always a chance for them to really bloom…like a flower. *Looks into the camera with a smirk*. But there is no expectation of them, which means there's always a margin for them to surprise you. And Jisoo (and surprisingly YG Entertainment) has managed to do that, with her debut "Flower".
I am pleasantly surprised that Jisoo was not given a typical sounding Blackpink song. Blackpink's sound is beyond tired. But one of many issues with it, is that it doesn't really showcase the whole group. Blackpink's sound feels like it's primarily a vehicle for Lalisa and Jenny, whilst Rosé and Jisoo  just have to try and fit into it. Rosé is able to make shit work. But with Jisoo, there is always a sense that she doesn't quite fit the sound or the look of the group – which is why her going solo intrigued me the most, as it would provide her an opportunity to really tap into something different, and "Flower" kinda does that. The cadence of a Blackpink song is still there (which is actually more a Teddy Park thing, because 2NE1 songs had similar cadences), but the overall vibe feels very separate, and I dig that.
A common issue across music at the moment, but especially pop, is that songs are all clocking in under 3 minutes and very much sounding it. I'm all for a short song, if it feels complete. Only recently did I realise that BoA's "Forgive Me" is under 3 minutes. And yet it doesn't feel it, because it is still a complete sounding song. But "Flower" really does sound like it needed an extra 30 seconds worth of song and just a TOUCH of variation. Even if it were just the introduction of a new sound or an extra set of vocals during the final run of the chorus.
Jisoo – Flower, Directed by Han Sa-min | YG Entertainment
The music video for "Flower" sees Jisoo joining the Millennium Biltmore Hotel Cinematic Universe, alongside Britney Spears, Janet Jackson and Taylor Swift. And visually it is a very un-Blackpink and YG looking music video, despite it being directed . The whole thing was pretty much a fashion commercial. But Jisoo looked great in every look. (Who woulda thought she'd turn out to be the fashion girly of the group?). It was nice to see a K-pop music video shot on location. And I really dig the choreography and Jisoo's movements, because again, it's so un-Blackpink, and kinda un K-pop. There's no real refinement to anything other than the cinematography and Jisoo's outfits, and I like that. It further creates this lane for Jisoo, and breaks out of the K-pop expectation that everything has to be super sharp and super energetic.
Jisoo – Flower, Directed by Han Sa-min | YG Entertainment
I'm really surprised at how much effort went into giving Jisoo something a little different. I hoped this would be the case, but also figured that YG and Teddy wouldn't bother, and would just give her the same ol' Blackpink song, with the same ol' Blackpink video. Especially after Rosé's "On the Ground", which felt like a bad compromise and didn't really push her into her own sound and look as much as it should have.
Jisoo's solo debut is very reminiscent of Sunmi from the point of "Gashina" onward, where she really started to lean into her own quirks and drop the sharp polish she had when she debuted under JYP. And given how Sumni's career has gone from strength to strength, it's not a bad path for Jisoo to follow.
"Flower" is nothing amazing. But it does something great for Jisoo, which is to not only introduce her, but leave room for her to explore her own sound and image. And this intrigues me far more than what Blackpink may do next, because we already know what their next song and video is gonna look and sound like.
---