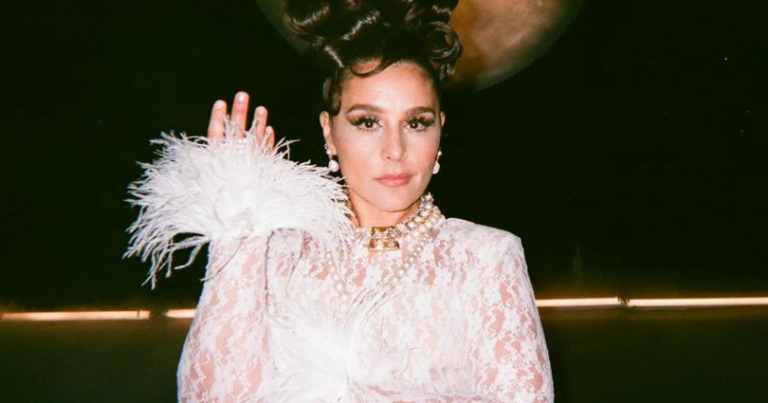 Curated From randomjpop.blogspot.com Check Them Out For More Content.

Jessie Ware's 5th studio album is on the way, and with the title That! Feels Good!, I have now fallen head first into a theory that Jessie Ware is gonna give us a punctuation trilogy of dance albums. The first album had a question mark. The second has an exclamation point. The third will probably be an album title with a full stop.
Okay Jessica, I see you.
That! Feels Good! will feature the singles "Free Yourself" and "Pearls". And whilst these two singles were produced by Stuart Price, the rest of this album features the production talents of James Ford, who produced pretty much the entirety of What's Your Pleasure?, the What's Your Pleasure? Platinum Pleasure Edition bonus tracks, and the song "Kiss of Life" with Kylie Minogue – which was more than likely a Jessie Ware song which was handed to Kylie. So, whilst I'm not head over heels for "Free Yourself" or "Pearls", I am looking forward to this album, between it being Jessie, the album still following in the vein of What's Your Pleasure?, and knowing that James Ford is at the helm once again.
Honestly, James Ford shoulda got Grammys for his work on "Spotlight" alone. But he produced the absolute fuck out of What's Your Pleasure?.
That! Feels Good!
Free Yourself
Pearls
Hello Love
Begin Again
Beautiful People
Freak Me Now
Shake the Bottle
Lightning
These Lips
The album cover is a nice throwback to Devotion, which saw Jessica with an elaborate up-do. And this was also a period in her career where her hair was a big part of her visual identity.
Only 10 tracks. And with the album 2 months away at time of writing, we'll probably get another 2 singles between now and when the album drops. But there's a high likelihood that we'll get a deluxe or an expanded edition to look forward to, given that all of Jessie's albums have either had a deluxe edition or an expanded re-release with some great additional songs. Shout-outs to "Imagine It Was Us" from the Gold Edition of Devotion.
What's Your Pleasure? dropped right in the thick of the pandemic. Everything had shut down, and everybody was scrambling on how to still do their shit from home. And Jessie was a part of a group of acts who had to navigate trying to promote an album, do performances, and shoot videos in the midst of it. And first and foremost, Jessie was also a mother to two children.
But for how much of a 'what the fuck' moment it was for all of us, I feel the stillness and increased focus and need for things to entertain us did What's Your Pleasure? a favour. Everybody was looking for something to uplifting to escape with, and Jessie's album provided that. And I don't think her album would have gained the amount of attention that it had done at any other time, because there would have been other releases and just life getting in the way of Jessie's album being discovered. It was the same shit with Rina's debut album. And on a different, yet related note; this moment in time also contributed to WandaVision becoming the hit that it was.
And THEN, just when things started to open up and a new normal had been established, and the Pure Platinum Edition of What's Your Pleasure? was ready to drop, Jessie was pregnant. So, yet again, she couldn't do the amount of promo and performances she would have otherwise done.
So it's going to be nice to see Jessie roll out an album without a raging pandemic or a pregnancy to worry about. Although the later isn't off the table. And of course, alongside her music career, Jessie also has her Table Manners podcast with her mother, which is in its fifteenth season, and has guests such as P!nk, who is in the midst of promoting her ninth studio album, Trustfall. So Jessie is in a good place to release new music. Hopefully That! Feels Good! will become a number 1 album for Jessie, after What's Your Pleasure? was homophobically denied, only reaching number 3.
That! Feels Good! releases physically and digitally on April 28th, 2023.
---