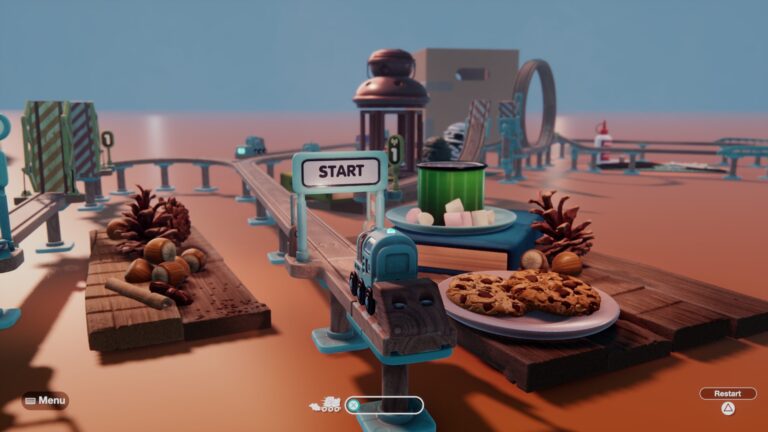 Liam Wiseman

Curated From blog.playstation.com Check Them Out For More Content.

With our latest Mm Original, Tren, out today in Dreams, we decided to catch up with Media Molecule creative director (and BeechCorp CEO) John Beech. Here, he talks to us about bringing his personal project in-house to Mm, how his childhood experiences of play inspired the toy train game, and how his relationship with toys and play has changed as he's grown from a little kid into a big one.
As a reminder, Dreams is also be available as a Monthly Game for all PlayStation Plus members to redeem from August 1 – September 4 and add to their library. Dreams will also come to the PlayStation Plus Game Catalog for Extra and Premium members starting August 15.
Mm: How did Tren go from something you were working on individually to being picked up by Mm?
John Beech: Tren was probably one of the first games that helped define that process of little projects becoming something larger within Dreams. But Mm has always had this game jam culture where we're encouraged to make weird and wonderful things, and just experiment. Originally, Tren was more of a personal project, just something I was making in my spare time. I think I started initially by working on it during some Friday game jams at work, and then I took it home and I continued working on it in my spare time a lot.
And at some point, I think I was showing it off because I was really excited about it, and the leadership team at Mm approached me and said, "John, we really like what you've done here. This looks really cool. Is this something you would actually like for us to take on board and for you to do at work full time?" At that point, Tren had grown into such a fully formed idea in my mind that I jumped at the chance to fully create my passion project.
What's changed about making Tren since that happened?
From then on, we've really taken the time to explore what it means to transition it from a personal project to a fully-fledged Mm approved release. This has included bringing various people on board, defining what the sign-off process is, the green lights and the milestones, and all that production gubbins and working out how to bring this to life. So it's been a really big team effort that's sort of coalesced around that initial seed of excitement for Tren.
Tren has this almost childhood toy box-style aesthetic with the wooden trains and track pieces. Do you often use your childhood experiences when creating your own games?
Absolutely. Especially with Tren I wanted to bring to the game my vision of the world, and show just how joyous that spark of creativity can be. Whatever you design has to have a sense of authenticity because you're actually pulling from your direct first-hand experiences. In the case of Tren, it came from my love of playing with those toy trains as a kid. I really wanted to grasp that sense of nostalgia and make something that those who love trains would enjoy. But then there's also a sort of meta-narrative within Tren, which relates heavily to me, as my dad used to make lots of toy train sets when I was very young, and it was the thing that I would bond with him over. He'd come home from work and start making these little toy trains, so I would always hang around and watch and learn and get involved with whatever he was working on.
How has your relationship with toys evolved as you've grown up?
Now I have a child of my own, and I sort of understand the view from the opposite side. My daughter, Betty, would love to come and play with me all the time, but I have to work. She doesn't quite understand when I'm working that she can't just start playing toy trains with me. So it's giving me that wonderful dual view of the world of being a child compared to being a parent. For me, Tren represents that parent-child connection, and so I hope that it resonates with people who are playing it, and that it appeals to adults as well as children. I think that approach really leads the sense of wholesome authenticity.
In a similar way to you playing with wooden trains your dad made, do you want Betty to play Tren eventually?
100%. So the cool thing about it is that I've bought a lot of toy trains now for "research" purposes. Betty plays with them, and regularly we go down to the living room, and we make a train set together, and it's actually really helpful for Tren development. So I can look at how I've laid out a train track in our living room and then relate that directly to Tren. Many of the environments that I've created within Tren's world are based on my own house because I've been slowly renovating it over the last two years, which is coincidentally about how long I've also been working on Tren. So I literally look around me – and I've got a brick wall here, and everything's exposed, and I've got bits of plasterboard, and so it was very easy for me to bring that chaotic house renovation style to Tren – and of course, bring Betty along for the ride.
Tren is available to play now on PS5 and PS4, exclusively in Dreams.