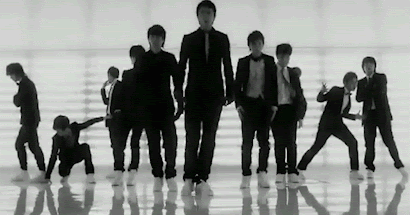 Curated From randomjpop.blogspot.com Check Them Out For More Content.

I've mentioned on many an occasion that Girls' Generation's "Gee" played a huge part in the hallyu. But another SM Entertainment group and song also played a massive part in the hallyu.
Super Junior and "Sorry, Sorry".
March 9th, 2009 marked the 14th anniversary of this song. So this week is as good as any to Flashback to this moment in K-pop history. Lawd knows SM and fans of the brand could do with a celebration of something that company did in the midst of the mess with HYBE and Kakao in the wake of Lee Soo-man's foolery. I hope BoA's got herself some good lawyers. She might wanna start having some Zoom calls to get the ball rolling on kickstarting her Japanese career.
HENNYWAY.
Back to Super Junior and "Sorry, Sorry".
"Sorry Sorry" released only 2 months after Girls' Generation's "Gee" and benefitted greatly as a result – being a huge one-two punch which probabaly exceeded SM expectations.
Not only did "Sorry Sorry" go viral as hell and contribute massively to the hallyu, but the success of it played a huge part in re-defining Super Junior's sound and look. Up until "Sorry, Sorry", Super Junior pretty much looked and sounded like a cookie-cutter version of TVXQ, which was intentional and the whole idea of Super Junior initially. But "Sorry Sorry" charted a whole new course for the group and finally gave them a look and sound which was their own. The success of "Sorry, Sorry" was so damn big, that SM said 'Fuck it' and re-skinned the song and music several times over, with "Super Girl", "Bonamana" and "Mr. Simple". I can't even drag SM for it Because I liked the hell out of each of these songs.
The formula most definitely worked. But as is common with SM, even when they have a clear path on which to proceed, they steer that bitch off a cliff. And now Super Junior are unfortunately in that weird space that many of SM's acts (except for BoA) are in at the moment, where SM has kinda given up on their sound altogether, and the music they put out is whatever vibe SM want to push at the time. Fuck them Super Junior kids.
The album of the same title (Sorry, Sorry) also wasn't bad. And I was pleasantly surprised to find that not only was "Sorry, Sorry" not the only good song on it, it wasn't even the best song on the album as I assumed it would be. I reviewed the album. But for you TLDR bitches, check out the song "Why I Like You". Big early Ne-Yo vibes.