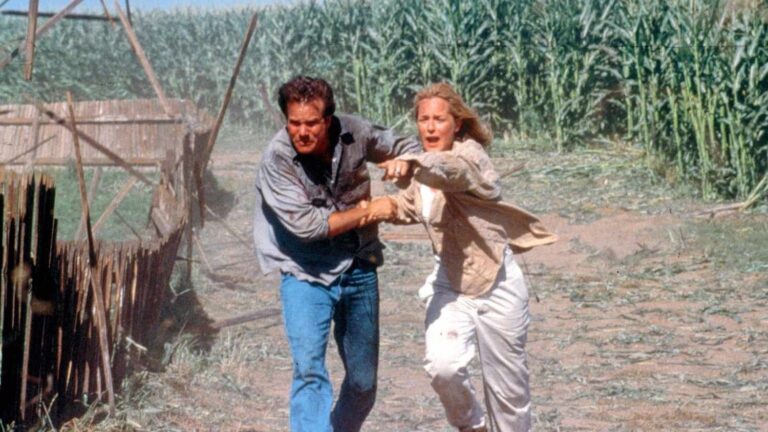 Jessica Fisher

Curated From geektyrant.com Check Them Out For More Content.


Before it was announced late last year that we would be getting a new Twister sequel titled Twisters from Universal, another sequel was in the works from original star Helen Hunt and her Blindspotting co-star Daveed Diggs (Hamilton). The pair were co-writing a sequel that Hunt intended to direct, but the project was shot dead before it could ever take off.
In a recent interview with Insider, Diggs said:
"Oh man, I'm not going to get into it mostly because I'm probably going to misremember things. But all I'll say is there was an opportunity where we were talking about that, and it didn't happen, and the reasons that it didn't happen are potentially shady. But shady in the way that we know the industry is shady."
After the studio refused to even see Hunt and hear her pitch, Hunt explained to Andy Cohen on Watch What Happens Live in 2021:
"I tried to get it made. With Daveed [Diggs] and Rafael [Casal] and me writing it, and all Black and brown storm chasers, and they wouldn't do it. I was going to direct it… We could barely get a meeting, and this is in June of 2020 when it was all about diversity. It would have been so cool. There was a HBCU [historically Black college and university] where we wanted it to take place, and a rocket science club. In this one, they shoot the rockets into the tornado. It was going to be so cool."
It's really sad and ridiculous that the studio wouldn't even hear her pitch! She was the star of the first film, and she's a well-respected actress in Hollywood. It's bizarre that they shut her down, and then went with an idea that didn't even involve her. I was pretty excited about the sequel, but knowing this kind of gives it a bad vibe.
The film they ended up going with is being directed by Minari Oscar nominee Lee Isaac Chung. The screenplay is penned by Mark L. Smith, who co-wrote Alejandro G. Iñárritu's Oscar winner The Revenant. Daisy Edgar-Jones, best known for Normal People, Under the Banner of Heaven, and Where the Crawdads Sing, is starring in the lead role. Twisters is set to release theatrically on July 19, 2024.