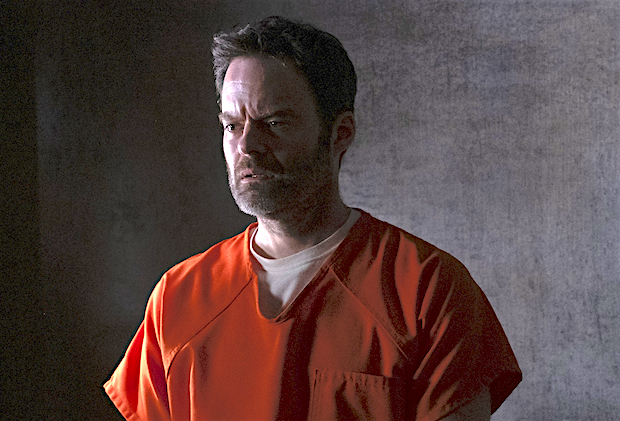 Dave Nemetz

Curated From tvline.com Check Them Out For More Content.

Barry's final season kicks off with its titular hitman behind bars, and everybody else is feeling pretty trapped, too.
Sunday's Season 4 premiere picks up with Barry getting locked up and using his one phone call to call Gene and ask: "Are you mad at me? Because I love you." All Gene will say back is, "I gotcha." Sally flies home to her hometown of Joplin and has a hyperventilating breakdown when she sees the news about Barry's arrest — and that he killed Janice Moss while she was with him. (Her mom is unfazed, though. She's clearly seen Sally hyperventilate before.) Fuches is in the same jail as Barry and offers to wear a wire to get more dirt on him, and Gene is preparing to be the key witness in Barry's trial, so everybody's life is officially a little worse because Barry was in it.
Hank, at least, is living his best life, enjoying the natural beauty of Santa Fe with his beloved Cristobal. But Cristobal's ears perk up when he hears construction prices are skyrocketing because of a shortage of high-quality sand. He suggests to Hank that they use their underworld contacts to bring in sand and make a fortune. Hank doesn't want to trade his peaceful new existence for a stack of cash, but Cristobal assures him, "We can have both things." Sally rejects a phone call from Barry, calling him a "f—king liar" and hanging up on him, but things back in Joplin aren't much better: She sits down to watch her TV show with her parents, but her mom just nitpicks everything, musing about Sally's love life, "You sure can pick 'em." Back in L.A., Gene is basking in the fame of bringing Barry to justice, but despite a very tempting interview offer from Vanity Fair, he can't talk or it might hurt the case against Barry. Well, what fun is that?
A wire-wearing Fuches approaches Barry in the prison yard, blatantly trying to get him to confess to more crimes, but Barry is just steeped in regret, wishing he had never taken Gene's acting class: "If I hadn't tried to understand myself, we wouldn't be here." Hank is still haunted by his close encounter with that tiger last season, and he wakes up in a cold sweat and calls Barry, only to hear a strange voice on the other end of the line. Once he sees the news about Barry's arrest, he agrees to Cristobal's sand plan… which will take them back to Los Angeles. Barry is brutally beating himself up for his mistakes, screaming and punching the wall until his hand is bloody. A kindly guard tries to stop him ("I'm sure you're not a bad guy"), but Barry coldly informs him that he's a cop killer and would kill the guard and his family without hesitation… and then the guard beats him senseless.
Fuches finds Barry's bloodied body and rips off his wire, crying and apologizing: "I took advantage of you… I'm so sorry." They share a conciliatory hug — and Gene places an anonymous call to a Vanity Fair writer, offering to tell his story.
Give the Barry premiere a grade in our poll, and hit the comments to share your predictions for the rest of the final season.