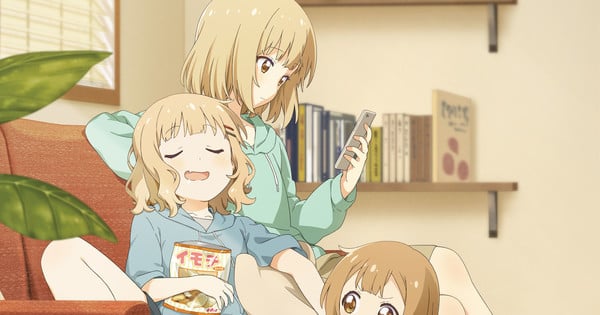 Curated From www.animenewsnetwork.com Check Them Out For More Content.

Ichijinsha revealed on Friday that Namori's Ōmuro-ke (The Ōmuro Family) spinoff manga for her Yuruyuri manga is inspiring two "mid-length" theatrical anime titled Ōmuro-ke dear sisters and Ōmuro-ke dear friends that will open in Japan in 2024. The anime project's newly opened website unveiled the anime's teaser trailer, visual, cast, and staff.
The cast includes Chiwa Saito as eldest sister Nadeshiko Ōmuro, Emiri Katō as middle child Sakurako Ōmuro, and youngest sister Rina Hidaka as Hanako Ōmuro. All three are reprising their roles from past Yuruyuri anime.
Naoyuki Tatsuwa (Nisekoi, Monogatari Series Second Season, Harem in the Labyrinth of Another World) is directing the anime at Passione and Studio Lings. Masahiro Yokotani (Sakura Quest, Free! Eternal Summer, The Devil Is a Part-Timer!) is writing and supervising the scripts. Kazuyuki Ueda (Kinmoza! Kiniro + Mosaic, Hinako Note, BanG Dream!) is designing the characters. Yūsuke Shirato (In the Heart of Kunoichi Tsubaki, Lost Song) is composing the music. Lantis is credited for music production.
Namori launched the manga in Ichijinsha's Nico Nico Yurihime section of the Nico Nico Seiga website in February 2013, and ended it temporarily when the Nico Nico Yurihime service ended in 2016. Namori relaunched the manga in the Yurihime @ pixiv website in August 2017, where it is still ongoing. Ichijinsha published the manga's sixth compiled book volume in December 2022.
Namori launched the Yuruyuri manga in 2008, and Ichijinsha shipped the manga's 22nd volume in December 2022. JManga and ALC Publishing released part of the original manga digitally in English before JManga shut down in 2013. Naya Minadori is drawing the isekai fantasy spinoff Tensei Shitara Akari dake ga Slime Datta Ken (That Time Only Akari Got Reincarnated as a Slime, a play on Fuse's That Time I Got Reincarnated as a Slime light novel series).
The Yuruyuri manga inspired three television anime seasons which Crunchyroll streamed as they aired. The manga also inspired the Yuruyuri Nachu Yachumi! original video anime, which received the two-episode Yuruyuri Nachu Yachumi!+ television anime sequel before the third season debuted in 2015. NIS America licensed and released the first two anime seasons on home video in North America. The manga inspired a 10th anniversary original video anime (OVA) project in November 2019, as well as the Miniyuri net anime in September 2019.
Namori is also the character designer for the Release the Spyce and ENDRO! original television anime that premiered in October 2018 and January 2019, respectively.
Sources: Ōmuro-ke anime's website, Comic Natalie