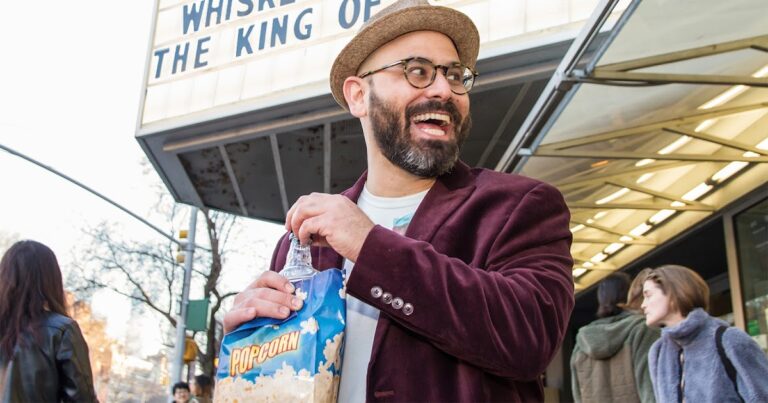 Jody Christopherson

Curated From newyorktheatrereview.blogspot.com Check Them Out For More Content.





New York is fucking dying. Capitalism is killing it. Let's go to the movies.
The So-fi Festival proudly presents the world premiere of Whiskey Flicks Live: King of New York at Westbeth, Home to the Arts (

463 West Street, Room 1209, between Bethune and Bank St)

June 7th @ 7pm June 8th @ 830pm, June 16th@ 2pm, June 22nd @ 330pm
So-fi is a festival for cutting edge, low-fi, high concept, multidisciplinary solo work. Westbeth is New York City landmark listed on the

National Registrar of Historic Places since Dec 8, 2009

, a home to artists and

major cultural organizations including the New School for Drama,

The Martha Graham Center of Contemporary Dance

, the

School for Poetic Computation

. The location where Whiskey Flicks Live: King of New York will be performed was the location of Bell Labs' Boardroom

where the first talking movie, the condenser microphone, the first TV broadcast, and the first binary computer were demonstrated.
Whiskey Flicks Live: King of New York is A live "reaction performance" (over a bottle of whiskey) in which film geek, motormouth, and native New Yorker Michael Niederman provides unscripted responses to a series of movie clips centered around New York City's past, present, and future, pondering the question: is New York dying, and if so, what can we do to save it?

Each evening we'll spend some time with Michael (on stage, fully lit), a New York-born theater artist and educator, as his friend Daniel McCoy (off stage, in the shadows) leads him through a one-time-only series of clips from movies, TV shows, performance art, music videos and more to spark in-the-moment impressions on New York as it was, is, and could be. There will probably be a sing-along at some point. Maybe a dance party, who knows?

Whiskey Flicks: Live! – The King of New York is the next step in an ongoing collaboration that began with the film-exploration cable access talk show Niederman Describes (watch on YouTube!) and continued with the midnight-movie-going-slash-whiskey-tasting podcast Whiskey Flicks (listen on iTunes!). This is a live attempt by McCoy to impose structure on the natural pandemonium inherent in Niederman. Just like New York itself, this piece is a marriage of order and chaos.
Whiskey Flicks plays in rep with Jody Christopherson's St Kilda (6/7) Cara Francis' DAD (6/8 & 6/16) and The Coldharts The Legend of White Woman Creek (6/22).
Tickets are currently on sale and will be $25 per single ticket, $36 per two-show double bill ticket.

(Please note that

Westbeth is handicap accessible with ramps and elevators.) Nearest trains to Westbeth are (1,2,3 to 14th Street). Tickets can be purchased at

https://www.so-fi-festival.com/

,

(888) 692-7878, or in person at the box office 30 minutes prior to curtain (

463 West Street, Room 1209, between Bethune and Bank St).

Full performance line-up listed below. For more info and a full festival calendar please visit:

https://www.so-fi-festival.com/


Tell us about your show? In your own words, what is it/ what is it/what is it about?




Daniel: Whiskey Flicks Live! The King of New York is a live YouTube reaction video about film fandom, New York nativism and the intersection thereof in the form of Michael Niederman. Each show will be a unique event in which I live-VJ a series of clips from movies set in, filmed in, and about New York City, which Mike will react to in real time, creating an impromptu narrative about living a life in this city and how its day-to-day minutia contracts with its celluloid mythology. All this happens over a bottle of whiskey, which we plan to share with willing audience members.




Mike: I love New York but it breaks my heart. I lived my life vicariously through movies and television and probably have defined myself by my love of them just a little too much. Whiskey Flicks Live! The King of New York is a deep dive into my complicated emotions regarding my hometown and the cinema it has produced.


Whiskey Flicks Live! The King of New York is a high wire act. It's a roulette wheel. It's a time machine. It's the diary I never kept. It's different every night because it has to be. The city whose story it tells is never the same twice either. If I had my way New York would be dipped in amber, preserved forever. But that was never meant to be. Which is why I watch it in the movies.



What multidisciplinary elements does it include and how are they used? How are they unique?




Dan: This primary elements of the show are (a) storytelling at a microphone, and (b) video clips projected on the upstage wall. Each night I'll have a queue of videos selected – which Mike will not know about – and a planned sequence for these clips, but the order could change in the moment. I'll also have YouTube open in a browser for any in-the-moment requests from Mike or maybe even the audience. On the fly video design: that's unique, right?




Mike: I will tell stories, and perform film criticism and summarize 100 years of urban planning and social theories. I will free-associate and use the films as a jumping off point for who knows what. I will engage with the audience and invite them to bring their stories into my own. I will dance and drink and maybe even sing.



Why do you make theater? Can you talk about the medium and what it lends to your work?




Daniel: I make theatre because I wouldn't know what else to do with myself. Dark theatres (and brighter, but off-the-beaten-path spaces like this) have been my home since before I could drive. Theatre is a place where magical moments, intimate revelations, and joyful lunacy can happen with nothing more than the collective will of those assembled. Theatre to me means many different things: long-form plays and musical, short form experimental bizness, storytelling, dance, poetry and song. All these forms orbit around the impulse of "Hey, you got a minute? I have something to tell you."




Mike: I make theater because stories are what we use to define ourselves. I make theater because I'm in love with stories. I create theater because at its best it can bring together community as we share the stories, debate their meanings, and let the communal event of telling tell us who we are.


But I truly love theater because I love plays, and I love to make play. Play is such an important part of us, one far too often overlooked because we have to take everything so goddamned seriously. Play is the first language that we learn as children, but we've told ourselves that play isn't as important as we get older. But it is through play of how we figure out who we are. I love stories, and I love play, and I want to use theater to play with both of these art forms.








MICHAEL NIEDERMAN (Co-Creator, Performer) is a graduate of Columbia University's MFA Playwriting Program where he studied under such luminaries as Eduardo Machado and Theresa Rebeck. He is the author of the plays Freshman Fifteen (NYC Actors Studio), The Riverside Symphony (Planet Connections Theater Festivity), The Kuptferberg Family Tragedy (New York Stage and Film), To Barcelona! (Ignited States), Chelsea, Alaska (Lion Theater), and his newest work, Untitled First Draft. His play Every Man won the 2007 Samuel French Short Play Festival. Michael is also an accomplished screenwriter. Most recently he Co-Directed the film uniform, which for the past year has played for dozens of film festivals across the world. His script for the film Billion Star Hotel filmed in Cambodia. His script for the short film Proof of Birth won the Broadcast Educational Association Best Screenplay Award, and Faculty Selects at the Columbia University Film Festival. His feature-length screenplay, Saint Carlos of Gowanus also won Faculty Selects at Columbia University, was featured at the National Association of Independent Latino Producers Writer's Lab, and has been a finalist for the Sundance Film Festival Writers Lab.
DANIEL MCCOY (Co-Creator, Director) is a playwright and performer based in New York City whose plays include Dick Pix, Perfect Teeth, Nothing Beyond the Light Matters, Four and Twenty Draculas, Cleave, and Epimythium. His work has been produced and developed recently with Theaterlab, Primary Stages, Project Y Theatre, IATI Theatre, Dutch Kills Theatre, and Simple Machine Theatre. He is alumni member of the Project Y Playwrights Group and the Cimentos Play Development Program at IATI Theatre. As an ensemble member of the New York Neo-Futurists, Daniel has written and performed in The Great American Drama, Mute, (un)afraid, and the long-running late night show The Infinite Wrench. Daniel is a graduate of the MFA Playwriting Program at Hunter College, where he studied with playwrights Tina Howe and Arthur Kopit and dramaturg Mark Bly. He directs every spring for the Writopia Lab Worldwide Plays Festival, showcasing the work of young playwrights.