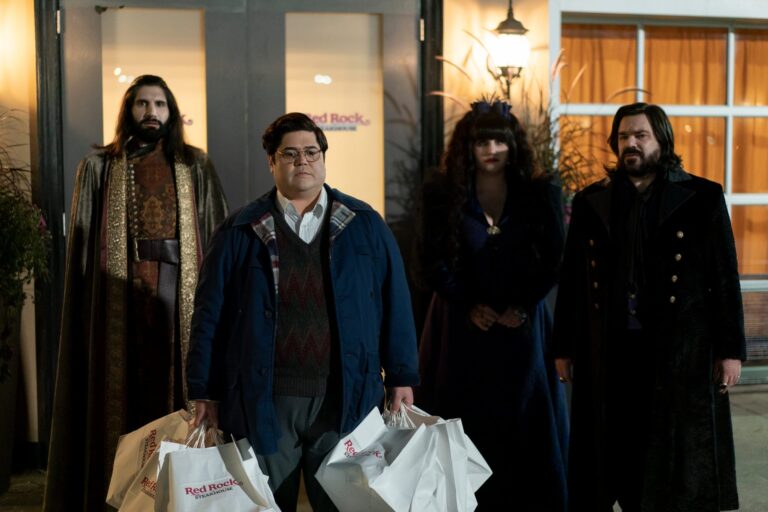 Telly Vulture

Curated From tvseriesfinale.com Check Them Out For More Content.

Vulture Watch
These vampires have plenty of life left in them. Has the What We Do in the Shadows TV show been cancelled or renewed for a sixth season on FX? The television vulture is watching all the latest cancellation and renewal news, so this page is the place to track the status of What We Do in the Shadows, season six. Bookmark it, or subscribe for the latest updates. Remember, the television vulture is watching your shows. Are you?  
 
What's This TV Show About?
A horror-comedy mockumentary series airing on the FX cable channel, the What We Do in the Shadows TV show stars Kayvan Novak, Natasia Demetriou, Matt Berry, Mark Proksch, Harvey Guillén, and Kristen Schaal. Based on the feature film by Jemaine Clement and Taika Waititi, this TV series follows the nightly exploits of a group of vampire roommates — Nandor (Novak), Nadja (Demetriou), Laszlo (Berry), and Colin Robinson (Proksch) — as they navigate the modern world of Staten Island with the help of their human familiar, Guillermo (Guillén), and their vampire bureaucrat acquaintance, The Guide (Schaal). In season five, Nandor feels Guillermo slipping away as he seems to be spending much more time with Laszlo. Meanwhile, Lazlo's skills as a gentleman scientist are put to the test as he tries to solve the mystery of the strange and very secret changes Guillermo is experiencing. Nadja, suffering the effects of a previously undiagnosed supernatural hex, reconnects with her family (or at least, a family) from the Old Country, Colin pursues the path of so many energy vampires before him by running for political office. The Guide tries to figure out where she fits in as the relative newcomer to this tightly-knit group who've known each other for centuries.
 
Season Five Ratings
The fifth season of What We Do in the Shadows averages a 0.11 rating in the 18-49 demographic and 282,000 viewers. Compared to season four, that's down by 11% in the demo and down by 21% in viewership in the live+same day ratings (including DVR playback through 3:00 AM). While these numbers don't include further delayed or streaming viewing, they are a very good indicator of how a show is performing, especially when compared to others on the same channel. There can be other economic factors involved in a show's fate, but typically the higher-rated series are renewed and the lower-rated ones are cancelled. Find out how What We Do in the Shadows stacks up against other FX TV shows.
 
Telly's Take
We don't have to wonder if FX will cancel What We Do in the Shadows this time since the show's already been renewed for a sixth season. Could year six be the end? I'll update this page with breaking developments. Subscribe for free alerts on What We Do in the Shadows cancellation or renewal news.
 
What We Do in the Shadows Cancellation & Renewal Related Links
What do you think? Are you happy the What We Do in the Shadows TV show has been renewed for a sixth season? How would you feel if FX had cancelled this TV series, instead?
Check out our
status sheets
to track new TV series pickups, renewals, and cancellations. You can find lists of cancelled shows
here
.