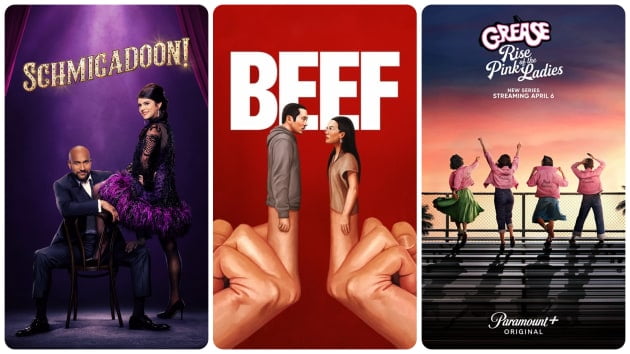 TV Fanatic Staff

Curated From www.tvfanatic.com Check Them Out For More Content.


This is no joke! We've got a slew of new recommendations for you!

Someone on the staff thinks you can't go wrong with Netflix's Beef.

We're super excited to see Pretty Baby Brook Shields, and there are two musical series hitting this week: Schmidagoon! Season 2 and Grease: Rise of the Pink Ladies!


Sunday, April 2

9/8c Ride (Hallmark)

Cash's winning ride put the McMurrays back in business.

Missy struggles with only being known as Austin's widow, especially as she becomes Cash's new riding coach.

Meanwhile, Tuff and Valeria need to work on repairing their relationship as they team up to help Isabel save the ranch.

9/8c Magnum: PI (NBC)

Magnum and Rick make a shocking discovery in the Capt. Greene case.

Higgins and TC head to Maui to help an eccentric billionaire find the owner of a pesky drone harassing him.

Shammy helps Kumu after an in.cident occurs at La Mariana.

9/8c Succession (HBO)

There's only one day until the Waystar sale, but will they screw it up before it begins?

On Succession Season 4 Episode 2, after Shiv discovers that Tom is following Logan's playbook, she, Kendall, and Roman consider backing Sandi and Stewy's aggressive play on the Matsson deal.

Meanwhile, Logan gives an impromptu pep talk to the ATN newsroom… and outsources a tricky conversation with Kerry. Later, Connor tries to make the most of his rehearsal dinner when Willa goes AWOL.

10/9c The Company You Keep (ABC)

How will Emma handle Charlie's confession?

Well, we're going to find out, as Emma deals with not only the Charlie of it all but issues at work. Things are about to get very messy.

Elsewhere, Birdie has to enlist the help of an old flame to help with a con, and surely, nothing bad will happen there!


Monday, April 3

Pretty Baby: Brooke Shields (Hulu)

A look at actor, model and icon Brooke Shields as she transforms from a sexualized young girl to a woman discovering her power.

Shields was sexualized at a very young age, but she's by every account a normal woman.

Hopefully, the movie helps us understand how she weathered the storm and came out trimumphant on the other side.

Days of Our Lives (Peacock)

Now that Marlena's back, what's next for her? She and John will enjoy a night of romance, for one thing! And will she help Eric think clearly about Sloan?

Eric's still committed to his belief that Sloan is innocent of harassing Paulina, but when he finds scissors and magazines in her apartment that could have been used to create that threatening note, will he think twice?

Meanwhile, Melinda again pretends to be Stefan's lover — but will these two fall for each other for real?

10/9c Quantum Leap (NBC)

Quantum Leap's showrunners and stars have promised that the season finale will answer all our questions, but that seems hard to believe.

Ben has arrived in a future Los Angeles in the middle of a nuclear winter. How can he set right something that's already gone wrong?

Will he save Addison? Can he defeat Martinez? How does Future Ian factor into all of this? Tune in and find out!

10/9c The Good Doctor

Oh no! Shaun thinks Glassman's brain cancer is back. Please tell us that he's overreacting!

Meanwhile, a patient comes in with lingering COVID symptoms; does she have long COVID or is something else going on with her?


Tuesday, April 4

8/7c 9-1-1: Lone Star (FOX)

We're finally getting a Mateo storyline! When Mateo gets news that his cousin in L.A. got arrested again, he wants to take whatever measures he can to help him, but he may live to regret it.

T.N.T. responds to a shocking call where a woman has an arrow through her throat after an accident, and they're unsure how to handle it.

And we're also getting an update on Wyatt that seems to catch Judd by surprise!

8/7c Night Court (NBC)

Dan's ambition resets its sights on joining the prestigious District Attorney Club when opportunity knocks. When Abby lands a meeting with the New York City district attorney, Dan invites himself along to share his expertise in the art of "backroom dealing."

When the courtroom team gets together to help her impress the DA, shenanigans ensue!

Meanwhile, Gurgs teaches Neil a lesson in confidence. Kurt Fuller guest stars!

8/7c FBI Crossover (CBS)

On FBI: International, when the abduction of an American architect in Rome appears to be connected to a brewing terror threat in New York City, FBI's Jubal and Nina join Forrester and his Fly Team in Italy as they work together to find the missing American and shed light on the terrorists' U.S. target.

Then, on FBI, to aid Scola in his undercover mission to find the terrorists believed to be behind the imminent attack in New York City, Maggie calls in Remy, whose well-connected informant from a prior case may be key to moving the operation forward.

On FBI: Most Wanted, the clock ticks as the FBI and FBI: Most Wanted teams join forces to hunt down the fugitive terrorists as they get closer to carrying out a plot to destroy a major New York City landmark and cause devastating civilian casualties.


Wednesday, April 5

Schmigadoon! (Apple TV+)

Welcome to … Schmicago? Josh (Keegan-Michael Key) and Melissa (Cecily Strong) return to the magical land of Schmigadoon, but instead of the golden age musicals of the '40s and '50s, they find a town inspired by the gritty, dark musicals of the '60s and '70s.

Schmigadoon Season 2 pulls out all the stops with parodies of Sweeney Todd, Cabaret, Chicago, Hair, Godspell, and more!

You won't want to miss a second of the two-episode premiere! Jazz hands!

Ted Lasso (Apple TV+)

AFC Richmond is on a roll, but how long will the team's good fortune last?

Jamie is adamant about becoming one of the better players on the team, but how will he be able to navigate Roy helping him through his training?

Then there's Rebecca, who realized that Sam could be the one after the green matchbook at Ola's. What will she do with that information?

8/7c Chicago Med

Dr. Archer might not be at his best physically, but he's just as stubborn as ever. When a patient appears to be electing paralysis, Charles says that they can't override his wishes. But will a physically weakened Archer go back to his old ways and find a way to substitute his consent for the patient's?

Meanwhile, what will Grace's new pilot program mean for the hospital, especially since nobody is happy with Dayton right now?

10/9c Chicago PD (NBC)

We're back to the Becks!

While many of us are still over the moon about the Burzek reunion, it makes it more nervewracking as Ruzek gets deeper into his undercover work with the Becks, pulling off something massive to earn their trust for good.

But as he grows closer to them and their increasing level of traumatic crimes rooted in their idealogy, will it pose a bigger risk to Kim and Mack?

10/9c The Ark (SYFY)

After some crew members are taken hostage, the situation seems hopeless until Ark One's lieutenants discover they might have leverage.

In order to use their leverage, however, they need to take chances in order to save there own.

The crew of Ark One reels after Kelly's betrayal, and the appearance of Ark 15.

10/9c A Million Little Things (ABC)

The bad news is that something is seriously wrong with Charlie and she may require surgery. The worst news is that this will bring Delilah back to Boston for the first time in ages, and it could potentially strain her relationship with Eddie as they disagree on parenting choices. Joy!

It'll be an interesting Father's Day with Eddie facing these issues and Gary processing the conflicting feelings of celebrating his first Father's day as a father and without his own father.

We're coming down to the wire with saying goodbye, and there are still a million little things to wrap up!

10/9c True Lies (CBS)

The entire Taker family travels to Mexico for Harry's annual sales family retreat, and Helen learns even more about his cover as a spy.

The simpmission goes horribly wong when a notorious spy hunter threatens to take out the entire retreat.

Dana and Jake go missing!


Thursday, April 6

Star Trek: Picard (Paramount+)

With the Titan under Vadic's control and Lore lurking in the recesses of Data's mind, things look bleak (once again) for our heroes.

Will Worf ride to the rescue? Can Riker break free of the Shrike? What new skill will Jack manifest in this second adolescence?

Frontier Day is hours away. The changelings are desperate, but no more than Picard and his crew. Tune in and thrill at the unexpected solutions that present themselves in times of need! PSA: Not everyone will live long and prosper.

Grease: Rise Of The Pink Ladies (Paramount+)

Grease is still the word!

A new musical prequel series from creator Annabel Oakes, Grease: Rise Of The Pink Ladies takes us back to 1954 to tell the story of Jane, Olivia, Nancy, and Cynthia, Rydell High School's first Pink Ladies.

With catchy songs by Grammy-nominee Justin Tranter, energetic choreography by Jamal Sims, and a talented young cast, this is Grease for a new generation.

Catch the double-episode premiere on Paramount+!

Beef (Netflix)

Steven Yeun and Ali Wong topline this thrilling comedy-drama from Lee Sung Jin.

The inciting incident is a road rage incident between Danny (Yeun) and Amy (Wong).

From that point on, the pair are sworn enemies as they desperately try to destroy one another.

The script is infused with plenty of humor, as well as twists and turns. It's one of the best shows of the year.

8/7c Law & Order (NBC)

The cops take on a dangerous cult after a young woman's seemingly preventable death.

When the victim of the week dies of a treatable infection, Cosgrove and Shaw trace her illness back to a cult she belonged to, but will they get enough for an arrest, never mind a conviction, for murder or even manslaughter?

Price and Maroun try to pressure cult members to start taking so they can catch the leaders, but will they get anywhere with a bunch of people who have been conditioned to be loyal at all costs?

8/7c Station 19 (ABC)

Theo's first official day as interim captain is about to be as memorable as it gets when the team responds to a dangerous renovation nightmare that pushes it to its limit.

A worried Ben crashes the party when Carina and Bailey team up to go undercover at a pregnancy center.

Travis' mayoral race continues to heat up.

9/8c Law & Order: SVU (NBC)

SVU again tackles the rich and powerful after an uber-wealthy woman pulls out all the stops to protect the son she infantalizes from prosecution.

The case has to do with wrongdoing on a construction site, most likely involving sexual abuse.

According to spoilers, Carisi struggles to make his case when a complainant backs down; could that have anything to do with a certain tycoon throwing her money around>

9/8c Grey's Anatomy (ABC)

It seems we're on the path to finding out how Kelly McCreary will be exiting the series.

Maggie has been a high-in-demand and renowned doctor, and with her personal life falling to pieces around her, she's seriously considering a new change and opportunity. But what will that say for her marriage to Winston?

A young bull rider with severe injuries pushes Maggie, Amelia, Owen, and Blue to face their biases while Mika takes on something unexpected to pay off student debt, and Simone can't read the room enough to understand why no one wants to be her maid of honor.

10/9c Law & Order: Organized Crime (NBC)

The unit is moving onto a new case, and this looks like an especially strong one!

Bell's bound to take it personally when robbers target gay people since she's a member of that community. And when the latest victim turns out to be a fellow officer, it's on!

Bell in fierce mode is the best kind of Bell, but you can be sure that Thurman and others who are already unhappy with her will do their best to get in her way.

10/9c Good Trouble (Freeform)

Moms are back! We repeat; MOMS ARE BACK!

Prepare for tears and all the feels when Stef and Lena return to the Coterie to help support Mariana through a difficult decision about Evan's medical condition and health.

Meanwhile, we'll finally get some updates on Joaquin and Jenna as he tries to convince her to bring Silas to justice.


Friday, April 7

On a Wing and a Prayer (Prime Video)

This is an extraordinary true story of faith and survival.

On a Wing and a Prayer follows passenger Doug White's (Dennis Quaid) harrowing journey to safely land a plane and save his entire family from insurmountable danger, after their pilot dies unexpectedly mid-flight.

Is there an angel on his shoulder? We'll have to watch to find out.

Tiny Beautiful Things (Hulu)

When we first meet Clare, her marriage to her husband Danny is barely limping along; her teenage daughter, Rae, is pushing her away; and her once-promising writing career is non-existent.

So when an old writing pal asks her to take over as the advice columnist Dear Sugar, she thinks she has no business giving anyone advice.

After reluctantly taking on the mantle of Sugar, however, Clare's life unfurls in a complex fabric of memory, exploring her most pivotal moments from childhood through the present day and excavating the beauty, struggle, and humor in her unhealed wounds.

Through Sugar, Clare forms a salve for her readers and for herself to show us that we are not beyond rescue and that our stories can ultimately save us. And, perhaps, bring us back home.

8/7c Power Book II: Ghost (Starz)

Tariq and company find themselves in way over their heads when they move from drug runners to gun runners seemingly overnight. It's a heavy task for the crew, and it puts them directly in the crosshairs of the authorities. Elsewhere, Diana finds herself back in the family fold when Monet asks for a favor.

10/9c Blue Bloods (CBS)

Whoa! Who's in trouble?

Frank clashes with the Dream Team after one of them becomes the subject of an investigation! Sid's the most likely, with his hotheadedness and big mouth, but it could be any of them.

Meanwhile, get ready for another Reagan team-up when Danny and Jamie join forces to get to the bottom of a series of carjackings that involve one of Danny's informants.