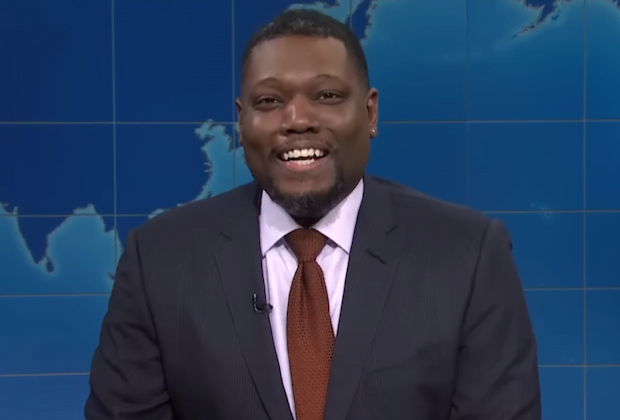 Robert Clarke-Chan

Curated From tvline.com Check Them Out For More Content.

It seems like most of America has grown tired of April Fools' Day. Once upon a time, you couldn't scroll a social media feed without finding dozens of your friends pregnant, married or cast in the latest Star Wars film. Then the corporations got involved — Krispy Kreme announced a donut theme park, a mattress company advertised a gorilla-inspired bed after the death of Harambe, Tesla promised self-driving cars — each a sadder joke than the last. Fortunately, Saturday Night Live may have breathed new life into the tradition.
Even if an episode of SNL is lousy, you probably stick around at least until Weekend Update. The quick pace of two-line jokes guarantees you'll find something to laugh at. But even Update has its off nights. And this update looks like just that.
Colin Jost leads off with four jokes about the Trump indictment and each one is greeted with tight, perfunctory laughs. At any given time, the media is so saturated with words and images of the former president, an audience can easily decide that they don't want to hear any more about him. And after a week especially heavy with coverage of his impending arrest, that's what it seems the SNL crowd is doing.
Co-host Michael Che, however, follows Jost with a Trump joke and the audience positively screams with laughter. A second joke likening Biden to the dancing Six Flags mascot gets a similar response. Jost launches into his next joke, but he's rushing a little and, sure enough, the laughs have dried up. He soldiers on with a visual gag of him at a Trump rally and, not only does the audience not respond, someone shouts, "You stink!" like it's an early set at the Chuckle Hut.
Jost puts his head into his hands and only then does Che reveal that he told everyone not to laugh at his jokes as an April Fools' prank. Jost can't stop laughing himself once he realizes he's been had. "That's the meanest thing you've ever done," he shouts at his friend as the audience cheers the love at him they'd been withholding for the last several minutes. "You're evil!"
Of course, it could have been worse. Che could have announced he was pregnant.
Elsewhere in the episode, James Austin Johnson's Trump revealed his plans to produce and sing an entire album of "terrible" covers called Trump Bopz.
So what did you think of Weekend Update (watch the clip above)? Grade the episode, then sound off in the comments!