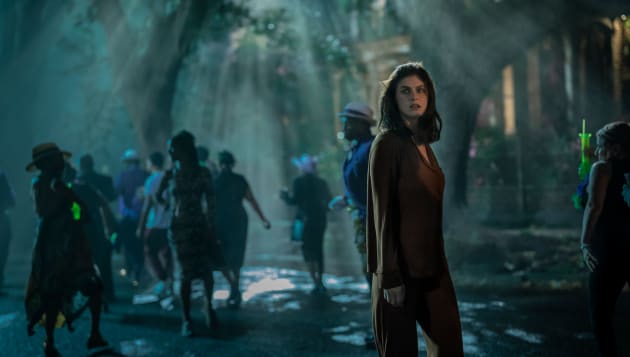 Paul Dailly

Curated From www.tvfanatic.com Check Them Out For More Content.


AMC is doubling down on the Anne Rice Immortal Universe. 

The cable network confirmed the development of a third series set in the fictional supernatural universe during AMC Networks' upfronts presentation in New York.

Oscar-nominated John Lee Hancock (The Blind Side) is attached as showrunner and writer for the potential third series, which comes after the success of Interview With the Vampire and Mayfair Witches.

"The series is set in the world of the Talamasca, a secretive organization featured in a number of Rice's iconic novels that is devoted to studying the supernatural world and keeping mortals safe from its darkest elements," the logline teases.

The currently untitled series would join AMC/AMC+'s Anne Rice's Interview with the Vampire and Anne Rice's Mayfair Witches, which became the top two new series premieres ever on AMC+ and rank among the top 10 cable dramas in the 2022/2023 television season to date in Nielsen live+3 ratings among adults 25-54 and adults 18-49.

"The enthusiastic critical and fan reception to Interview and Mayfair is a great sign of what is yet to come in this immersive universe based on the works of Anne Rice," said Dan McDermott, president of entertainment and AMC Studios for AMC Networks.

"We're excited to be in active development of the next installment in this growing franchise, written and to be showrun by the incomparable John Lee Hancock."

"The Talamasca is one of the most intriguing elements of Rice's works and a connective thread through so many of her stories; the standalone and crossover potential for this third series is immense."

AMC kicked off the Immortal Universe in 2022 with Interview With the Vampire, which follows Louis de Pointe du Lac (Jacob Anderson), Lestat de Lioncourt (Sam Reid), and Claudia's (Delainey Hayles) epic story of love, blood, and the perils of immortality, as told to journalist Daniel Molloy (Eric Bogosian).

The series is executive produced by Johnson, Showrunner Rolin Jones, and produced by AMC Studios.

Mayfair Witches launched in January and was recently renewed for a second season. 

The series focuses on an intuitive young neurosurgeon, Rowan Fielding (Alexandra Daddario), who discovers that she is the unlikely heir to a family of witches.

As she grapples with her newfound powers, she must contend with a sinister presence that has haunted her family for generations. 

In addition to Daddario, the series stars Jack Huston, Tongayi Chirisa, and Harry Hamlin and is executive produced by Johnson and Showrunner Esta Spalding and produced by AMC Studios.

The universe has been a big hit for AMC and AMC+, so it makes sense that there would be a desire to expand some more.

AMC has had great success with its expansion of The Walking Dead universe, and it looks like we could be in for another sweeping franchise with the Immortal Universe.

AMC Networks also announced two upcoming projects for We TV.

On the scripted front, we have Bev is Boss.

The drama based is based on the life of prolific career-making manager Deb Antney.

"Well-known entertainment manager and founder/CEO of Mizay Entertainment, Deb Antney, rose to fame for breaking the careers of several high-profile artists, such as Gucci Mane, French Montana, and Nicki Minaj," WeTV shared.

"She is the mother of acclaimed rapper Waka Flocka Flame and is infamous for her 'no holds barred' approach to the business."

"Bev is Boss brings you into the world of 'Bev Anthony'… a strong, self-made woman who literally fought her way through the streets of Queens to beat all the odds and become a Boss in the male-dominated music industry, demanding equality for herself and her artists."

"Her story is triumphant: she's been a drug dealer, a numbers runner, a mentor, a mother, an entrepreneur, and music mogul."

"She has a personality that loves hard and fights harder, which is how she has gained the respect of her clients, the industry, and her peers. A self-made woman, Bev is –  by every definition — an overcomer and a success."

Antney serves as executive producer and, during series development, candidly shared her life experiences, an audacious yet bracingly rare occurrence in the business of entertainment.

8 episodes have been ordered, and the series launches this summer. That's soon!

Jamie Foxx and Datari Turner Executive Produce for Foxxhole Productions alongside Executive Producers Antney and Nikaya D. Brown Jones, who also serves as Showrunner.

Trey Haley serves as Co-EP and Director, and Carl Weber as Co-EP and Writer. Nikki Love and Ashley McFarlin Executive Produce for WE tv.

WE tv has also picked up Toya & Reginae, a new reality series featuring the ex-wife and daughter of hip-hop legend Lil Wayne, Toya Johnson-Rushing, and Reginae Carter.

The series will air this fall. 

"Toya & Reginae follows the ups and downs of one of Atlanta's most dynamic mother-daughter duos. Toya Johnson-Rushing and Reginae Carter have been famous for a very long time," the network describes.

"Every tweet, comment, or post they make is dissected on all the hottest blogs because they present so fabulously, and Reginae's popularity since her sweet 16 party has never waned."

"However, what their fans see on social media is just scratching the surface."

"On each episode, fans will get to peek behind the curtain and see who they truly are: what's happening in their love lives, how they navigate those relationships in conjunction with their exciting and demanding careers and their relationship with each other."

"As happy as they seem on social media, their lives are unpredictable and full of chaos as they navigate a seemingly dysfunctional family."

As always, keep an eye on TV Fanatic for the latest news and reviews of your TV favorites!
Paul Dailly is the Associate Editor for TV Fanatic. Follow him on Twitter.