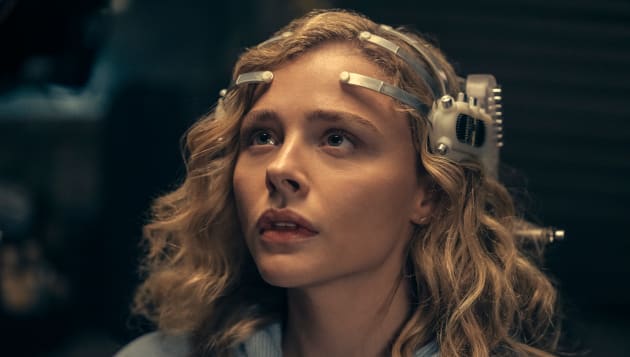 Michael T. Stack

Curated From www.tvfanatic.com Check Them Out For More Content.


Despite doing well in its first season, Prime Video has sadly reversed its renewal of The Peripheral.

The change of heart likely stemmed from the dual strikes occurring across the industry.

The series starred Chloë Grace Moretz as Flynne Fischer, a woman who discovered a secret connection to an alternate reality as well as a dark future of her own.

What is one of the first of likely many strike-related cancellations, The Peripheral seemed to fare well on the streamer (although Amazon Prime does not release numbers, the reviews performed well on TV Fanatic).

Each week, Twitter would be abuzz with theories and praise for the show, especially for the performances from Moretz and one of the lead antagonists, played by T'Nia Miller.

With the WGA on strike for over 100 days and SAG-AFTRA on strike for over a month, we expect there to be many similar cases of reversals when it comes to renewed series that hadn't already begun (or, even finished) production.

There are still many series that have not been picked up for renewal due to the strikes, with their future continuously being in Jeopardy.

The series also stars Adelind Horan as Billy Ann Baker, Alex Hernandez as Tommy Constantine, Alexandra Billings as Ainsley Lowbeer, Austin Rising as Leon, Charlotte Riley as Aelita, and Chris Coy as Jasper.

The cast also includes Eli Goree as Conner, Gary Carr as Wilf, J.J. Field as Lev, Jack Reynor as Burton, Julian Moore-Cook as Ossian, Katie Leung as Ash, Louis Herthum as Corbell Pickett, and Melinda Page Hamilton as Ella.

The series is based on the book of the same name by William Gibson.

The Peripheral Season 1 likely wasn't cheap to make, as it has an expansive cast and some interesting science fiction special effects. The non-stop action kept us on the edge of our seats, but likely didn't have a cheap price tag!

Hopefully, fans can turn to the novel to finish the story. We imagine Twitter (now X) will continue to be abuzz with theories as well!

The show stood out because of its strong performances (especially from Moretz, Reynor, and Miller), as well as its compelling antagonists, one of which made our 2022's best villains we love to hate list.

It also made our top Sci-Fi and Fantasy TV Series list for 2022, so we will miss the uniqueness of this series here at TV Fanatic!

A League of Their Own was picked up for a second and final season and served as an adaptation of the 1992 film of the same name.

A League of Their Own Season 1 faired well on the streamer, picking up a passionate fanbase.

The same story as The Peripheral, the cancellation probably stemmed from the strikes and the expense of the show (it's a period show).

The series became known for delving deeper into the characters' stories. Co-created and starring Abbi Jacobson, the show was already set to have a truncated final season.

The series stared Abbi Jacobson as Carson, Chanté Adams as Max, D'Arcy Carden as Greta, Gbemisola Ikumelo as Clance, and Roberta Colindrez as Lupe.

Also starring is Nick Offerman as Dove, Saidah Arrika Ekulona as Toni, Kate Berlant as Shirley, Kendall Johnson as Gary, Kelly McCormack as Jess, Alex Désert as Edgar, Priscilla Delgado as Esti, and Aaron Jennings as Guy.

The cancellation will likely spark outrage amongst its dedicated fanbase, and we here at TV Fanatic are saddened by the news.

Without the final episodes of both series, neither will feel complete.

What do you think of the series' cancellation, Fanatics?

Are you saddened by this revised decision? Do you want to know what happens after that finale cliffhanger as much as we do? What other shows do you think will suffer the same fate as The Peripheral and ALOTO?

Let us know your thoughts in the comments below!
Michael Stack is a staff writer for TV Fanatic. Follow him on Twitter.