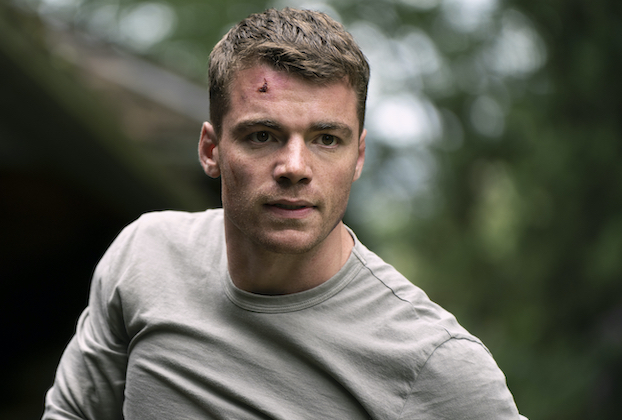 Matt Webb Mitovich

Curated From tvline.com Check Them Out For More Content.

It's not easy being the guy who mans the Night Agent phone.
Speaking with TVLine not long after Netflix's D.C.-set thriller from Shawn Ryan was near-instantly renewed for Season 2, leading man Gabriel Basso talked about ensuring that FBI Agent Peter Sutherland looked every bit as scraped, cut and banged-up as he should, having dodged all manner of assassins and threats over 10 action-packed episodes.
In the Q&A below, Basso also shares his wish that Tongan co-star Luciane Buchanan had gotten to unleash her accent, and discloses the one tweak he requested for Season 1's closing scene.
TVLINE | Who called you with the renewal news, and who was your first call afterwards?
I had heard hints of it, but [showrunner] Shawn [Ryan] called me and verified it. And then… I didn't call anybody afterwards. My team called me, my agents and managers called me, and were like, "Congrats!" But I didn't really call anybody.
TVLINE | When you first got the script for this series and sat down with it, did you find it to be a page-turner?
Yeah, I definitely wanted to know what was going to happen next, but the scripts changed so much throughout the shooting that, like, I just stopped reading ahead. Because you'd be tied to something or you'd be excited to shoot something, and then that would get taken out or exchanged. Instead, I just focused on the sides that I was given for the next day — even though it still changed sometimes.
TVLINE | Was there a fine line in portraying Peter, in that you wanted him to be capable, obviously, but on the other hand he is far from a superhero? Did you envision him as, like, a rung below John McClane?
I tried to make him fall back on his training, because high-stress situations bring out you your training, and that makes him capable. So, while everybody gets cut in a knife fight, and when in a brawl you'll take a hit, in situations that are extreme, where he might be out of his depth, he'd fall back on his training.
TVLINE | One thing that people picked up on, and like about the show, is Peter accumulates wounds and cuts throughout the 10 episodes! And they don't magically go away. He gets banged up.
I was very adamant about that when I was talking to the makeup team and Shawn and everyone. The show takes place over three days and there's no way that a wound he suffers, a cut on an elbow or whatever, is going to close up and be healed. For example, towards the end of the season his stitches open back up after the fight with Briggs, and there's a gouge from a cut that was inflicted in [Episode] 6. There was always was a callback to wounds.
TVLINE | Talk about the work that you and Luciane Buchanan did towards creating your characters' dynamic, because obviously it was very important to the series. Were you very conscious of how the characters bounced off each other?
Yeah, we did our best to throw in some rapport, some banter. I, personally, would've liked to see Luciane with her [native] New Zealand accent, just because sometimes we would be in the moment, improv-ing with each other, and she didn't feel comfortable saying things in an American accent. I was like, "Man, they should've just let her riff and have her accent!"
TVLINE | Did I read the situation right, that Peter fell for Rose first?
No, I don't think either of them really fell for each other. I think they were perfectly fine with being friends up until they were both at rock bottom. And then they looked at each other and were like, "Oh, s–t, you're still here?" I don't think there was anything romantic, originally. [Peter] was like, "I'm keeping you alive," and she was dubious of me, so I looked at her as a job and she looked at me as a potential rat.
TVLINE | What are your expectations for Season 2? Shawn was pretty tight-lipped with me, but has he confided anything in you?
No, we're in the same boat, man. I know at some point the writers and Shawn are going to reach out to me to sort of hear my thoughts, and we're all going to collaborate. But I think they're trying to just map out the general sense of the show right now.
TVLINE | I do wonder, after that closing sequence in the finale, if maybe there's unfinished business with Peter's father. Like, Peter knows the truth, but does he know all of the truth? Might he want to hunt down the people who were behind that whole mess?
I think he'd have to defer to the President, which is a tricky situation, because that's his job now. So, even if he wants to go do something, he does not have the personal sovereignty. He signed up to do something, and I don't know if he's fully aware of how involved it is now.
TVLINE | Lastly, were there any alt takes or alternate endings that you filmed that ended up a bit different in the final product?
No. They did have an idea to do a scene at the end where, as it originally was written, I smiled once I scan my face and then read the report. And I was like, "No, screw that," because he knows about the government and realizes how deep he's in. He's now in their space and cleared to open this thing, and he's not smiling. That was the only thing that happened where I was like, "No, I'm not doing that."
Want scoop on The Night Agent Season 2, or for any other show? Email InsideLine@tvline.com and your question may be answered via Matt's Inside Line.