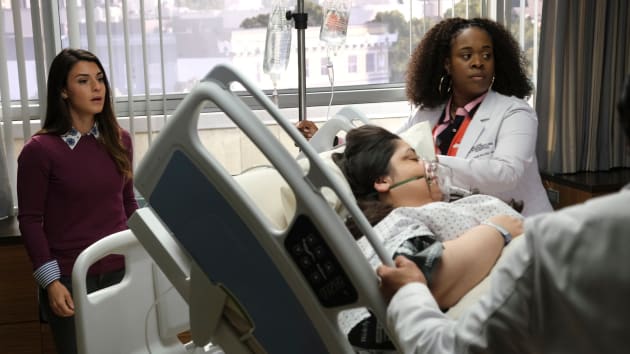 Jack Ori

Curated From www.tvfanatic.com Check Them Out For More Content.


Why couldn't Shaun be wrong this one time?

He spent most of The Good Doctor Season 6 Episode 18 insisting that Glassman's recent surgical performance proved that Glassman's brain cancer had returned. Most of his evidence seemed nonsensical, and Glassman didn't think there was any cause for concern.

But when Glassman agreed to do the scan, I knew there was more to the story than that. Ugh.

Any story involving Glassman's brain cancer will be emotional, but it's not something we need to revisit.

Shaun's determination to find a cure the first time is burned into my memory forever. It was a traumatic, emotional storyline — and one I don't want to relive. Glassman's first battle with brain cancer was depressing enough!

It's realistic; cancer does come back sometimes, and survivors must get regular scans to maximize their ability to stay alive and healthy.

But that doesn't necessarily mean that it makes good television. Realistic cancer stories are often depressing to the point that they're hard to watch, especially if there are graphic depictions of chemotherapy side effects or the person getting progressively weaker.
Shaun: You closed a patient with eight sutures when you should have used ten. We have to figure out why.
Glassman: Why do we have to figure out why? Two sutures is nothing. It's a blip.

The Good Doctor already made that mistake with their overly realistic depiction of COVID on The Good Doctor Season 4 Episode 1, so let's hope Glassman's story doesn't go in that direction.

Shaun's reasons for believing Glassman's cancer was back were spurious at best, and it would have been a stronger story if it was all about his anxiety.

Many people miss minor details of work they've been doing for a long time. That doesn't mean they have brain cancer!

Shaun also grossly invaded Glassman's privacy. Glassman wasn't interested in Shaun's seemingly random opinion about his health and didn't consent to Shaun going through his records with a fine-tooth comb.

Shaun followed that up by telling Glassman in front of a patient that he believed he had brain cancer. I know Shaun has social deficits, but come on!

The way this was written, it felt like Shaun cared more about being right than anything else, and that's not a good thing when it comes to a friend possibly having a fatal disease.

Shaun's search for proof of cancer also overshadowed his other work. He was supposed to be on Lim and Asher's team but kept disappearing to collect evidence that Glassman's cancer had returned.

What a shame, especially since this was a fascinating case that could have used more of Shaun's input.
Asher: Time for some WWSMD.
Lim: Whatever you and Jerome do on your own time is –
Asher: What would Shaun Murphy do?

The woman supposedly had brain fog due to long COVID, but did her COVID infection have anything to do with her cognitive issues?

Jared thought she'd been oxygen deprived for years, and her rare heart condition caused poor circulation and oxygen intake. Since COVID disrupted her body's ability to compensate for her heart problems, she began showing symptoms of that disease.

Technically, COVID caused her brain fog, but I kept waiting for someone to correct the misconception since the heart defect was the real culprit. No one ever did.

Understandably, this patient didn't want to lose any more of her cognitive function. Lim had said the operation wouldn't restore it, but since her oxygenation issues contributed to her brain fog, it seemed likely it would.

Lim's story about her feelings about her paralysis was a good try at connecting empathetically with the patient, but I could understand why the woman didn't see it as analogous.

As she pointed out, Lim's walking again, and there were no guarantees that the patient's cognitive function would improve.

In addition, cognitive issues feel different than physical paralysis. Yes, Lim had to learn to live with her disability until she didn't. And she was frustrated at times. But there's a difference between that and the inability to remember words or read.

Lim could still do her job despite her paralysis. The patient couldn't do hers and could barely function at all. So to her, the issues were very different.

Jordan and Jared's case was the most compelling of the evening (though that near kiss was not — what happened to her interest in Perez?)

At first, Jordan seemed to be minding other people's business again with her disapproval of Daphne's reliance on her daughter to help her with her serious health issues.

But after Daphne's attempt at dialysis led to an infection, and Jordan spoke with her, it made more sense and was inspiring.

Jordan encouraged Daphne to stop living in fear and to take charge of her health despite whatever had happened in the past, and Daphne rose to the occasion beautifully.

She encouraged her daughter to go to Prague, consented to the surgery, and woke up ready to live more fully.

If nothing else, t  his story demonstrated that being a doctor is about more than treating the person's symptoms or physical illness. Jordan and Jared were concerned about Daphne's quality of life and her and her daughter's mental health.

What did you think, The Good Doctor fanatics? Hit the big, blue SHOW COMMENTS button and let us know!

Don't forget you can watch The Good Doctor online right here on TV Fanatic.

The Good Doctor airs on ABC on Mondays at 10 PM EST / PST.
Jack Ori is a senior staff writer for TV Fanatic. His debut young adult novel, Reinventing Hannah, is available on Amazon. Follow him on Twitter.