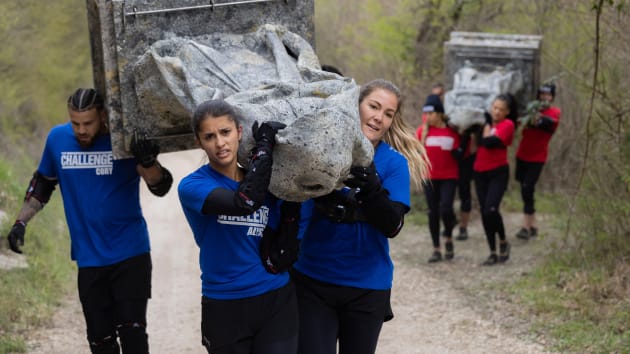 Paul Dailly

Curated From www.tvfanatic.com Check Them Out For More Content.


Something about The Challenge franchise allows producers to put people from different shows together to create the utmost drama.

On The Challenge: USA Season 2 Episode 1, worlds collided when MTV veterans arrived to play the game alongside people from Big Brother, Survivor, and The Amazing Race.

Many CBS reality stars have invaded the original series, so it's only fair they got to pull a similar move here.

Despite no elimination on the premiere, there was plenty of drama, scheming, and a betrayal that might come back to haunt a legend.

Keep Your Enemies Close

Cassidy, Desi, and Josh picking their teams gave us some satisfying scenes.

Cassidy and Desi have proven to be intelligent and strategic players on Survivor, but Josh has proven to be one of the most hot-headed contestants on reality TV in the past.

The moment he clocked Paulie on the cast, it seemed evident he would target him, and they'd have this pathetic rivalry all over again.

Thankfully, Josh is playing a much smarter game, so pulling Paulie onto his team was a pleasant surprise.

Paulie has been MIA from reality TV for the last few years, so it was about time he was given another shot.

Much like Josh, he's hot-headed, but he has this zen attitude about him on The Challenge: USA Season 2 — or so that's what he's leading us to believe.

If he manages to navigate the game's politics without blowing up, I'll be very impressed, and he will become the poster boy for taking a hiatus from reality TV.

Granted, his chances have been hindered in the past by having his love interest, Cara Maria Sorbello, in tow.

Cara Maria deserves to have a much bigger presence in this franchise because, let's face it, she was the face of it for so many years.

It's sheer disrespect from the producers that she's not getting callbacks as frequently.

Bringing her back alongside Wes, Tori, Bananas, Amanda, Cory, and Jonna would have made the scene of the veterans showing up on the jet skis perfect.

Despite the hate Tori gets, she's coming off her win on The Challenge Season 38, so she deserves her place alongside the other five competitors.

The biggest surprise off the bat was that Tori and Amanda were on talking terms. If you watch The Challenge online, you know these two HATE each other.

Then again, Amanda had her hands full with her plot to derail Michelle's game. Did anyone else cackle when she burned her vote on Michele?

Amanda is the queen of petty, and her personality is the key to the success of any season of The Challenge.

Jonna using her vote on Michele was a pivotal moment, but it was pretty stupid because the Survivor alum is one of the most analytical players in the house.

Knowing people on her team are targeting her, Michele will probably cultivate connections with the other groups to try and get a head-start when the team twist inevitably ends.

Speaking of Jonna, she's got to be one of the biggest targets, thanks to her back-to-back wins.

There's been plenty of discourse about whether The Challenge: All Stars is easier to win than the main show, so I'm sure she'll be a major target throughout this new CBS chapter.

Her association with Wes could keep her safe, but I imagine he'll only be able to protect her to an extent.

Wes has proven to be a master manipulator in the past, but he's playing with people from Big Brother and Survivor who could probably give him a masterclass in manipulation.

That's probably the most intriguing part of this format because people like Wes and Bananas have done countless challenges.

They've played with people from Big Brother and Survivor before, but not this many people from those shows.

Blue for the Win

The first challenge was grueling, and my initial impression of some people running ahead to look for clues was that it was stupid.

Ameerah looked like she wasn't making much of an effort initially because we weren't privy to the fact she was one of the people searching for clues.

T.J. is known for throwing people into the deep end, and kicking things off with a team challenge successfully showed the weak links, making them ripe for picking off.

The challenge highlighted that things can change on a dime because, at first, I was under the impression the Green Team would take the win.

The Veterans Band Together

Going into The Challenge: USA Season 2 Episode 1, it was obvious the veterans would find a way to take control of the game.

They've had years to master that art. Ameerah and Luis didn't stand a chance because the veterans wanted two people they had no connections with to feel the heat of elimination.

The saddest part? Alyssa S. wanted to keep her BFF Ameerah safe, but the rest of the Blue team had no qualms about putting her friend up for elimination.

If anything, this should light a fire under Alyssa S. that this game differs from Big Brother in that you can't lay low; you need to take risks and hope they pay off.

Where's the Elimination?

Just when it seemed we were getting to watch the season's first elimination, we were left on a cliffhanger, meaning we have to wait for The Challenge: USA Season 2 Episode 2 to find out whether Ameerah or Luis will be sent into the elimination.

My biggest gripe with the premiere was including The Amazing Race players. Unfortunately, they're an afterthought for producers.

Having just two players from that show means they don't have the same connections as the other players, making it more difficult for them to navigate the house's politics.

The only way to remedy it is to include more TAR players or don't use them at all.

What are your thoughts on the premiere?

Who surprised you the most?

Hit the comments, and return for more The Challenge: USA reviews every Thursday and Sunday after the east coast airing on CBS.
Paul Dailly is the Associate Editor for TV Fanatic. Follow him on Twitter.