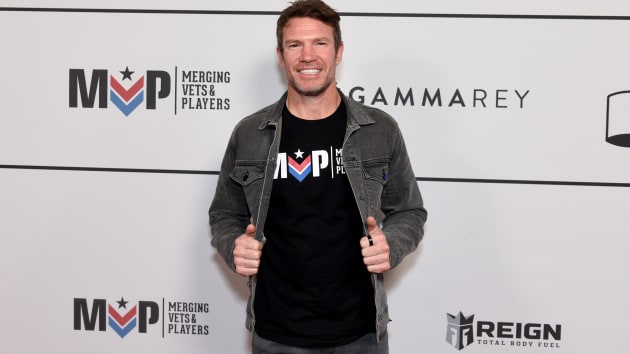 Paul Dailly

Curated From www.tvfanatic.com Check Them Out For More Content.


Discovery Channel's Survive the Raft has been firing from all cylinders since its premiere on Sunday, July 30, 2023.

The third episode delivered plenty of talking points, including blindsides, a contestant deciding against stealing $20,000 anonymously from her fellow contestants, and so much more.

TV Fanatic got to speak with series host Nate Boyer about the twists and turns.

Episode three was such a big episode. What was it like to be on the set for it?

It was great. It was cool to see the characters develop a bit more, get a little more comfortable with what we're doing with the experiment itself, and find a bit of a rhythm.

Jonathan had a seizure on the premiere, and a lot was happening. That's a tough transition for anybody. Then you have episode two with the surprise of the swaps and new people being brought in. 

At the beginning of episode three, they finally have a rhythm, and it is the first time that they have had that opportunity to be comfortable and figure out the routine.

Of course, it doesn't get any easier because there's still a lot going on.

The episode picks up in the aftermath of Summer H.'s exit. It seemed like people's mindsets immediately shifted to "Lashanna has to go next." Do you think many of the cast were so hopeful about that to avoid their own names coming up?

I don't know. There was a lot of tension between Lashanna and Summer H. in episode two. I think a lot of that carried over, and they felt like that friction was still lingering.

That's a good point you brought up. I hadn't thought about it that way, but it could have been more, "Hey, I could be safe for another week because we still have this lingering elephant in the room."

I hadn't thought about that.

Truthfully, that question probably stemmed from me being a fan of Big Brother, The Challenge, and Survivor. I'm always thinking more strategically when I watch this kind of show. 

That's a good point. It's a social experiment, and all of these dynamics are unique, but at the same time, there is a strategy within the gameplay, so to speak, because there's money at stake, and people want to stay as long as they can, if not to the end, and take home some of that money.

You have to keep in mind in the back of all these people's heads that every move they make has consequences within the social dynamic and within the strategy of trying to survive the raft for the entire season.

The eating bounty this week was pretty vile. It wasn't for me. I wondered whether Merissa would be singled out because I didn't believe she would be able to eat anything. I was surprised that four of the nine people managed to finish their plates. Who surprised you the most during that challenge?

I didn't really know him because he was new, but Mykhal.

He's got to impress because he wants to earn a spot on the team, but at the same time, nobody's watching you. You are by yourself. And he just got out there.

He was putting it down.

Maddie was given this opportunity to steal the money the four people who finished earned for the team. What are your thoughts on her not taking the money?

I think we all learned a lot about Maddie at that moment. I saw glimpses of it before, but she has a lot of integrity. 

She's very empathetic, puts other people first, and thinks of the group before she thinks of herself, which is unique.

That's a strong character trait to have on the raft. If only the others knew some of those dilemmas, and I guess they'll get to see when they watch this episode because they couldn't see what I got to see there at that moment.

You could see it in her eyes. It was a really hard decision, of course. That's a life-changing amount of money to someone like Maddie, but she never genuinely considered it because it was like, "I can't do that to the team."

I felt for Lashanna throughout the episode because it seemed like she knew that people wanted her out of the game. It seemed like they would've nominated her had Russell not popped up to save her game. Do you think that allowed Lashanna to rebuild connections as she heads into episode four?

That's got to be her focus because she said so herself, and a lot of that has to do with what she does for a living, her upbringing, and just the world she's accustomed to.

She has a very strong personality, and she lets you know how she feels, and I value that in people but for some people that aren't used to that, It can be a little overwhelming.

I think we see that with some of the reactions from people because they're just not used to individuals with that kind of passion and brutal honesty in some of these moments. That can sometimes throw people off.

If we go back to the strategy you mentioned earlier, she does have to kind of maybe rethink the way she reacts and take a step back. That sucks because then maybe it's not genuinely her being her true self, and I'm sure she doesn't want to feel like she has to play a character or be somebody else in order to fit in with the group.

I would imagine Lashanna probably feels that a lot in her life and probably has, and that's where that comes from. So you have to respect her for that, but it does make it challenging.

It does make it challenging when you've got to not only rebuild, but you have the constant fear or the threat of these people coming in that also bring a lot to the table that you've got to sort of beat out.

Walking on eggshells is no fun for anybody. I think maybe she's in a place right now where she might feel like that's the only way forward.

Russell's decision was wild. They were supposed to be a democracy, but he took it upon himself to say that he was going up, and it didn't give his co-stars any room to veto it. How should we expect that moment to shape the rest of Russell's time on the raft?

Russell also has a very strong personality, and he's a leader. He served in the military. He's also got quite a big social media following, so he's used to rallying the troops and being that type of guy.

I wonder if he felt that was needed, that somebody needed to just kind of take on that position, as in the voice for the team or, like you said, the head of that democracy.

I don't think he intended to be a dictator, but it may feel like that to some of the team because of those discussions going on about how things should be done as a team.

It goes back to the self-preservation in the back of these people's minds; how can I solidify myself as somebody that the team values so much that no matter what, they can't afford to let me go?

We've got free divers who can catch fish a hundred feet below the water's surface. We've got other people that bring other pieces to that pie.

You've got someone like Elliot, who's incredibly strong physically. Maybe Russell also thinks, "Where am I strongest, and how can I flex my quote-unquote muscles?"

You looked surprised when Mykhal came down the stairs at the end of the episode. Can you hear what's happening upstairs, or is that all cut off from you?

When they debate, when they go on their own after I leave them and let them make their decision, I'm not listening. I don't know what they're saying. I'm not sure who's coming down those stairs until they come down.

I remember seeing that and thinking, wow, the pact is real if this is what's happening. Jonathan had a seizure in the prior episodes and had to be removed from the experiment.

Summer H. volunteered to leave. So this was the first time that a vote was done. They did maintain that commitment, the pact to stay with the original group. 

I was surprised because I knew a lot of the conflict that had gone on and the struggle within the group dynamic. I thought he was just a pretty agreeable guy and very likable.

He acclimated well to the group, assimilated, and positively inserted himself, but I guess it wasn't enough in their eyes.

This interview has been edited for length and clarity.

 Survive the Raft continues Sundays at 9 p.m. on Discovery Channel.
Paul Dailly is the Associate Editor for TV Fanatic. Follow him on Twitter.