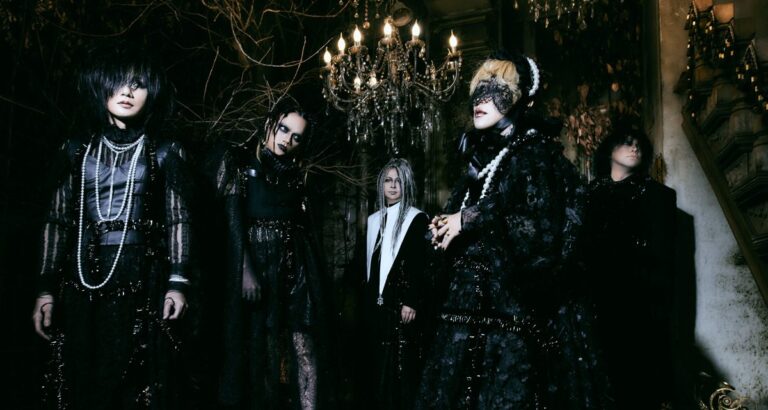 Curated From jrocknews.com Check Them Out For More Content.

On August 8, over 1,500 viewers tuned in to YouTube for the live premiere of sukekiyo's music video Houmonsha X (訪問者X). The nearly 10-minute-long saga is a centrifugal force, drawing you in with eroding visuals and spiraling instrumental bridges.
In sharp contrast to last week's sparkling music video MOAN, Houmonsha X is dripping with depravity. The video also includes hard subtitles in English, so you can follow along with the wicked storyline.
Along with the hypnotizing footage, Homounsha X also exhibits sukekiyo's extraordinary instrumental prowess. The maddeningly dynamic composition shifts constantly, from buzzing, insect-like guitars, to acoustic strumming. Vocals and instruments swell in pitch and volume, sounding more like a narrative soundtrack than your typical rock song. And to be frank, the instrumental breakdowns go hard—perhaps some of sukekiyo's best progressive work yet.
What awaits you when you peer through the peephole? Check it out in the theatrically grotesque music video below.
Homounsha X is included in the band's upcoming release EROSIO, along with MOAN which premiered on August 1.
Five-piece band sukekiyo comprises vocalist Kyo, guitarist and pianist Takumi, guitarist "UtA", bassist YUCHI, and drummer Mika. sukekiyo celebrates its 10th anniversary this year and sets off on a Japan tour soon on August 17.
Margaret

Margaret


Houmonsha X


訪問者X


Kuchi ni ringo


口に林檎


The Hole


The Hole


Aishita shinzou


愛した心臓


MOAN


MOAN


Gurosu


グロス


Rongai na ikimono toshite


論外な生き物として


Kashikomi kashikomi


畏畏


Kawatte kuremasen deshou ka?


変わってくれませんでしょうか?


Frame out kara no


フレームアウトからの


Kokyuu


呼吸
Gumon (Demo Ver.)

愚問(Demo Ver.)


mystery na (Demo Ver.)


mysteryな(Demo Ver.)


Furesaseru (Live)


触れさせる (Live)


Aoguroi Hisuteria (Live)


黝いヒステリア (Live)


Honnō Okotowari (Live)


本能お断り (Live)


Waizatsu (Live)


猥雑 (Live)
MOAN music video

MOAN music video


Houmonsha X music video


訪問者X music video


Scarlet (Live)


Scarlet (Live)


The Hole (Live)


The Hole (Live)


Creeper (Live)


Creeper (Live)


zephyr (Live)


zephyr (Live)


Candis (Live)


Candis (Live)


Valentina (Live)


Valentina (Live)


Tada, mada, watashi. (Live)


ただ、まだ、私。(Live)
Margaret

Margaret


Houmonsha X


訪問者X


Kuchi ni ringo


口に林檎


The Hole


The Hole


Aishita shinzou


愛した心臓


MOAN


MOAN


Gurosu


グロス


Rongai na ikimono toshite


論外な生き物として


Kashikomi kashikomi


畏畏


Kawatte kuremasen deshou ka?


変わってくれませんでしょうか?


Frame out kara no


フレームアウトからの


Kokyuu


呼吸
Gumon (Demo Ver.)

愚問(Demo Ver.)


mystery na (Demo Ver.)


mysteryな(Demo Ver.)


Furesaseru (Live)


触れさせる (Live)


Aoguroi Hisuteria (Live)


黝いヒステリア (Live)


Honnō Okotowari (Live)


本能お断り (Live)


Waizatsu (Live)


猥雑 (Live)
MOAN music video

MOAN music video


Houmonsha X music video


訪問者X music video


Scarlet (Live)


Scarlet (Live)


The Hole (Live)


The Hole (Live)


Creeper (Live)


Creeper (Live)


zephyr (Live)


zephyr (Live)


Candis (Live)


Candis (Live)


Valentina (Live)


Valentina (Live)


Tada, mada, watashi. (Live)


ただ、まだ、私。(Live)