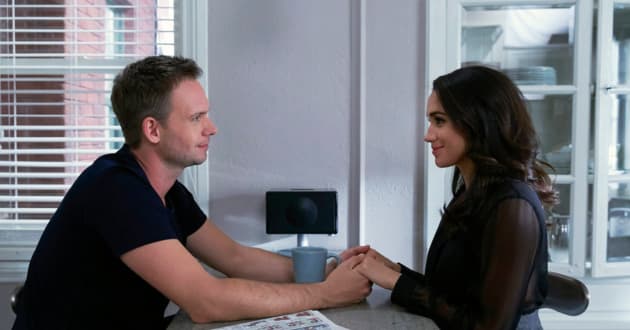 Paul Dailly

Curated From www.tvfanatic.com Check Them Out For More Content.


As Suits continues to enjoy a wave of popularity years after it ended its nine-season run, series creator Aaron Korsh is speaking out about the possibility of bringing the legal drama back to TV.

As previously reported, the USA Network drama has been delivering astronomical viewing figures on both Netflix and Peacock four years after its series finale.

Because of that, fans have been questioning the possibility of the show, which starred Patrick J. Adams, Gabriel Macht, Rick Hoffman, Sarah Rafferty, Gina Torres, and Meghan Markle, returning for more episodes.

On Sunday, Korsh took to X, formerly known as Twitter, with some insider scoop that a follow-up series is not currently being discussed.

"Let me say right off that there is no #Suits reboot or anything in the works," he tweeted.

"Strike would have to end, some network or streamer would have to reach out, and then we would have to collectively want to. Which is no small thing…"

This elicited some responses from fans, with one saying they wouldn't be fond of a comeback season as "the show ended where it needed to & I am very satisfied with it."

"Too often finales/last seasons sink what was a great series, but Suits was wonderful and wrapped up everything beautifully," the fan continued, adding:

"And very few reboots ever really work."

"I don't really disagree," Korsh said in response to the assessment before speaking about a spinoff idea he had in the past.

"I had an idea for a #Suits spinoff that was a prequel exploring young Robert Zane, fresh out of law school in the early '90s," he shared.

"The network wasn't interested at the time. I would still do that," he stated.  

Korsh would be interested in reviving Pearson, the Suits spinoff headlined by Torres that lasted just one season.

"I wish #Pearson had gotten more seasons," he wrote.

"If they wanted to bring it back, I would be very excited, but I did not run it. Dan Arkin did."

Reviving any series comes with a great deal of skepticism, but Suits' format allows for the series to return with some significant changes.

We'll need to wait until the SAG-AFTRA and WGA strikes are over before getting solid answers about the show's future.

What are your thoughts on a potential comeback season?

Are you interested?

Hit the comments.

Check out Suits Cast: Where Are They Now? to find out where the cast landed after the series ended in 2019.
Paul Dailly is the Associate Editor for TV Fanatic. Follow him on Twitter.