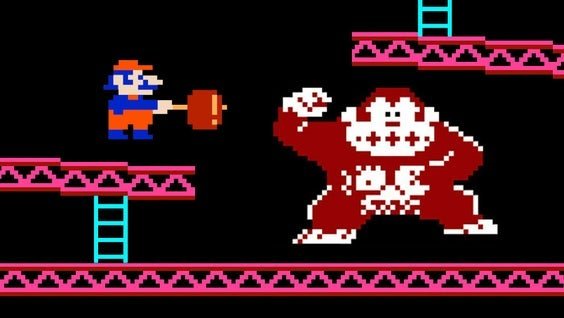 Logan Plant

Curated From www.ign.com Check Them Out For More Content.


The Strong National Museum of Play in Rochester, New York, is constructing a Donkey Kong arcade cabinet that's big enough for King Kong to try out.
Announced on Twitter, the museum's upcoming Donkey Kong arcade game will stand at nearly 20 feet tall, making it the largest playable Donkey Kong arcade game in the world. The Strong Museum also said that Nintendo of America provided input on the project.
What's even better is that this gargantuan version of Donkey Kong will be available for guests to play via a smaller, human-sized control panel located at the base of the machine. We can only wonder if the bigger buttons on the machine itself also work to control the game. Donkey Kong is coming to the museum on June 30, and you can check out what the machine will look like for yourself below.
As part of our June 30 expansion, The Strong will create the world's largest, playable Donkey Kong arcade game. The game will stand nearly 20-feet tall and will be available for guests to play! Thank you @NintendoAmerica for providing input on the project.#DonkeyKong #Arcade pic.twitter.com/xQhsRVvCib

— The Strong Museum (@museumofplay) April 10, 2023
Donkey Kong will be a part of the museum's 90,000 square-foot expansion dedicated to the history of video games, the museum announced. It's about 370% bigger than the original, and it will run on a motherboard from an original Donkey Kong cabinet.
Along with the reveal of this big arcade cabinet, Donkey Kong is currently co-starring in the biggest movie in the world: The Super Mario Bros. Movie. If you've seen the movie, you'll notice Donkey Kong got a redesign from the version of the character we're used to seeing in Donkey Kong Country and Super Smash Bros. Shigeru Miyamoto said the redesign actually was supposed to give DK "a comical personality and design reminiscent of the original character" seen in this very arcade game.
Logan Plant is a freelance writer for IGN covering video game and entertainment news. He has over six years of experience in the gaming industry with bylines at IGN, Nintendo Wire, Switch Player Magazine, and Lifewire. Find him on Twitter @LoganJPlant.