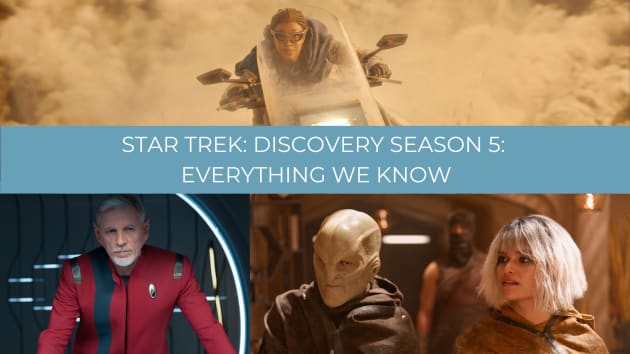 Diana Keng

Curated From www.tvfanatic.com Check Them Out For More Content.


When Paramount+ brought Trek back to television in September 2017 with Star Trek: Discovery's double-decker premiere event, it broke ground on a road that would see the rebirth of the Trek franchise.

Six years later, Star Trek: Discovery has saved the galaxy multiple times; traveled through the mycelial network, to the Mirror Universe and back, forward in time nine hundred years, and beyond the edge of the known universe; and spawned the highly successful spin-off Star Trek: Strange New Worlds.

In March, Paramount+ announced the fifth season will be the USS Discovery's final mission. We've gathered all the intel on what it'll entail, who's on board, and when you can expect to buckle up and hold on as Michael Burnham and her crew let 'er fly one last time.

What can we expect from the Star Trek: Discovery Season 5 plot?

After making first contact with an extra-dimensional species and convincing them to stop sending their galactic mineral extractor through our galaxy, destroying planets and star systems willy-nilly, you'd think our intrepid time-traveling spacefarers would've earned a rest.

But no, the teaser for Star Trek: Discovery Season 5 hints at a treasure hunt for a sought-after power that could — you guessed it — destroy the universe.

According to Paramount+, "The fifth and final season will find Captain Burnham and the crew of the USS Discovery uncovering a mystery that will send them on an epic adventure across the galaxy to find an ancient power whose very existence has been deliberately hidden for centuries."

Of course, it's not so easy as just following the clues and bringing it home. There have to be obstacles and competitors. "But there are others on the hunt as well … dangerous foes who are desperate to claim the prize for themselves and will stop at nothing to get it."

Who will be a part of the Star Trek: Discovery Season 5 cast?

All of the core cast from Star Trek: Discovery Season 4 are expected to return for this last hurrah.

That certainly includes Captain Michael Burnham (Sonequa Martin-Green), Chief Science Officer Saru (Doug Jones), Chief Medical Officer Hugh Culber (Wilson Cruz), Paul Stamets (Anthony Rapp), Cleveland Booker (David Ajala), Sylvia Tilly (Mary Wiseman) and Adira (Blu del Barrio).

We also expect to see the return of recurring characters Starfleet Admiral Vance (Oded Fehr) and Federation President Laira Rillak (Chelah Horsdal), although probably not the United Earth President (Stacey Freakin' Abrams — yeah, that actually happened) due to other obligations.

It's unlikely Burnham would embark without her bridge crew, so Lieutenants Detmer (Emily Coutts), Owosekun (Oyin Oladejo), Rhys (Patrick Kwok-Choon), Bryce (Ronnie Rowe), and Nilsson (Sara Mitich) should all be present and accounted for at launch.

And no Discovery adventure would be complete without Lt. Linus (David Benjamin Tomlinson) repping the Saurians and Commander Jett Reno (Tig Notaro) showing up for curmudgeons everywhere.

In addition, the footage that we've seen from Season 5 indicates Kovich (David Cronenberg) will be central to the plot's action. That looks like fun.

Nothing is known about newcomers L'ak (The Expanse's Elias Toufexis) and Malinne Ravel (The Night Agent's Eve Harlow) beyond the fact L'ak appears to be an old-school Discovery Season 1 Klingon.

One could extrapolate from the description of Season 5 that L'ak and Ravel are the "others on the hunt," and, having seen Harlow hunt on The Night Agent as assassin Ellen, they could definitely prove problematic.

Rounding out the cast is sci-fi fan favorite Callum Keith Rennie as Vulcan Starfleet officer Raynor.

From The Umbrella Academy to Jessica Jones to The Man in the High Castle, Rennie consistently owns his space with confident intensity and will be someone to watch as the season unfolds.

How many episodes will there be in Star Trek: Discovery Season 5?

The March press release revealed that the entirety of Star Trek: Discovery will consist of 65 episodes. Seeing as the Season 4 finale was the 55th episode in the series, we can deduce that Star Trek: Discovery Season 5 will be ten episodes long.

Will the writers' and actors' strikes affect the release of Star Trek: Discovery Season 5?

No.

Paramount+ renewed Star Trek: Discovery for its fifth season in January 2022. Production began in June of that year, and the entire season was considered complete before the end of 2022.

The announcement in March 2023 that Season 5 would be the final season caught the production team by surprise. It required executive producer and director Olatunde Osunsanmi to return to Toronto to shoot new scenes to transform the season finale into a series finale.

All this was done before the strikes began, and the season is, as they say, in the can and ready for release.

When will Star Trek: Discovery Season 5 premiere?

Paramount+ has Season 5 slated for release in early 2024. Although no specific date has been set, Star Trek: Discovery is historically a fall-winter release, with the latest premiere date being Star Trek: Discovery Season 2's launch on January 17, 2019.

With Star Trek: Lower Decks Season 4 premiering September 7 and running until the beginning of November, a January premiere for Star Trek: Discovery is very probable.

How will Star Trek: Discovery end?

There are no crystal balls or time portals to consult, but long-time fans will recall that we've already seen what happens to the USS Discovery and her sentient computer, Zora after the crew is gone.

There is no cushy place in a Starfleet museum for Zora, and it's unlikely she'd be happy there anyway.

On Star Trek: Short Treks Season 1 Episode 2, long after she'd grown used to solitude, Zora picks up a man adrift in space and saves his life.

In a parallel tale to the story of Odysseus on Calypso's island — note the minisode is also titled "Calypso" — the man, Craft, grows to love his rescuer but ultimately has to leave her.

So will we see the crew abandon Discovery as part of their mission to find this ancient power?

Will our intrepid heroes splinter their paths and seek new worlds and strange pursuits?

Can the Federation and Starfleet remain aspirational as an entity wholly independent of Earth or any planet?

Who will save the galaxy when Burnham and Saru and their posse resign their commission?

While you mull these and many other questions, check out the footage from Star Trek: Discovery Season 5 Paramount+ released at SDCC 2023.

Have your say, Fanatics!

Is there enough action there to tide you over until the premiere?

Can Burnham keep up this adventuring pace? Will Kovich suit up and show her how it's done?

Hit our comments with your thoughts and theories on what the future holds for the USS Discovery et al.!
Diana Keng is a staff writer for TV Fanatic. She is a lifelong fan of smart sci-fi and fantasy media, an upstanding citizen of the United Federation of Planets, and a supporter of AFC Richmond 'til she dies. Her guilty pleasures include female-led procedurals, old-school sitcoms, and Bluey. She teaches, knits, and dreams big. Follow her on Twitter.