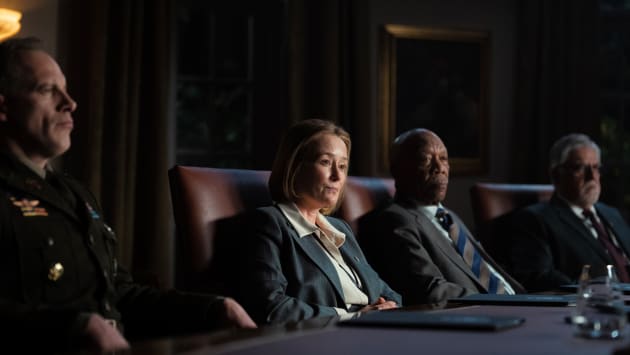 Cher Thompson

Curated From www.tvfanatic.com Check Them Out For More Content.


With Special Ops: Lioness Season 1 moving quickly towards its finale, the stakes have never been higher for Joe or Cruz on opposite sides of the coin.

As Joe tackles professional issues on top of her crumbling family life, Cruz tries to understand emotions she's never experienced.

Special Ops: Lioness Season 1 Episode 6 contends with the plots that had yet to converge, finding the Lioness team in trouble in more ways than one.

As Joe answered for her team at the White House, the others were dealing with some unexpected intruders while monitoring Cruz.

Meanwhile, Cruz and Aaliyah forge a deeper bond that takes them somewhere, leading to a place of depth as they question their feelings for one another.

The dichotomy between the storylines and the parallel lines drawn between Joe and Cruz again connect the women inextricably.

For once, Joe's place in the episode is at a standstill. Though her world is still crumbling around her after Kate's accident, Joe has to deal with the bureaucracy of the US government before she can move forward.

Nicole Kidman's Kaitlyn, who has a moment with her husband Errol (Martin Donovan) early in the episode, has stepped in to answer along with Joe. Kaitlyn and Errol's relationship is an interesting one.

Errol, who has eyes and ears all over the Hill, knows about Kaitlyn's meeting being moved to the White House before she does. They trade information as though it's currency, bartering with one another in what can only be described as verbal sparring.

The spark of their relationship comes from a mutual respect for one another's intelligence rather than physical attraction. It's unclear what their relationship was like earlier in their lives, but as it stands, the pair mutually benefit from each other.

Joe and Kaitlyn are held at the White House for hours, potentially as a scare tactic.

When they're finally called in to debrief, they're met with a panel of higher-ups, including Morgan Freeman's Secretary Of State Edwin Mullins. Though quiet, it's evident that Mullins isn't happy with the situation.

Kyle McManus is brought in for a portion of the debrief, questioned, and admonished before he's asked to leave.

Here we get to see the magnitude of Morgan Freeman's Mullins, quiet until necessary, then clear-cut and confident in his criticisms.

After Joe and Kaitlyn are thoroughly talked to, they're dismissed with a new stipulation over their heads: they won't be in charge of their operation entirely as it continues.

There isn't much time to re-group about it, though, as the Lioness team has been under siege and needs Joe's help.

The attack, made by three masked assailants who were clearly in over their heads nearly immediately, was meant to be a standard home invasion. Instead, much like in Special Ops: Lioness Season 1 Episode 4, the Lioness team captured their attackers and dealt with the fallout.

Joe calls in a favor from Kyle, asking for his help to diffuse the situation while she handles her home life.

As Joe finally gets home, her tension doesn't get rest yet. She notices Neil working to set up a space for Kate on the ground floor, and we're reminded that Joe has been dealing with something difficult in the background.

The couple decide to have a nightcap by their pool, and we get to see again who Joe and Neil are as a married couple.

They have such a calm, firm respect for one another that as Dave Annabel's Neil affirms that Kate will need Joe moving forward, it's easy to see where he's coming from and why he's saying it. It isn't meant to hurt Joe, and she knows that.

The pair find themselves on the same page, which isn't always the case for them, and take advantage of a rare moment alone.

Throughout the episode, Cruz deals with some of the most complex emotions we've seen from the asset.

As she bonds with Aaliyah, which Joe and Bobby warned her would happen early in the episode, it's clear that Cruz is uncomfortable showing her true self.

In part, she feels uncomfortable because Aaliyah is her mark, but she also feels more comfortable with Aaliyah than she should.

Cruz likes Aaliyah. She trusts Aaliyah. There are feelings there, growing in a way they shouldn't, considering Aaliyah is her gateway to the enemy.

Stephanie Nur's Aaliyah, for her part, is also feeling a swirl of emotions about Cruz. She invites her new friend over for a spa day and meticulously observes Cruz, noting that it's obvious she's never had a spa treatment before.

Cruz, who gets more comfortable as the spa day goes on, eventually opens up to Aaliyah while the women are in the steam room.

Without holding back, she shares details of her more challenging times.

Cruz speaks plainly about her abusive relationship, explaining where she's coming from, revealing she's never had some of the most fundamental girlhood experiences, like getting to revel in a slumber party.

Aaliyah can't stand for this, and after they tearfully promise to be honest with each other, she proclaims they'll have a sleepover that night.

The sleepover, it turns out, is just another space for their bond to grow deeper.

After a scary movie, Aaliyah turns on The Notebook when she learns Cruz hasn't seen it. Though she's feeling drunk and drowsy, Cruz is alert and awake. She watches the film and wakes Aaliyah up towards the end in tears.

The women speak closely about how neither has ever been in love. There's something they're clearly not saying in these quiet moments – possibly they've never been in love.

Laysla De Oliveira and Stephanie Nur's chemistry burns at this moment as they lay face to face, comforting one another through a cloud of confusion. The women are both profoundly aware and deeply unaware, all at once.

In the morning, Cruz wakes up alone but can hear Aaliyah screaming gleefully elsewhere in the house. When Cruz finds her, Aaliyah informs her friend that the location of her upcoming wedding has been settled upon.

In a frenzy, Aaliyah kisses Cruz. It's quick but impactful. Both women are in a state of shock.

The lapse is only momentary, though, and before either can process what's happening, they're back at each other, kissing in a rush, keeping each other close.

In a first for Special Ops: Lioness' Cruz, she pulls back, and both are confused. As is her nature, Aaliyah moves on to the next thing and tries to sweep the moment away. However, Cruz can't let it go, and we end in deep uncertainty.

What we, as the audience, have suspected has become clear to Cruz: her relationship with Aaliyah has gone too deep. She's too close to pull away now.

Joe, elsewhere, is struggling to balance everything from her vantage point. She's too distant to make an impact anywhere.

The women counter each other – where Cruz is invested in one facet far too heavily, Joe has spread herself too thin.

As Special Ops: Lioness Season 1 continues to escalate the conflict, the women's stories have converged to make up a fascinating map of the female experience.
Cher Thompson is a staff writer for TV Fanatic, who you can follow on Twitter.