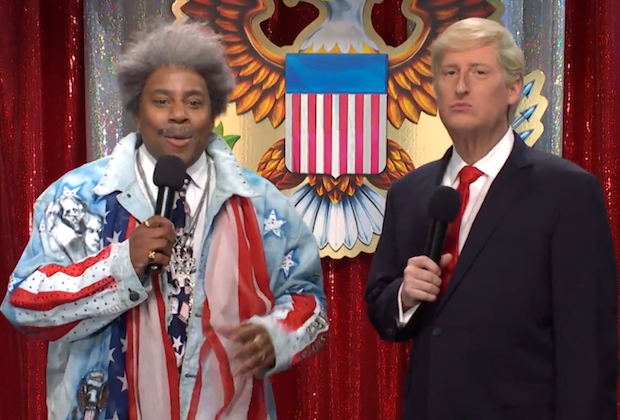 Nick Caruso

Curated From tvline.com Check Them Out For More Content.

Presidents both past and present have always been reliable comedic fodder for Saturday Night Live, and this week's news of Donald Trump's indictment was no exception.
James Austin Johnson once again played our 45th president, as Trump, in the wake of being "indicated," looks to scrape up a little extra cash by producing the album Now That's What I Call My Legal Defense Fund, aka Trump Popz.
"Now you may have seen I've been opening my rallies with my wonderful song, 'Justice for All,' which I performed with the J6 choir — that's a very real thing," Trump assured constituents and music fans everywhere. "It was the number one downloaded song. We beat 'Flowers' by Miley… Our song raked in so much cash, I thought, why stop there?"
We were then treated to snippets of "all the hits," as Trump, along with help from Don King (Kenan Thompson) and his son Don Jr. (Mikey Day), attempted to sing (if we can call it that) tracks like The Black Crowes' "Hard to Handle," Alanis Morrissette's "Ironic" and the Kenny Rogers/Dolly Parton classic, "Islands in the Stream."
"What a deal, just 30 classic covers, all horrible," said Trump, adding that the money generated will help "your favorite president to defend our movement and mostly myself from the evil Manhattan Dah." ("Dah" being Trump-speak for "district attorney.")
After his son bids him goodbye ("It might be the last time I see you!"), Trump signed off by promising Manhattan he'll see them on Tuesday. "Will be wild!" he exclaimed.
The skit was of course spoofing the real Trump's Thursday indictment when it was announced that the former U.S. president was facing charges stemming from hush money payments made to women with whom he allegedly had sexual encounters.
Watch the clip embedded above, then grade this weekend's SNL below.