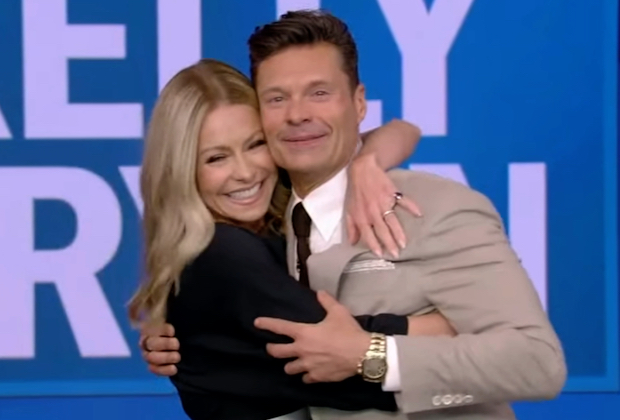 Ryan Schwartz

Curated From tvline.com Check Them Out For More Content.

Turns out Ryan Seacrest's Live farewell… wasn't actually live at all.
As Seacrest and Kelly Ripa entered the studio together one last time, a chyron informed viewers that his big sendoff was "previously recorded." What followed was a rather scant host chat capped by Seacrest accidentally spilling his coffee everywhere. Then came an interview with Dr. Jill Biden, during which Seacrest probed the First Lady on such hot-button issues as… whether anyone watches Live With Kelly and Ryan at the White House.
The hour featured plenty of flashbacks, including a clip from one of Seacrest's earliest Live appearances as a guest. Coincidentally, Ripa's guest cohost that day was Mark Consuelos, who is taking over as her full-time cohost next week. There was also a pre-taped message by Michael Bublé, who joked about Seacrest being at retirement age. Or something. It wasn't very funny.
"These six years together have been so much fun, and you have made us all fall in love with you," Ripa said midway through the show. "I mean, I've been in love with you, but now everybody is in love with you." Because apparently everybody didn't already form their opinion of Seacrest from his first 15 seasons as host of American Idol. Or from hosting Dick Clark's annual New Year's Rockin' Eve. Or from his daily radio show. He was a veritable unknown.
Later on, Ripa compared Seacrest to an Outback Steakhouse delicacy: "I always jokingly have referred to you as an onion, with all these layers," she began. "But really, what you are is a blooming onion, because you are layers upon layers of goodness, of kind, of charm, of brilliance, of authenticity and generosity." (Anyone have a spare Kleenex handy?)
Seacrest followed with a few words of his own, acknowledging his stint as Ripa's sidekick.
"I am a very lucky man," he said. "I want you all to know that it is not lost on me how fortunate I am — fortunate to have had this seat next to you, Kel, for six years. You're incomparable and there is no one like you. I am fortunate to have this job where I can talk and laugh and screw things up, [and] fortunate to connect with viewers across America and Canada, as well.
"I have spent my entire career talking — talking on the radio, talking on television," he continued. "Words are my bread and butter. It's my wheelhouse. But today it is hard to put into words how deeply I have appreciated being here and being with you, being invited into your homes every day, trying to deliver a smile, or a laugh or two. I'm honored to be part of this family. I am blessed with so many memories… I will cherish, I will relish [and] I will relive those memories forever."
The hour was capped by an appearance from Consuelos, who wished his predecessor all the best.
Seacrest was announced as Ripa's permanent cohost in May 2017. He succeeded Michael Strahan, who made the rather abrupt transition from Live to Good Morning America in 2016. Seacrest and Ripa's morning-show rapport would eventually serve as the inspiration for the ABC sitcom pilot Work Wife, which received a pilot order in 2020 but did not move forward to series.
Grade Seacrest's farewell via the following poll, then drop a comment with your full review.