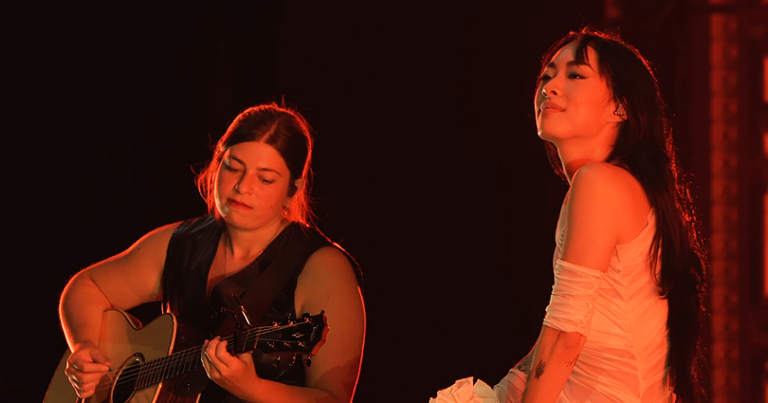 Curated From randomjpop.blogspot.com Check Them Out For More Content.

Rina has mentioned Hikaru Utada's influence on her several times, and also gushed about meeting them when they popped up at one of her gigs. So it was only a mater of time until Rina covered one of their songs. And what better time to do it, than during the Tokyo stop of a world tour.
Rina performed "First Love", which is incredibly timely, given that we're still in the promotional wake of the Netflix series which is centred around the song. And not to say that Rina is not promo savvy. But I really do think that Rina's decision to perform this song is because it is one of Hikaru's most well known songs, that most of Rina's fans in attendance will actually know.
Rina started off a little shaky, but once she got going, she really tore into this song. And dare I say it, sang it better than Hikaru themselves.
I am a broken record when it comes to my thoughts on "First Love". My biggest problem with the song is that Hikaru does not sound great on it. And it's not a song that Hikaru generally sounds that great on, even when they perform it now. Hikaru sounds much better as a singer now than they did in their teens. But Hikaru's voice hasn't really transformed in a big way. Hikaru took a big ass break where they probably barely sang. They don't perform live often, so I doubt they're taking vocal lessons or really training their voice. Where-as Rina has been touring Hold the Girl for the past 6 months straight, and was gigging at every give opportunity prior. And Rina has also been working with a vocal coach. So it's no real surprise that Rina hit this shit strong and stable.
As for the shaky start, it's not uncommon for singers to start a bit ropey then get stronger as the song gets going and they settle into it. But there is also something about the note of the opening line of "First Love" which is oddly difficult to hit strong, because you can't hit it strong. And the note is so short that you can't even finesse it with a cute run or any vibrato. So that first note in every performance and every cover I've heard always sounds a little crusty. Hikaru was not thinking about vocal technique or what would be a manageable way to sing the song, they just sang it, which is part of the charm of it. But it can mean that it is a hard song to sing without really changing it. And so few people that cover it tend to really change it. Even Hikaru doesn't. Taking liberties with songs live isn't as common a thing in Japanese music as it is with American acts. There is often an insistence to perform the song as close to how it sounds to the studio recording as possible. And even Rina herself chose to keep her version super close to the original.
Rina is in such a unique position as a British Japanese pop star who has an established fanbase in both of her home countries. So I hope that she and her team factor this into how Rina promotes her music in Japan and the kindof things that she could do for the Japanese market specifically. The Japanese music market still remains as the second largest. It was lucrative market for many US acts, with promo schedules carving out time for Japan specifically. But that's changed a lot over time. And you tend not to see many US artists do gigs or televised appearances in Japan anymore. So there's a real space for Rina to occupy there, and it's great that she's started to do with with Hold the Girl, doing televised performances and taking her tour there. Hopefully we'll get a Japan exclusive release at some point. Or Rina will say fuck it and just work Japanese into her songs as standard. One of the biggest albums of 2022 was a non English album. And with K-pop also dominating charts, English no longer has to be regarded as a default language for artists to perform in. I say if you can speak another language, fucking do it. It was also be a LOVELY finger up at the Brits and those who tried to claim Rina isn't British. Imagine her getting a nomination for an album which isn't even all in English. I'd scream internally.
---