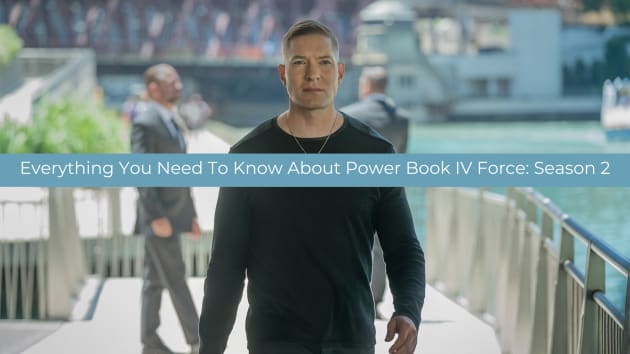 Whitney Evans

Curated From www.tvfanatic.com Check Them Out For More Content.


Death, taxes, and more Power may be the only absolutes in life.

The Power Universe continues to be one of the most successful television franchises currently on the air, with a trio of hit series that fans can't get enough of.

After the highly successful Power Book II: Ghost Season 3, the uber-popular Tommy Egan spinoff Power Book IV: Force is next up. And we're glad to report you don't have to wait much longer to see what Tommy is getting up to in the wild streets of Chicago.

While the ongoing WGA and SAG-AFTRA strikes have halted production on movies and television alike, Power Book IV: Force Season 2 will be back in no time, as the series completed filming before the onset of the strikes.

Coming off a stellar first effort, we're expecting big things moving forward.

As series star Joseph Sikora told us in a post-mortem interview from Power Book II: Ghost Season 3 Episode 9, "…We have the best showrunner on the planet, Gary Lennon, running the show now, who, of course, is the co-executive producer and a co-showrunner of the Power show. So I've got to tell you that anything can happen.

"Gary is brilliant and really gritty. I mean, he's such a New Yorker to the bone. He's a Westie, and he's just a tough guy, and I love it. He really brings back the kind of Tommy that we all know and love, and we're getting back down to business in Season 2. I cannot wait for people to see it."

We also can't wait for the series's return, and we have all the up too date information about what to expect with Power Book IV: Force Season 2.

We only have double-digit days to wait for the series to return, as the second season of the Tommy-centric spinoff is set to premiere on Friday, September 1 at 8/7c.

So all fall, you'll be able to relax after a long week of work with your favorite pumpkin-flavored snack and slip back into the chaos of Chicago as Tommy, Diamond, Jenard, and the Flynns make their next move in the race for dominance over the city.

With a fall season that will look pretty different from what we're used to, it'll be nice to know that we'll get our Power fix weekly.

Which Cast Members Will Return For Power Book IV: Force Season 2?


When Power Book IV: Force Season 1 first began, Joseph Sikora's Tommy Egan was the only Power character on the roster.

But he soon teamed up with Audrey Esparza's Liliana, a former drug courier for Ghost's operation back in New York, who became his right-hand woman as he battled with various adversaries.

Unfortunately, Liliana won't be back for Season 2, as she met her demise during Power Book IV: Force Season 1 Episode 10.

Gabrielle Ryan also won't return, as Gloria was a casualty in the war between different characters.

But many other familiar faces will return from the first go around.

Those include:

Isaac Keys as Diamond Sampson

Lili Simmons as Claudia Flynn

Shane Harper as Victor Flynn

Kris D. Lofton as Jenard Sampson

Tommy Flanagan as Walter Flynn

Anthony Fleming as JP Gibbs

Lucien Cambric as Darnell McDowell

With an ensemble this size, new faces will be popping in to interact with the main characters and jump-start some new storylines.

What Will Power Book IV: Force Season 2 Be About?


Power Book IV: Force Season 1 Episode 10 saw Liliana's death by Claudia's hand, renewed partnerships, and Tommy's pledge to take over all of Chicago.

And Season 2 looks to build upon that momentum.

Per the official synopsis from Starz, "Tommy Egan is on a mission to avenge the death of Liliana, and with the Flynn organization weakened, he's more determined than ever to take over the Chicago drug world. But with CBI split down the middle, Tommy and Diamond first must maintain their edge over Jenard.

"As their factions feud in the streets, Tommy capitalizes on another rivalry between the Serbs and Miguel Garcia, the most formidable drug lord in Chicago.

"After setting off a chain reaction of violence in pursuit of his ambition, Tommy must race to stay ahead of the men who are coming for what's theirs, a federal task force that's closing ranks, and a sadistic supplier with a direct line to the Cartel.

"All the while torn by the promise of a second chance with his blood family, Tommy must decide what he is willing to sacrifice to finally ascend the throne of a kingpin."

With some new players in town and the Flynns and Jenard continuing to be challenging opponents, Tommy will surely be in for another wild season.

How Many Episodes Will Season 2 Have?


Since the first Power spinoff, Power Book II: Ghost Season 1, all the subsequent series have had ten episodes per season.

And that won't be changing here.

Power Book IV: Force Season 2 will have ten episodes.

That's ten episodes of twists, turns, and everything in between.

Is There a Power Book IV: Force Season 2 Trailer?


While we still have a few weeks to go before the new season premieres, we were gifted with a little teaser trailer that sets the stage for an epic season.

https://www.youtube.com/watch?v=_knFMIPwzP0

A teaser indeed, the 30-second video shows a lot of action and attention directed toward Mr. Tommy Egan.

And we wouldn't have it any other way.

Starz also gave us a first look at some season 2 photos!

You'll definitely want to check those out, along with the teaser trailer, as we wait for September 1st!

As always, we will cover Power Book IV: Force Season 2 at TV Fanatic.

And we'll have you covered with weekly reviews and deep dives into all the action!
Whitney Evans is a staff writer for TV Fanatic. Follow her on Twitter.