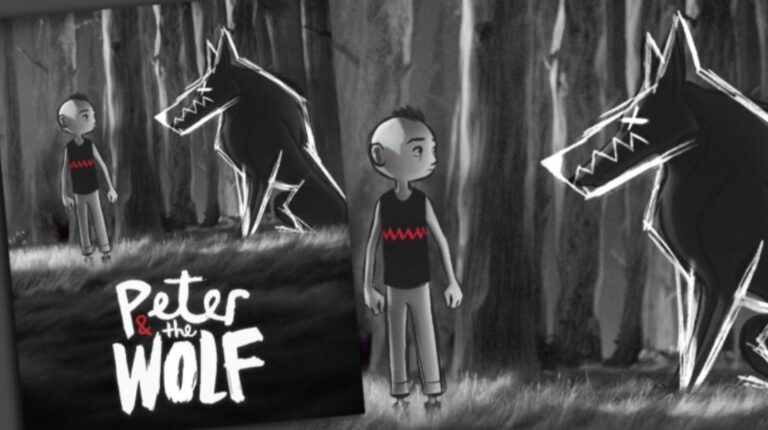 Jessica Fisher

Curated From geektyrant.com Check Them Out For More Content.


Max and Cartoon Network are teaming with U2 musician Bono and Irish musician and composer Gavin Friday for a remake of the classic Sergei Prokofiev symphony, Peter and the Wolf. The short film will feature music and narration by Friday, with artwork based on original illustrations by Bono.
The short film, slated to premiere later this year, transforms Sergei Prokofiev's symphony into a contemporary piece that touches on themes of growing up, loss, courage, transformation, and our relationship with nature. The project was originally developed in 2003 by Gavin Friday and Bono in support of Irish Hospice Foundation, a national charity supporting those facing dying, death and bereavement.
Peter & the Wolf is led by musician and composer Friday who is narrating the reimagined classic tale with The Friday Seezer Ensemble performing the Prokofiev score, newly arranged by Maurice Seezer and Friday.
The artwork seen throughout the film is based on original illustrations by Friday's longtime friend and collaborator, Bono, from his book of the same name.
"Featuring a juxtaposition of traditional hand-drawn 2D animation combined with a physical set-built world, the film follows a grieving 12-year-old Peter who is now in the care of his grandfather after enduring the loss of a parent. Upon hearing stories of a wolf on the loose, Peter decides to explore the vast meadow and forest nearby to try and find the wolf himself. Along the way he encounters creatures who help him on his quest while contending with hunters aiming to win a prize for capturing the wolf."
Friday and Bono released a joint statement on the project, saying:
"The messaging of vigilance, bravery, and resilience that were core to the original symphony are still echoed throughout our interpretation, but we spin a traditional fairy tale into a unique adaptation that also incorporates the topic of loss, redemption, and recovery. It's our hope that this Peter & the Wolf becomes a balm for any child dealing with loss, alongside exposing and captivating them into the wonderful and musical world of Prokofiev."
I had the original Peter and the Wolf recording on a record when I was a kid, and I also watched it on TV. I loved it so much. I am also a fan of Bono, so I look forward to seeing how this project turns out. It is expected to be released later this year.
via: Deadline