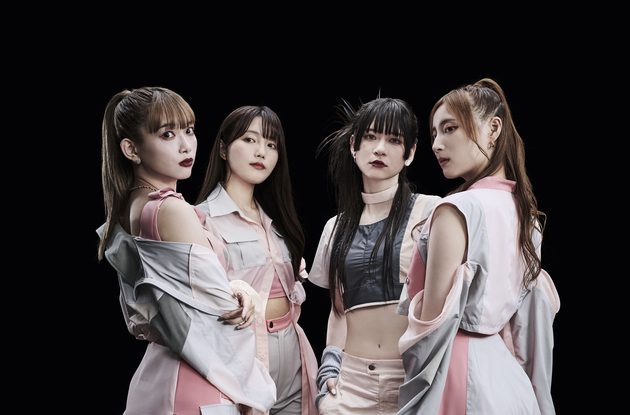 Curated From jrocknews.com Check Them Out For More Content.

Loud rock-idol group PassCode comes in screaming in September with "PassCode US TOUR 2023 -GROUNDSWELL-". The group will assault the ears of fans in Dallas, New York, and Los Angeles on September 3, 5, and 7. A live backup metal band complements the group's creative choreography, cute pop vocals, and demonic metalcore growls. This is PassCode's first time touring the US.
Check out the official trailer for the tour:
---
Formed in 2013 in Osaka, PassCode consists of members Nao Minami, Kaede Takashima, Hinako Ogami, and Emily Arima—all four are vocalists and dancers for the group. PassCode made its major debut in 2016 and has released nine albums, two EPs, 11 singles, 10 video discs, and dozens of music videos. The group has appeared in numerous festivals in Asia and achieved high rankings on Japanese ranking charts. According to PassCode, its shows have been described as "a roller coaster because of [the] non-stop performance".
This creative mix of sound and motion should appeal to a wide audience of fans of Jpop and pop, hard rock, and heavy metal.
For a sample of PassCode's most recent work, brace yourself and enjoy the EP's and the tour's titular track, GROUNDSWELL.
Go see them and enjoy the "roller coaster" ride! Tour details below.
| 🗓 Date | 📍 Location | 🌎 Country | 🎶 Venue | 🔗 Info |
| --- | --- | --- | --- | --- |
| September 03 | Dallas | 🇺🇸 United States | The Cambridge Room at House of Blues | Ticket & details |
| September 05 | New York | 🇺🇸 United States | Gramercy Theatre | Ticket & details |
| September 07 | Los Angeles | 🇺🇸 United States | The Echo | Ticket & details |
Lord of Light


Melody from the Bumbling Clash


MYTH


GROUNDSWELL
[DVD/PassCode MEGA VEGAS 2023 at Kobe World Memorial Hall] FLAVOR OF BLUE


[DVD/PassCode MEGA VEGAS 2023 at Kobe World Memorial Hall] Ray


[DVD/PassCode MEGA VEGAS 2023 at Kobe World Memorial Hall] 一か八か


[DVD/PassCode MEGA VEGAS 2023 at Kobe World Memorial Hall] DIVE INTO THE LIGHT


[DVD/PassCode MEGA VEGAS 2023 at Kobe World Memorial Hall] Seize Approaching BRAND NEW ERA


[DVD/PassCode MEGA VEGAS 2023 at Kobe World Memorial Hall] ATLAS


[DVD/PassCode MEGA VEGAS 2023 at Kobe World Memorial Hall] SPARK IGNITION


[DVD/PassCode MEGA VEGAS 2023 at Kobe World Memorial Hall] Anything New


[DVD/PassCode MEGA VEGAS 2023 at Kobe World Memorial Hall] AXIS
Lord of Light


Melody from the Bumbling Clash


MYTH


GROUNDSWELL
[Blu-ray/PassCode MEGA VEGAS 2023 at Kobe World Memorial Hall] FLAVOR OF BLUE


[Blu-ray/PassCode MEGA VEGAS 2023 at Kobe World Memorial Hall] Ray


[Blu-ray/PassCode MEGA VEGAS 2023 at Kobe World Memorial Hall] 一か八か


[Blu-ray/PassCode MEGA VEGAS 2023 at Kobe World Memorial Hall] DIVE INTO THE LIGHT


[Blu-ray/PassCode MEGA VEGAS 2023 at Kobe World Memorial Hall] Seize Approaching BRAND NEW ERA


[Blu-ray/PassCode MEGA VEGAS 2023 at Kobe World Memorial Hall] ATLAS


[Blu-ray/PassCode MEGA VEGAS 2023 at Kobe World Memorial Hall] SPARK IGNITION


[Blu-ray/PassCode MEGA VEGAS 2023 at Kobe World Memorial Hall] Anything New


[Blu-ray/PassCode MEGA VEGAS 2023 at Kobe World Memorial Hall] AXIS