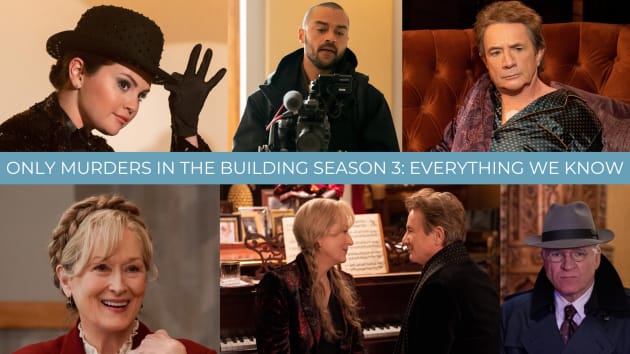 Denis Kimathi

Curated From www.tvfanatic.com Check Them Out For More Content.


Never has murder been so entertaining.

Only Murders in the Building has delivered two stellar seasons of murder mysteries as three people who, in day-to-day life, would have nothing in common find themselves solving murders, recording a podcast, and making great generational roasts.

Only Murders in the Building Season 3 is premiering soon, and we have all the details you need to know about the season as we embark on another journey to solve who killed Ben on Oliver's production's opening night.

Only Murders Season 3 renewal status

Hulu renewed the show for a third season on July 11, 2022.

What will Season 3 be about?

Well, murder, of course.

Like the past two seasons, Only Murders Season 3 features an all-new murder mystery, but the setting differs this time.

The mystery was teased toward the end of Only Murders in the Building Season 2, Episode 10.

The setting was: Oliver had just gotten offered a role on Broadway for a show. After a year of intense work and preparation, the cast was ready to show their work, and everyone came out to support him.

But something went wrong when Ben, the lead in the musical, literally dropped dead before he could begin his performance.

It had been a great year without any murders, but now, they were in the middle of one as Charles and Oliver were also part of the production.

Only Murders Season 3 will have the trio band back together to figure out who killed Ben, and there are many candidates.

Ben was a proper asshat. He didn't get along with many cast members. Many people had a reason to kill him.

Rarely does a healthy man drop dead, and our trio suspects foul play. They piece together the first few days leading to Ben's death, and they are convinced foul play is involved.

The season sees them try to uncover who murdered Ben so Oliver can save his production.

Do you know what a murder mystery with Charles, Mabel, and Oliver involved means? A podcast.

The trio begins a new podcast to reflect the changes in their new endeavor.

Only Murders in the Building: The Podcast was centered on the Arconian murders, but now the murder occurred in the theatre.

The season sees Charles Mable and Oliver revisit old relationships while some new ones are formed.

With the change in setting comes a significant change in the cast. There were a lot of additions to the cast but no major departure.

Main Cast

Steve Martin as Charles Hayden-Savage, aka America's favorite TV detective, Detective Brazzos, who the network decided to upgrade to a series regular and de-dementia him.

Martin Short as Oliver Putnam, whose life revolved around theatre before that well dried up. Now with a second chance at his dream, the death of a star on stage is set to wake him up.

Selena Gomez is Mabel Mora, a young woman with no friends her age, so she hangs with two old men talking about murders and explaining technology to them.

Recurring Cast.

Michael Cyril Creighton as Howard Horton. Michael was upped to series regular for season 3, so we will see more of Howard and the horrible acting that denied him a chance at Broadway. He has a man now, so maybe less cats?

Jane Lynch as Sazz Pataki, Charles' stunt double in acting and personal relationships.

Tina Fey is Cinda Canning, the talentless podcaster with a talent for stealing ideas.

Da'Vine Joy Randolph, as Detective Williams, sits around and waits for podcasters to solve crime so she can burst in at the last minute and make arrests.

Jackie Hoffman as Uma Heller, an Arconian resident who is just glad the murder didn't happen at the building.

Only Murders Season 3 boasts great cast additions, as some Hollywood A-Listers signed on.

Paul Rudd as Ben Glenroy. Ben was supposed to headline Oliver's production, but he drops dead on opening night. Who could have killed him, and why?

Meryl Streep as Loretta Durkin, a cast member who might have killed Ben. Loretta will be a joy to watch if the trailer is any indication.

Jesse Williams is Torbet, a documentarian who is interested in Mabel.

Ashley Park as Kimber, a Broadway ingénue and a murder suspect.

Jeremy Shamos, Wesley Taylor, Linda Emond, Don Darryl Rivera, Allison Guinn, and Gerald Caeser were also cast in various roles, but most as cast members in Oliver's production who are murder suspects too.

When will Only Murders in the Building Season 3 be released?

Season 3 premieres on Tuesday, August 8, 2023. Two episodes will premiere on said date, and the rest will be released weekly on the same day.

Season 3 is set to be eight episodes long.

Is There Going to be a 4th Season of Only Murders in the Building?

Well, officially, not yet.

But the show has a large audience, and if the creatives have not run our ideas for murder yet (is that possible?), then there's a fair chance Season 4 will be happening (RIP the fourth victim).

Is the Arconia a real building?

Yes, it is! However, the building might not be as relevant in Season 3's story as in previous seasons. But if you live in or near New York City, you can visit.

Is there a trailer for Only Murders in the Building Season 3?

There sure is! And a good one, for that matter. The Only Murders in the Building Season 3 trailer teases a new murder mystery, characters, and setting. Watch it in the YouTube video embedded above.

Where Can I Watch Only Murders in the Building?

The show is a Hulu exclusive, so you can only watch it via a subscription.

Catch the new season in August and our Only Murders in the Building episodic reviews as we dive into the new mystery.
Denis Kimathi is a staff writer for TV Fanatic. He has watched more dramas and comedies than he cares to remember. Catch him on social media obsessing over [excellent] past, current, and upcoming shows or going off about the politics of representation on TV. Follow him on Twitter.