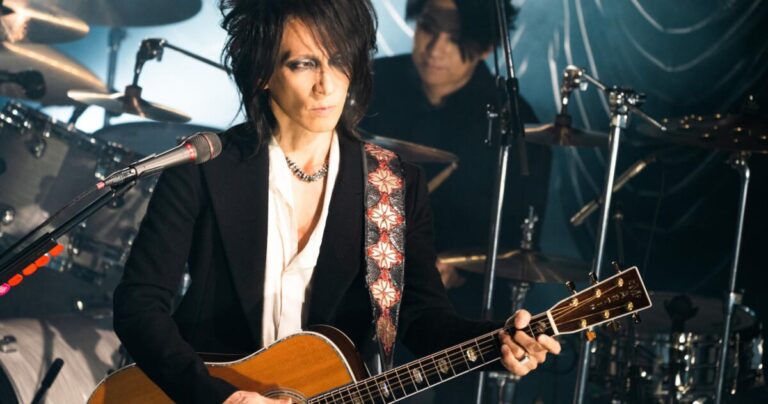 Curated From jrocknews.com Check Them Out For More Content.

MORRIE celebrates another trip around the sun with his birthday special concert "Nikukatamarisei Tanmatsuri -Flesh Odyssey-" on March 4. The show took place at Tokyo Kinema Club, an intimate venue with a charmingly aged exterior. Still, a stylish inside decor resembling a 19th-century cinema or jazz club befitted MORRIE, who celebrated his birthday with this performance.
The stage was minimalistic, giving focus to the instruments, which laid in wait for the performance to begin. MORRIE and tonight's band smoothed their way into the performance with the peaceful opening song, Kanki e. MORRIE paced leisurely building the energy by first performing the bassy beats of Icarus before diving into something more electric and intensifying with Dust Devil, Saru no Yume, and Panic no Me. Provided with some headbangers and toe-tappers, the crowd was eager to dance and even cheer along.
This crowd was among the first to drop COVID-era restrictions on speaking at shows. The return to being able to cheer surely helped to bolster the energy of the show.
MORRIE wasn't alone on stage. A five-piece guest live band joined him, composed of respected industry names: guitarist Shinji Kuroki; bassist FIRE; keyboardist Takeyuki Hatano; drummer Hiroshi Kido; and the dazzling violinist Heather Paauwe. Each member had their solo moment as they charged through the setlist with amorous songs like Junketsu no Shiro and Disquieting Muse.
Unchained became a rousing moment with its slinky rhythm, building to a euphoric high in the chorus and accompanied by MORRIE's pleasing operatic vocals. Each violin solo was met with a look of fondness and appreciation from MORRIE—not just for the one who plays it. This song accentuates the importance the violin holds within his music.
For most songs, MORRIE performed with his guitar, even changing up the beat with an acoustic guitar for songs such as Riding the Night.
After a swift intermission, MORRIE took to the stage to ease the audience into the show once again. On occasion, he'd slip out from behind his guitar and loosen up his body and vocal cords for songs like Cosmos no Naka ni. We were then fired into the spirit of the second act, greeted by the charismatic trumpets of SEX Setsudan—a song that wouldn't go amiss as a James Bond movie soundtrack. MORRIE commanded the center stage with loose dance moves and an air of joy as he and the band performed their way through violin and guitar solos for Paradox. An opening bass solo also made a deep impression for his new song, Fly Me to Neptune.
MORRIE's operatic vocal songs were an obvious crowd-pleaser as they once again burst into cheer and dance for Danger Game.
Memai wo Aishite Yume wo Miyo brought a dreamy flow to the show as they neared the end of the night, with beautiful violin and vocal support from Heather.
Tying the show off just right, MORRIE ended the night with an encore, delivering DEAD END nostalgia for the song Meigou. It was an ending that surely left many with a smile and a thrum of joy in their hearts.
---
MORRIE Nikukatamarisei Tanmatsuri -Flesh Odyssey-, March 4, 2023 at Tokyo Kinema Club
Setlist
Kanki e (歓喜へ)
Icarus (イカロス)
Dust Devil
Yume no Saru (猿の夢)
Panic no Me (パニックの芽)
Shisen no Kairaku  (視線の快楽)
Junketsu no Shiro (純潔の城)
Disquieting Muse
Unchained
Riding the Night
Kokode wanai Doko ka (ここではないどこか)
Cosmos no Naka ni (Cosmosの中に)
SEX Setsudan (SEX切断)
Paradox (パラドックス)
Fly Me To Neptune
Danger Game
Hakai Shiyou! (破壊しよう!)
Nagame no Ii Anata (眺めのいいあなた)
Memai wo Aishite Yume wo Miyo (眩暈を愛して夢をみよ)
Ato wa No to Nare Yama to Nare (あとは野となれ山となれ)
Encore
Meigou (冥合)