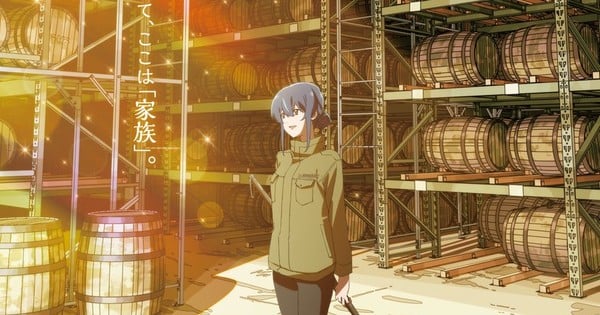 Curated From www.animenewsnetwork.com Check Them Out For More Content.

Anime studio P.A. Works revealed on Wednesday the second teaser visual and a new promotional video for its new original feature-length anime film project Komada – A Whisky Family (Komada Jōryūsho e Yōkoso, literally "Welcome to the Komada Distillery), which revealed the film's November 10 premiere.
The anime film's staff also revealed character visuals for its main cast.

Saori Hayami as Rui Komada

Kensho Ono as Kōtarō Takahashi

Maaya Uchida as Tomoko Kawabata

Yoshimasa Hosoya as Hiroshi Yasumoto
The film will open in Japan on November 10. The film also screened in this year's Annecy International Animation Film Festival, which was held from June 11-17 in the French town of the same name, as part of the Contrechamp category.
The film centers on Rui Komada, the young head of her ailing family whisky distillery. She took over the distillery after the death of her father. Facing financial difficulty, a divided family, and the aftermath of natural disaster, Rui takes it upon herself to reforge her family's bonds by reviving the family's signature Japanese whisky.
Masayuki Yoshihara (The Eccentric Family, Mai no Mahō to Katei no Hi) is directing the film at P.A. Works. Yukito Kizawa and Munemasa Nakamoto, who both worked extensively on scripts for the Monogatari series and Sword Art Online franchise, are penning the screenplay. Tomomi Takada, a veteran P.A. Works key animator and inbetweener, drew the original character design concepts, while Kousuke Kawazura (The Eccentric Family) is designing those characters for animation, while also serving as chief animation director. Tatsuya Katō is composing the music. DMM is credited as producer. GAGA Corporation is distributing.
The film is the fifth installment of P.A. Works' "workplace" series about people and their jobs, after Hana-Saku Iroha, Shirobako, Sakura Quest, and The aquatope on white sand.
P.A. Works' "workplace" series began with Hana-Saku Iroha in 2010, which focused on a hot spring inn. Shirobako followed in 2014, with its focus on the anime industry. Shirobako also spawned a sequel film in 2020. Sakura Quest debuted in 2017, and centered on girls involved in small-town tourism. The aquatope on white sand debuted in 2021, and focused on the aquarium business.
Sources: Komada – A Whisky Family anime film's Twitter account, Comic Natalie