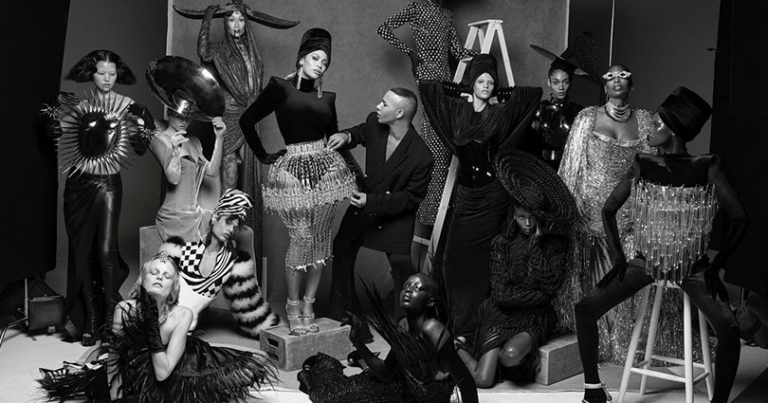 Curated From randomjpop.blogspot.com Check Them Out For More Content.

Over the past few weeks Ivy Park has gotten the most promo it's gotten since it launched its first collection with Adidas, and it was all because of news that the partnership was losing Adidas a whole lotta money. This resulted in Twitter discourse as to why the collection wasn't selling, and if Ivy Park would have a future with Adidas as a result. Then mere weeks later, there were rumblings of Beyoncé potentially doing something with Balmain, which seemed believable. But when it comes to Beyoncé, you just have to take everything with a pinch of salt until you see an Instagram post from Beyoncé herself. And lo and behold, it turned out to be true. Beyoncé and Balmain are doing the thing.
Beyoncé and Balmain have come together to create the Renaissance couture collection, officially touted as 'The first-ever couture collection created in collaboration with and exclusively for a Balmain muse'. The collection is centred around Beyoncé's 7th studio album Renaissance, with each song on the album having an accompanying look. One look / song however is missing, "Cuff It". But when news broke that Beyoncé had been invited to the 2023 Met Gala, this led to speculation that she would actually bother to turn up, and that she would debut this look there. As per the initial rumblings of Beyoncé doing something with Balmain, this also seems believable. The Met Gala takes place on May 1, mere weeks before the Renaissance World Tour kicks off. Balyoncé pulling up in a look from the Renaissance couture collection would not only act as promo for the collection itself and Balmain as a fashion house, but her album and tour.
The Met Gala theme this year
is Karl Lagerfeld: A Line of Beauty, which is a pretty vague theme. But so many of the folk who turn up to Anna's rich bitch party don't give a fuck about the theme anyway. And even with the theme being in honour of a notable figure in fashion who is now in the
Farplane
, I bet people will still say 'Fuck the theme' and not honour that man who looked like a character from King of Fighters.
But what is also interesting about this year's Met Gala theme, is that it provides a wrinkle to the story that Beyoncé might turn up in a Balmain look. Karl Lagerfeld was hired by Pierre Balmain, the founder of Balmain itself, and was his assistant for 3 years. And if we want to reach even further, Karl Lagerfeld was also a known attendee of Studio 54 and threw parties there. Studio 54 is very clearly one of the vibes and influences of Beyoncé's Renaissance, and the beloved "Cuff It" sounds very much like a song you'd expect to hear there.
So, we'll see.
These looks remind me Beauty and the Beast, and y'all can blame the chandelier looks for that. I need to see Beyoncé in each of these looks to really cement an opinion on them, because I feel she'd wear them better than the models in the video. But generally, I don't think they're that great.
It's also a bit of a head fuck for me seeing every song on the album with a couture look, when some of the songs don't give that energy. When I listen to "Heated", "Thique" and "America Has a Problem" specifically, I don't think couture. And quite a few of the looks go in a completely different direction I'd expect for the song. I think the shoot for the album did a better job of matching some of the energies of the songs.
When the Renaissance couture collection was revealed, many of us had realised that Beyoncé had already shown us looks from the collection before, having worn one of the looks to celebrate her BRIT awards win, and another to celebrate her Grammy wins.
Beyoncé in Renaissance couture | Instagram, @beyonce
Beyoncé in Renaissance couture | Instagram, @beyonce
Beyoncé and fashion lines doesn't make much sense TO ME. She wears high fashion and couture, but I've just never seen her as a fashion girly, or somebody who has consistently great style. But I do get it.
So, let's do a quick walk through Beyoncé's fashion endeavours.
House of Deréon was a misfire. Especially with it launching at a point in time when I don't think Beyoncé was regarded as a fashion icon, and she didn't have an identifiable style; something which resulted in the House of Deréon collections like a random mish-mash of shit with no real theme or direction. The collection was also full of looks and pieces you could find much cheaper at K-Mart and pretty much anywhere. Honestly, releasing a K-Mart or Walmart Beyoncé clothing line woulda made more sense back then, especially given that House of Deréon looked like the shit that teen Disney stars were pulling up to red carpets in. Then there was the price point, which was high for what it was for such a new brand from unestablished names in fashion. The price points were out of range for Beyoncé's then fanbase, who were primarily teenagers.
Ivy Park was very misguided. Beyoncé is not and has never been synonymous with athleisure. The target audience needed to be everybody, but wound up just being her fans, who saw the Adidas x Ivy Park collection as an extension of Beyoncé merch. And once again, the price point was too high. Nobody is going to Adidas to drop 500 quid on a coat. And because Beyoncé refuses to promote anything, the audience for Ivy Park was never going to be the mass market that Adidas has always catered to and relied on. So, everything about the Adidas and Ivy Park partnership was just weird and disjointed. It never shoulda happened. But somebody at Adidas figured 'It's Beyoncé' and went with it.
Beyoncé in Renaissance Couture with Olivier Rousteing | Instagram, @balmain
But the Beyoncé and Balmain teaming up for a collection contextually makes sense. Beyoncé has a long-standing relationship with Olivier Rousteing and his Balmain team. Olivier put together several looks for her Formation World Tour, all of her looks for Homecoming, and multiple looks for her On the Run II tour. Olivier Rousteing is also very locked into pop culture. He draws from it, uses it, aligns with it, and is unashamed in his proximity to it. It's a big part of his personal brand. And as for the creation of couture looks centred around Beyoncé's Renaissance album, this also makes sense. Renaissance pulls heavily from the 70s and ballroom culture of the 80s and 90s; each of which centred around fashion, couture and the obsession with it. Aside from sex and self love, fashion is reoccurring theme of Renaissance. And with Renaissance being an ode to Black queer culture, and Olivier Rousteing being Black, queer and a creative director of a fashion house; everything just aligns. It all certainly makes more sense to me than Adidas and Ivy Park. Also, lets be real. Beyoncé loves money and the lifestyle that capitalism allows her to have. So, there is also that. Not a read, nor shade. Just saying what it is.
And it's not like Beyoncé hasn't collaborated with, nor been a muse for a fashion designer before. Something people oft forget (but understandably so, given how bad the album and the rollout was) is that Beyoncé worked very closely with Manfred Thierry Mugler in 2008. Pretty much all of her Sasha Fierce looks for the I Am… Officer Knowles album shoot were Mugler. She wore Mugler for the accompanying the tour. And Manfred even art directed parts of her tour. Beyoncé working with Manfred and being a Mugler girl for a minute was a turning point for Beyoncé. From that moment on, high-end fashion and couture started to become a more prominent component to her visuals and personal style.
Renaissance Couture: Beyoncé x Balmain | Instagram, @balmain
There is a high likelihood that some of these looks will probably be worn by Beyoncé herself on the tour. In which case, the BeyHive needs to brace itself. Because not a single one of these outfits look like something Beyoncé can do an 8-count in. And IF we get the Yoncé Cinematic Universe for Renaissance, the looks will probably make appearances in that too. So we can add 'Waiting on the Balmain outfits' to the list of reasons as to why we have not gotten a single music video for Renaissance yet, right alongside 'Foot surgery'.
I don't know what the timeline was for when the Renaissance album shoot took place and when this Balmain collection came together, but it's a shame we didn't get a couple of these looks in the album shoot. I don't think Beyoncé even wore a single piece of Balmain runway or ready to wear in that shoot. And we never got any of the Renaissance couture collection looks in the Tiffany commercials either; although the "Summer Renaissance" dress for the Balmain collection does bear a resemblance to the dress Beyoncé wore in one of them. It woulda been nice to have seen everything tied together.
Beyoncé working on music, a couture collection, a tour, music videos (maybe) and Lawd knows what else all in conjunction with one another is wild and crazy. But that's Beyoncé for you. Always doing everything, everywhere, all at oncé. But I imagine it was extremely stimulating as a creative, and somebody who wants a break from just doing mommy things and breaking out of the stillness that came about due to the pandemic – the latter of which spurred the recording of Renaissance in the first place.
I'm fully expecting Beyoncé to swap out the brand names in "Heated" and "America Has a Problem", and to work Balmain into the final verse of "Summer Renaissance".
---