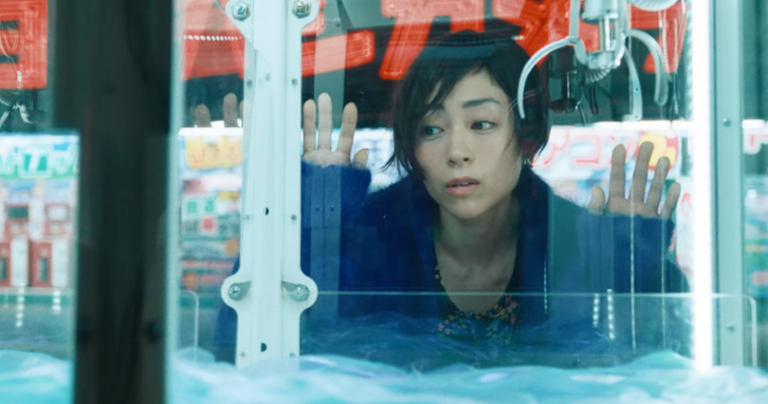 Curated From randomjpop.blogspot.com Check Them Out For More Content.

So, I was waiting on the music video for "Gold ~Mata au hi Made~" to drop my review, as I was just gonna slap the video in the review itself. Especially as I thought THIS…
Was gonna be the music video, which featured Hikaru Utada in the same look they sport on the single cover. But then the video actually dropped and it was a WHOLE other thing. And I have opinions on it separate from the song. So, here it is. With its own post.
Can you imagine walking through Shinjuku, looking up and seeing some woman hanging from wires on a crane. Only to find out later on that it was Hikaru Utada? I'm really curious as to how they shot the streets scenes of this video. I'm thinking it's a getting permission to get part of the street shut down and shooting at a ridiculous hour of the morning. Whenever you see cities in Japan, they're always busy and there's always something happening. But late at night / early hours of the morning, you can walk through certain areas and it's like you're the last person on Earth.
Hikaru Utada – Gold ~Mata au hi Made~ | Sony Music Labels Inc.
Hikaru Utada likes a references here and there. Although with the exception of "Goodbye Happiness", I wonder how many of them are intentional. "Gold ~Mata au hi Made~" brought to mind "Keep Trying", because of Hikaru working a regular job. "One Last Kiss", because of Hikaru using one of them scam claw machines. "Pink Blood", because of Hikaru being encased in glass. And "Bad Mode", because of the water pouring in through the store and the (potential for a) flood. But these are all stretches and just things that came to mind as I watched the video.
The music video for "Gold ~Mata au hi Made~" is one of Hikaru Utada's best music videos in quite some time. It's so weird, playful and full of charm – evoking the vibe of their earlier music videos. I have no real idea what is going on in the video. But it's making me miss konbini's (Family Mart hive, stand up), Yodobashi Camera stores and Japan in general. It also reminded me that I used to have a goldfish as a kid, but I cannot for the life of me remember what its name was.
Hikaru Utada – Gold ~Mata au hi Made~ | Sony Music Labels Inc.
Whilst I'm not head over heels for how the song turned out production wise, the music video does a lot for it and has a lot of replay value. It's been a while since we got a music video from Hikaru where they have to act and it made me forget how expressive they are (it's why I adore "Keep Trying"). This video honestly could do some things for Hikaru Utada in Japan if Sony push it. It has a charm that could attrack new audiences, the same charm which would remind older audiences of Hikaru back in the day. And it's shot in Japan too. Because I do wonder how many may feel a type of way that Hikaru is releasing Japanese music, but no longer lives in Japan.
Between the song and the video, "Gold ~Mata au hi Made~" really does feel like Hikaru Utada has found the joy in life again, which is beautiful to witness.
---