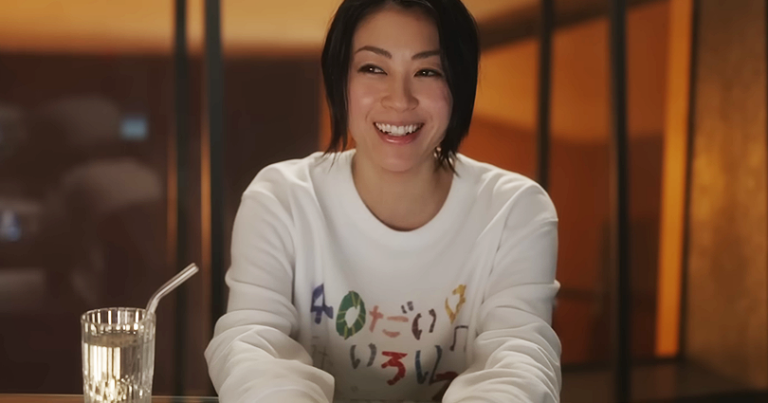 Curated From randomjpop.blogspot.com Check Them Out For More Content.

Hikaru Utada has given us a full year of pretty steady promo. And I'm sat here enjoying, but also suspicious. Because I am always suspicious of good things. But lemme get outta my head and just enjoy this for what it is, and get into this dump of Hikaru goodness that we have all been graced with for absolutely no reason other than Hikaru feels like doing shit. I guess.
Hikaru Utada has released their 40 Dai-Wa Iroiro to YouTube; both the chit-chat / Q&A and the live performances.
It's good to hear that The Artist's Son is still in regular contact with his father's side of the family. I cackled a little when Hikaru Utada mentioned them all attending a dinner together. They made sure the Christmas dinner was off-site, so they could leave and return to the crib in peace. They really were not trying to have Francesco and his parents in the house, thinking they can just be put up and stay there. Hikaru said 'The "Time" music video and the Bad Mode album cover is the most you gon' see of my house'.
Hikaru Utada – 40 Dai-Wa Iroiro | Sony Music Labels
The 40 Dai-Wa Iroiro performances of "First Love" and the alternate version of "Kimi ni Muchuu" (officially titled "Rule") have been released to streaming services. No Bad Bunny cover unfortunately. Even the upload of the performance segment doesn't feature it. At least not the audio. All you get is this.
Because, Japan.
Why do this, instead of just editing the performance out of the video? Hikaru's team could have just mentioned in the about text on YouTube that the Bad Bunny cover had to be cut due to copyright restrictions. Restrictions which probably aren't restrictions at all. It's just a more diplomatic way of saying 'We don't want this video flagged for copyright, and for all of the video revenue to go to Bad Bunny's record label'; which is very fair. Teruzane ain't trying to line nobody else's pockets off the back of his child.
It's cool having the live versions of these songs officially released to streaming.
HOWEVER.
I would also like studio recorded versions of the re-arranged version of "First Love" and "Rule". Hikaru's vocals…weren't always great during the performances of either song. So, hearing both songs with tightened production and vocals would be a cool bonus. And it'd make for another cool song drop that Hikaru can do without having to commit to something NEW new.
🔊 Stream the 40 Dai-Wa Iroiro single: 🟢 Spotify | 🟣 Apple Music | 🔴YouTube
We also got another round of DJ sets, as Hikaru Utada's Vinyl Pop-Up Shop made a return to belatedly celebrate the double vinyl release of First Love / Hatsukoi. It's great to see that Hikaru's team decided to do this again, because the original Vinyl pop up DJ sets were great. I hope they become a mainstay as part of Hikaru Utada's promotional activities. It's a cool way to offer a retrospective on their music, and be reminded of songs that I haven't played in a while.
It seems Teruzane was feeling DJ Yanatake's set from the first time around, because he had that man do three of them this time around, and he makes an appearance in everybody else's sets too. It seems he's like the red ranger of the selected DJs. And rightly so. Because DJ Yanatake's set for the first Hikaru Utada Pop-Up Vinyl DJ event was easily the standout. And once again, he showed out. We got some DEEP cuts y'all. I was not expecting to hear the Hikaru Utada version of Ne-Yo's "Do You" or John Gastro and Punpee's cover of "Traveling".
The great thing with each of the different DJ sets, is that each DJ has their own style and preference of songs, which is great, and very reflective of the differing preferences that fans have of Hikaru's discography. And whilst there are a bunch of songs which pop up in every single set, they're played differently, mixed in differently, sit differently, and in some cases are different versions of the songs entirely. Yep. We get far more remixes than just the M-Flo remix of "Final Distance" this time around.
If you want a set which shows love to Exodus and This Is the One, check out DJ Yanatake's Tower Records, Shibuya set. If you're a fan of Ultra Blue, then check out DJ Yanatake's Tower Records, Umeda NU Chayamachi set. If you're a fan of the art of scratching, then DJ Tama's set is the one. It feels rare to have DJs these days who know how to scratch, so watching DJ Tama really go at it was extremley cool. I'll act like I didn't hear any of that mess he mixed himself into at the end of "Me Muero". But if you wanna hear new-ass remixes, check out DJ Taku's set. Every single song he spins is a previously unheard (at least I've never heard any of them before) remix. That "Heart Station" remix? Teruzane needs to get that shit on streaming by the end of the year. I'm precious over "Heart Station", as it's one of my favourite songs on that album. But his remix is fire.
DJ Hasebe @ Tower Records, Shibuya
DJ Tama a.k.a SPC Finest @ Hiragishi Hire
DJ Taku Takahashi @ Tower Records, Umeda NU Chayamachi
DJ Yanatake @ Tower Records, Umeda NU Chayamachi
DJ Yanatake @ Tower Records, Shibuya
DJ Yanatake @ Hiragishi Hire
Either these DJ's are making their own A Capella's and Instrumentals, or Hikaru's team sent them the official stems. Either way, I really do hope that Hikaru's team considers releasing Instrumentals for some of their songs. Digital singles rarely seem to feature Instrumental versions of songs, and Sony has fully embraced digital singles almost exclusively for Hikaru Utada, which means we no longer get physical releases which feature Instrumentals or Original Karaoke versions of songs. It'd be cool to see this change, and for there to be an official remixing competitio, similar to what Ayumi Hamasaki did in 2021; where Avex releases a whole bunch of A Capellas for fans to go nuts with. This would be a great bit of promotion for the run up to a Hikaru Utada remix album, which the streets need. Especially after that DJ Taku set. And a remix album should definitely include remixes of songs from their Def Jam releases too. Because, that JJ Flores remix of "Exodus"!? The Vogue girls would throw extra kicks, and a couple of crashes on that bitch, and run with it. A Hikaru Utada remix album just seems like a no-brainer to me.
I'm really liking this approach Hikaru has to just doing whatever, and shedding a light on their already existing material. Artists such as Hikaru who have a solid and varied discography should dip into it more, and find ways to work it into promo. Especially in this day and age of all that's old being new, and old songs being able to find new life via YouTube and TikTok. We're currently seeing "First Love" have another moment. It'd be great to see other songs from Hikaru's earlier years get a similar treatment. Hikaru has so many hits, that it's honestly becoming a little tired that "First Love" is being treated like the only one. Even before the Netflix show, "First Love" was still the song which would get a special type of treatment above everything else. And fans have collapsed lungs over the amount of times they have screamed at a bitch to do something with Exodus.
---